Chris Thompson is the founder and CEO of WorkOrder.es.
Describe what you do in one sentence: I run WorkOrder.es out of the Sharatoga Coworking space that I founded in Saratoga Springs, New York. I'm responsible for creation and design of the company's software. On a day-to-day basis, I manage a team of fully distributed designers, developers and a social media manager, while I perform the roles of sales, marketing and customer support.
Time at current company: 1.5 years
Age: 38
Degree, school: Masters from Rensselaer Polytechnic Institute (RPI) Lally School of Management, Bachelor of Science from SUNY Plattsburgh
Location: Saratoga Springs, New York
Social media: LinkedIn, Twitter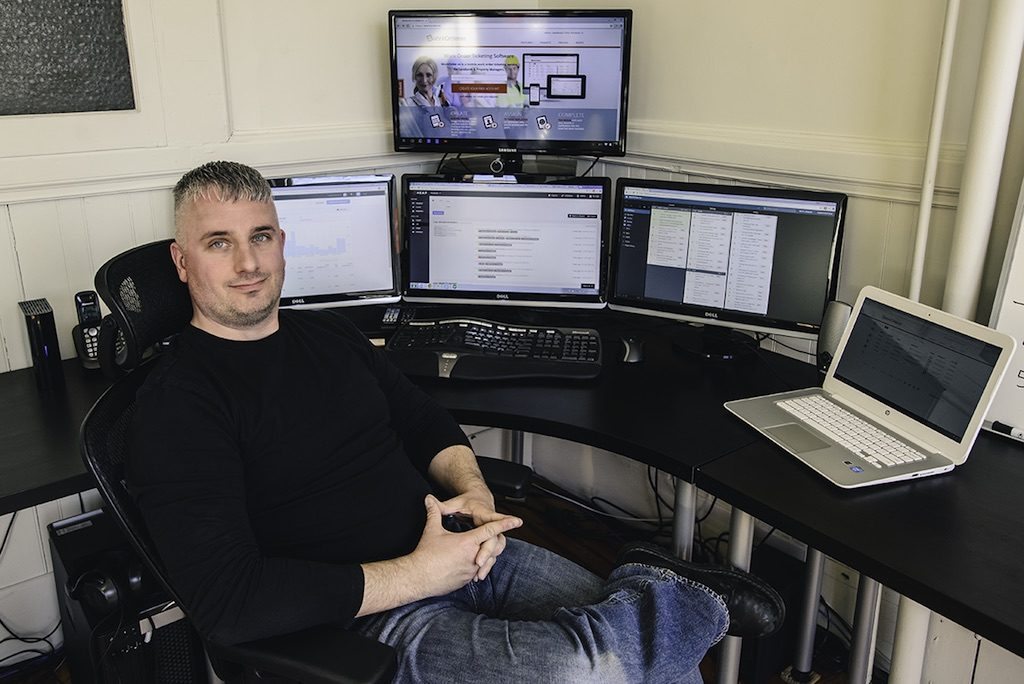 What do you do?
WorkOrder.es is a mobile work order ticketing service for property managers in the real estate industry. We've designed our service from the ground up to streamline the intake of tenants' maintenance requests from any mobile device or desktop, and empower landlords and property managers with the ability to assign, track and complete work orders from the field, while on the go.
How'd you end up in real estate tech?
I started WorkOrder.es with the singular vision of simplifying and streamlining the process of receiving a tenant's maintenance requests. What started as a project to better handle my investment properties while on the go quickly grew into a mobile work order ticketing service for landlords and property managers.
What aspects of real estate are you trying to make better?
Work order and maintenance requests from tenants.
What's your favorite part of what you do?
I'm a product manager at heart; there's nothing more that I love than talking with our customers about their pain points and designing a solution that helps them to save time and do their jobs more efficiently.
What products have you had a part in developing in the past? Describe the product — the idea and the execution.
My first time around as an entrepreneur, I started an online polling company called "epollarity Polling Services" back in 2002. The idea was to enable users to create a poll and embed it on their website or blog, and be able to ask their visitors anything they wanted in an effort to engage and entertain. We successfully brought the product to market after a few years of development, but by then there were a handful of other poll and survey providers, including SurveyMonkey, which was dominating the market just as we launched. Lesson learned: Launch quicker and be first to market!
What are you working on right now? What are the challenges?
We're currently working on scaling our software and architecture to support enterprise-size clients, those having 5,000-plus units under management, while at the same time working on internationalizing our service with overseas expansion before the end of 2015. We are also growing our business development and customer success teams.
Favorite Twitter account?
Favorite food?
Burritos.
Favorite video game?
"Clash of Clans" (I'm sort of addicted).
Favorite city?
New York.
Favorite band or singer?
It's a tie between Wu-Tang Clan and Linkin Park — both speak to me in different ways!
What do you hate about technology?
What I hate about technology is also what I love about technology — it's always changing. As soon as I feel I have a handle on one piece of tech/software/app/platform, then along comes something new and shiny and sexy. You can always count on change, but with tech it's just dramatically accelerated. It's a love-hate relationship, because I love constantly learning new things, but it is exhausting at the same time.
What is one thing you would like to fix about the real estate industry?
I feel a lot of small and medium businesses in the property management industry are reluctant to embrace technology, and that's probably holding their companies back from being more efficient and successful. There are so many new and innovative companies in the real estate tech field that are solving real-world problems, but there's that barrier to entry with family run property management firms who've always run their operations in a paper-based world and are reluctant to embrace that change to an online SaaS (software as a service) model. It's getting better, I think, but there's a steep education curve that has to be overcome first.
Do you think technology can change the industry?
Absolutely. If you take a look at the boost in efficiency and increased return on investment from companies in the real estate industry using some of the newer companies who employ the SaaS model, then I think you can see the direction the industry in inevitably headed, and it can't happen soon enough!
In or out of real estate, is there one problem, large or small, that you would like to solve?
I'd like to see the rise of a unifying SaaS in the real estate tech industry that could unify the various offerings of stand-alone companies. I think that's a very interesting market opportunity, and I wonder if it's on the radar of any angel investors or venture capitalists yet? I'd love to discuss my vision with them if it is.
What motivates you?
Getting up every day, living my dream of creating new products and services that help my customers. I couldn't ask for a better job!
Are you a real estate hacker who'd like to participate in our profile series? Email amber@inman.com.