RealtyTrac, a data aggregator and the operator of real estate search website realtytrac.com, has revamped the property report pages on realtytrac.com to present neighborhood and property data in a much more "comprehensive and clear way than we have before," RealtyTrac told Inman.
The redesign marks RealtyTrac's latest attempt to distinguish itself as a real estate search site that provides an unusually high level of detail on the surroundings and characteristics of properties.
RealtyTrac's property reports show information including home expenses, tax and sales history, and mortgage data.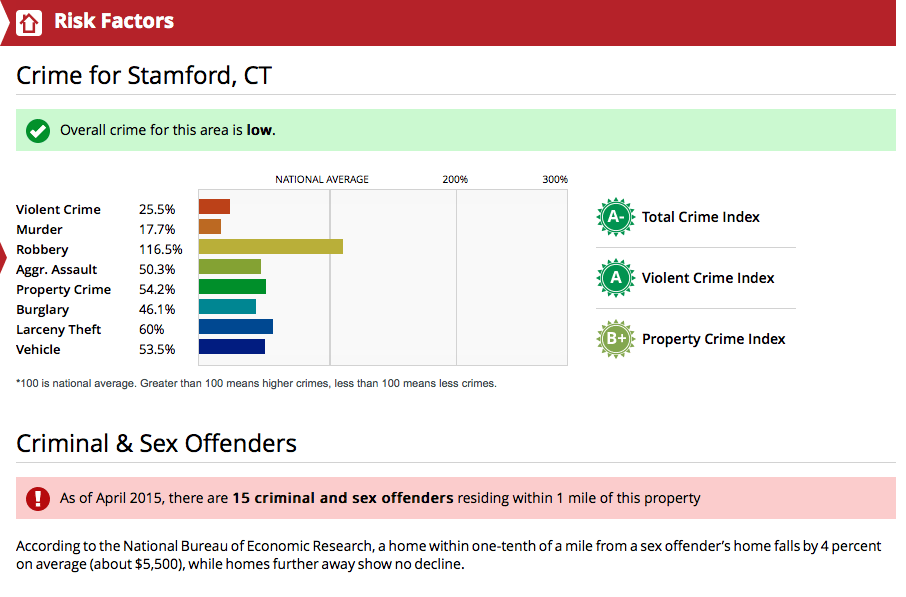 Screenshot showing part of a RealtyTrac property report.
The neighborhood and market data that appears on the reports includes school ratings and school ethnicity and gender breakdowns, crime ratings, the local negative equity and unemployment rates, and the locations of sex offenders and drug labs.
Some of the information on the reports, like the locations of drug labs and transaction histories, is available only to paid subscribers.
New features part of the property report pages include a summary of data at the top of the report and an interactive map that lets users see points of interest, including listings, recently sold properties, schools and airports.
Subscribers can also see: the locations of properties in some stage of foreclosure; "tanks"; "polluters"; former drug labs; Superfund sites; and brownfield sites.
RealtyTrac briefly tacked much of this data onto listing pages in early April 2014, but quickly removed it to comply with multiple listing services rules.
Prospective buyers can access the bulk of RealtyTrac's neighborhood and market data on listings only by clicking a tab on listing pages.
The tabs generate property reports that exclude listing data like listing photos, price data and remarks.
RealtyTrac does, however, add school data to listing pages. Many other real estate search portals add school ratings and locations to listings.
But RealtyTrac also includes ethnic and gender breakdowns of nearby schools — data that's not available on the property pages of major listing portals.
The National Fair Housing Alliance (NFHA) and the Department of Housing and Urban Development (HUD) have both said in the past that they were reviewing whether real estate websites that display demographic data could produce a discriminatory effect on groups protected under fair housing laws.
The NFHA said its investigation was ongoing in January, while HUD said it hadn't received any formal complaints against real estate websites and had not initiated a complaint against such websites itself.
The NFHA and HUD did not immediately respond to requests for comment.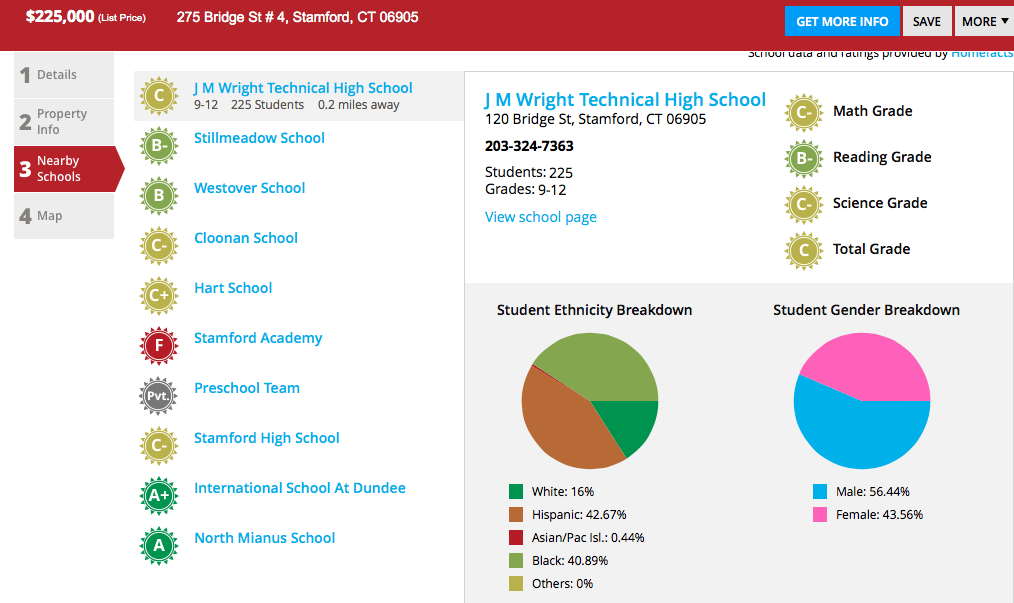 Screenshot showing part of a RealtyTrac property report.
Some real state brokerages, like Re/Max, display information on their websites that they license from RealtyTrac, such as foreclosure, neighborhood, tax, deed and mortgage data.
RealtyTrac sources its neighborhood data from Homefacts.com, which it acquired in 2012.