Are you set up for success in 2016? Join 2,500 real estate industry leaders Aug. 4-7, 2015, at Inman Connect in San Francisco. Get Connected with the people and ideas that will inspire you and take your business to new heights. Register today and save $100 with code Readers.
---
Takeaways:
Radio and Television Experts helps agents generate leads from local radio ads.
Some of the nation's top agent teams use the service.
Brokers and agents are expected to spend just 0.4 percent of their total 2015 ad spend on radio.
As a San Diego real estate agent in 2008, Keller Williams Realty CEO Chris Heller wanted to kick up his listing business a notch.
So he turned to the marketing firm Radio and Television Experts to coordinate endorsements on local radio. He still uses the firm today to help generate leads for his local business even as he oversees the Keller Williams empire.
Launched in 2004, RATE purchases local radio airtime, creates scripts, and coordinates endorsements from radio personalities such as Glenn Beck, Sean Hannity and ESPN's Mike & Mike on behalf of its real estate agent clients.
It also has an exclusive deal with real estate mogul and star of the hit TV show "Shark Tank," Barbara Corcoran, to create local TV spots for agents.
Heller spends $20,000 each month with RATE for recurring endorsement spots from hosts of two San Diego AM radio talk shows and for TV spots featuring Corcoran on ABC and CBS local affiliates, according to RATE founder Matt Wagner.
Heller's TV ad produced by RATE that runs on two channels in San Diego.
Some of the nation's most successful agent teams are using the service. Sixty-one of the firm's approximate 200 clients are ranked among the top 250 agent teams in the U.S., Wagner said.
The rise of online advertising with Google, Zillow and Facebook may overshadow traditional channels like radio and TV, but RATE proves that old-school marketing still has a place in the agent ad arsenal.
Brokers and agents are expected to spend $10.48 billion on online advertising in 2015, representing over three-quarters of the money they'll spend on advertising this year, according to data from ad consulting firm Borrell Associates Inc.
Borrell estimates they'll spend $50 million on radio advertising, just 0.4 percent of their estimated total ad 2015 spend.
By leveraging the magnetic connections local radio personalities have with their audiences, RATE helps agents build trust with local buyers and sellers, Wagner said.
It's not easy to create effective local radio campaigns for agents, he added.
With a decade of experience under its belt, RATE has honed its process for picking the optimal times, channels, messages and spokespeople in each market.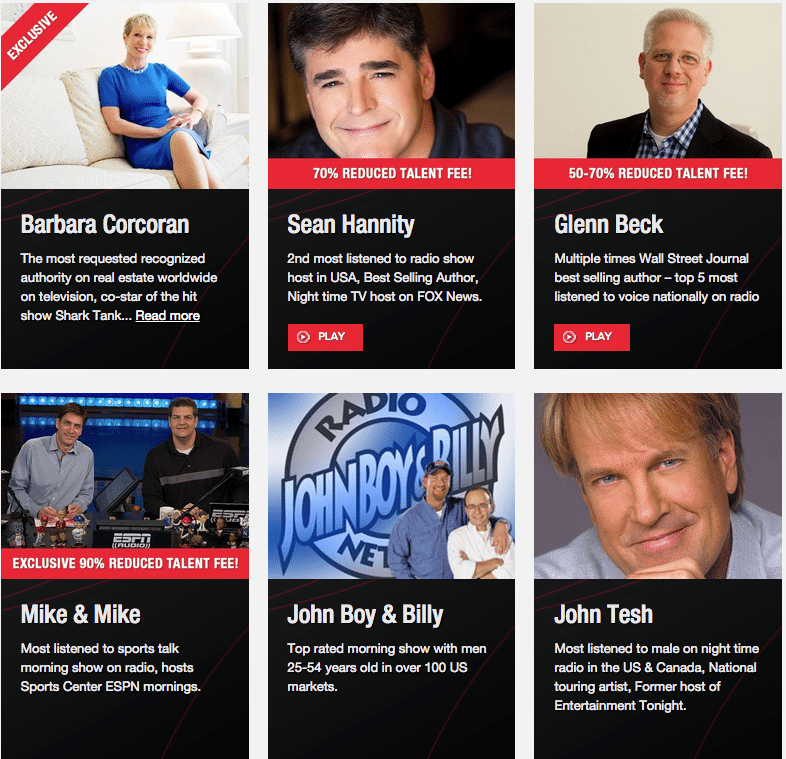 Some of the radio and TV personalities agents can buy endorsements from through RATE.
The firm works with agents on an exclusive basis in most markets; in larger ones, it accommodates two or more. It has openings in approximately 100 smaller markets across the U.S., Wagner said.
RATE heavily vets agents before taking them on as clients. It assesses whether they can properly handle lots of new leads and if they can afford to shell out money for the initial four to six months Wagner said it typically takes before deals start rolling in.
RATE's monthly marketing fees range from $3,000 to more than $30,000 to coordinate the ads, Wagner said.