BuildZoom's residential construction and remodeling indices showed:
New-home permit activity in the U.S. remains 60.7 percent below 2005 levels.
In contrast, activity in the remodeling industry (by permits pulled) has fully recovered from the housing bust and is 3.4 percent above its 2005 level.
Four of the nation's five largest metros have seen noticeable year-over-year improvement in new-home construction; however, these levels still significantly trail activity seen in 2005.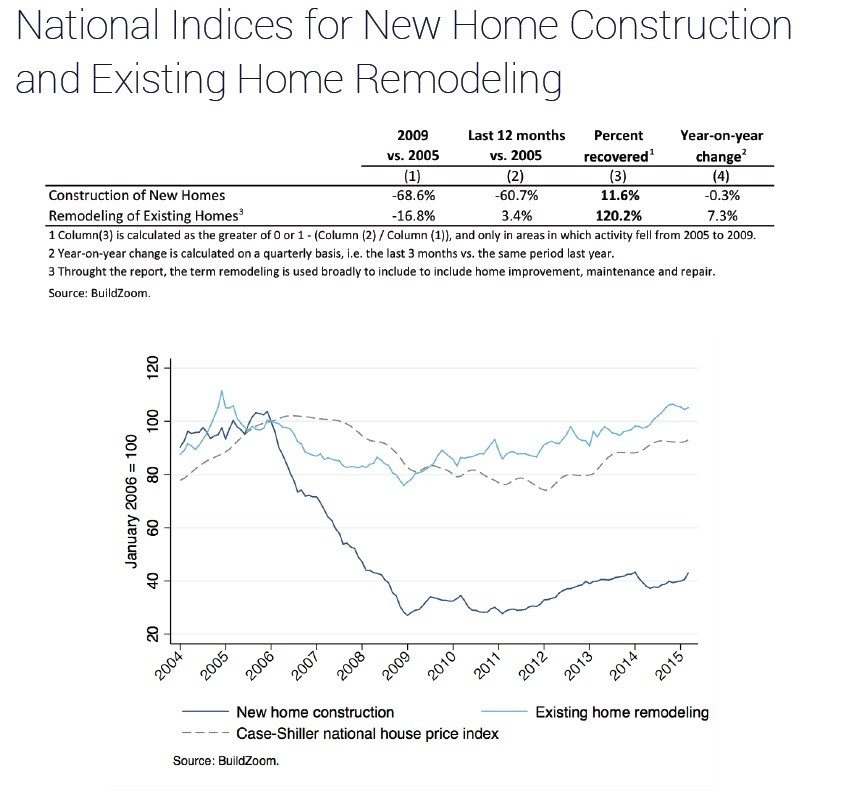 Auction.com's July existing-home sales predictions were revised to show:
Auction.com has revised its July existing-home sales projections and now expects roughly 5.57 million annual home transactions.
The revision represents a 1.4 percent increase from June — a more modest increase than initially forecasted.
It also represents a decline of 100,000 sales in comparison to the initial July forecast of 5.67 million.
Dan Geller's Money Anxiety Index showed:
Compared to the beginning of this year, consumers are less financially stressed, which bodes well for home sales activity moving forward.
Consumer anxiety dropped by 0.1 point to 66.9 in August.
The main reasons for the decline in financing anxiety are the improving labor market, the prospect of future employment in higher-paying jobs and a rise in current earnings.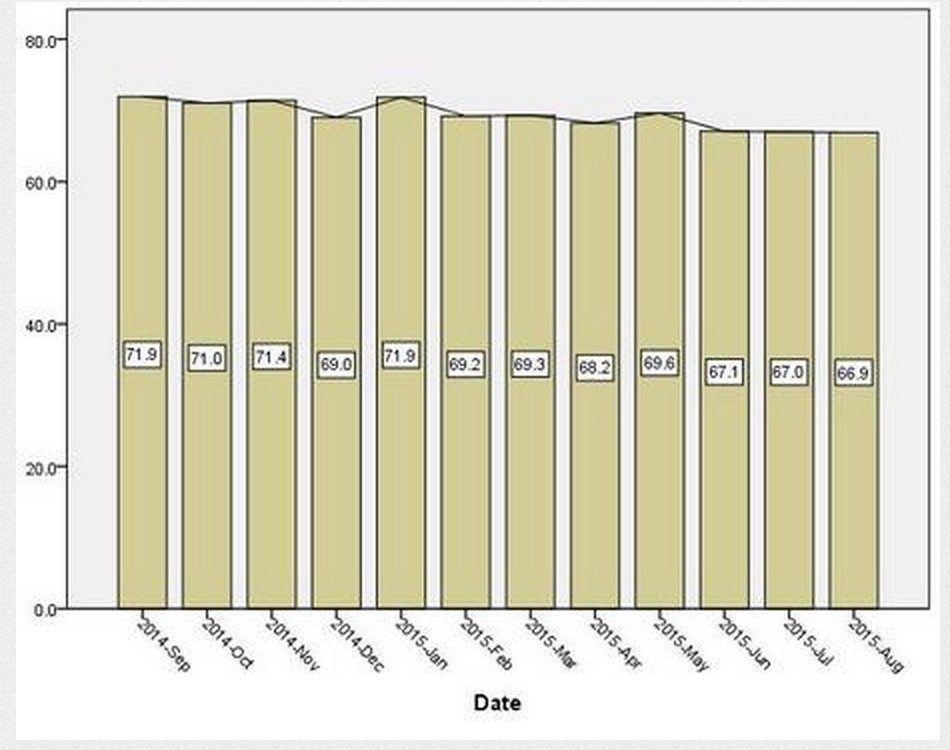 Quicken's Home Price Perception Index showed:
Homeowners think their homes should be valued higher than appraisers do.
Appraiser opinions of home values were 2.33 percent lower than homeowner estimates in July.
National housing values were nearly flat in July, with a 0.27 percent drop in value month over month.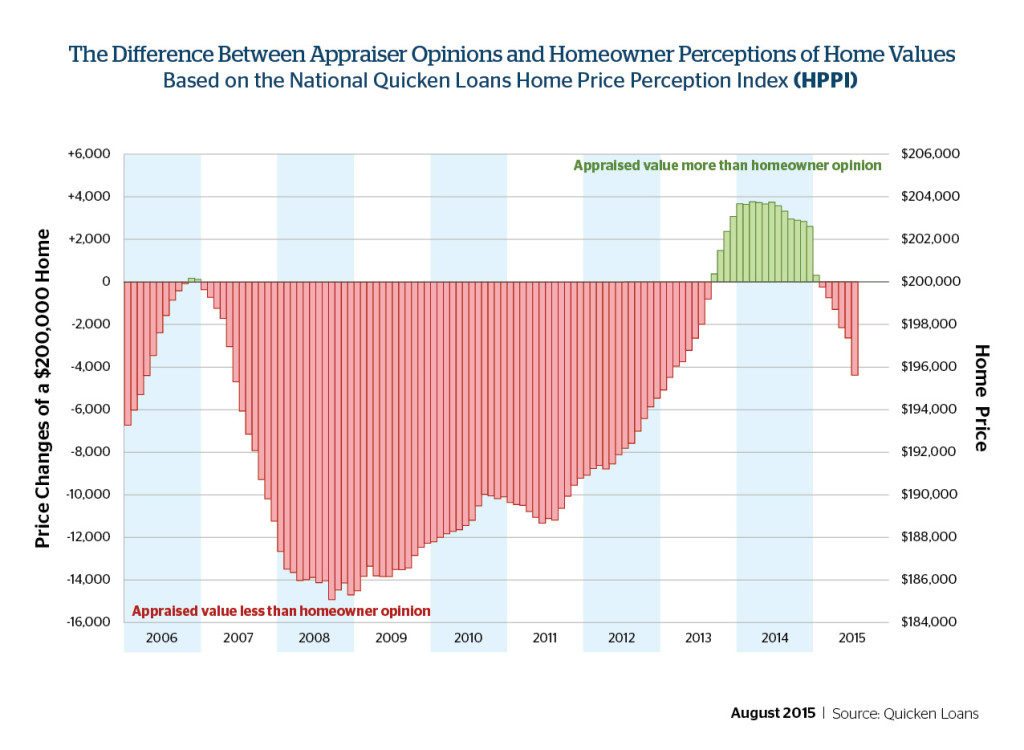 NAR's quarterly report showed:
NAR said single-family home prices increased in 93 percent of markets during the second quarter.
Nineteen metro areas saw double-digit increases in the second quarter.
The average supply during 2Q was 5.1 months, a decrease from the 5.5 months NAR reported in 2Q 2014.
CoreLogic's foreclosure inventory report showed:
Foreclosure inventory dropped by 28.9 percent and completed foreclosures declined by 14.8 percent between June 2014 and June 2015.
The foreclosure rate of 1.2 percent is the lowest since December 2007.
June also posted the lowest serious delinquency rate seen in some time.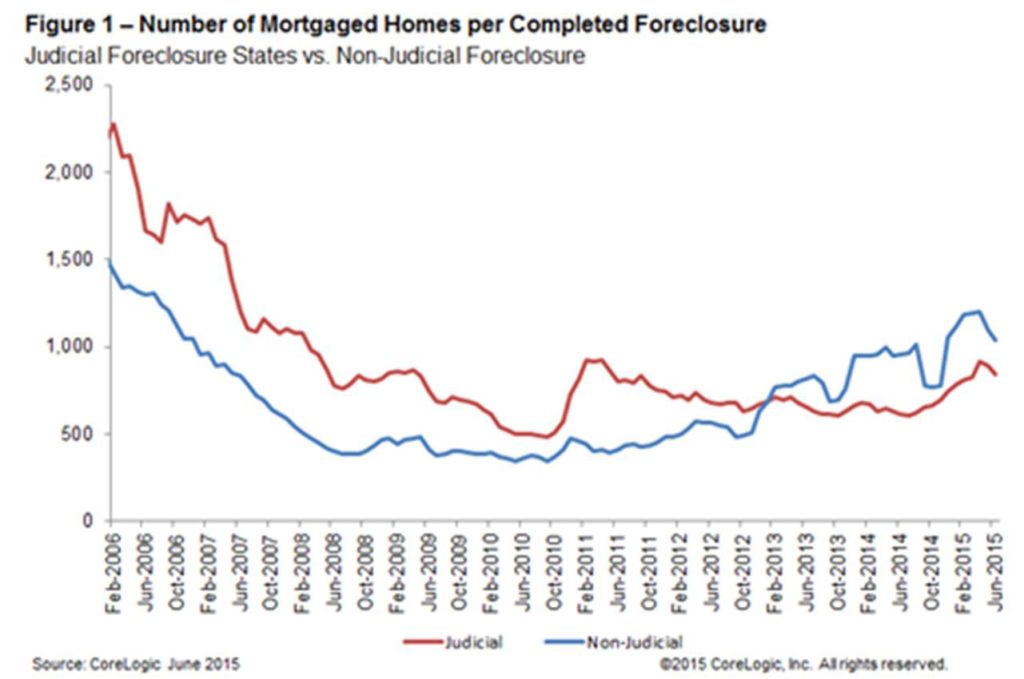 Coldwell Banker Real Estate and CNET's smart home survey showed:
81 percent of respondents said they would be more likely to buy a home if smart technology were already installed.
Smart home technology is most often utilized in the living room, followed by the bedroom, family/recreation room and kitchen.
Smart home technology is saving owners an average of $98.30 per month, which equates to more than $1,100 a year.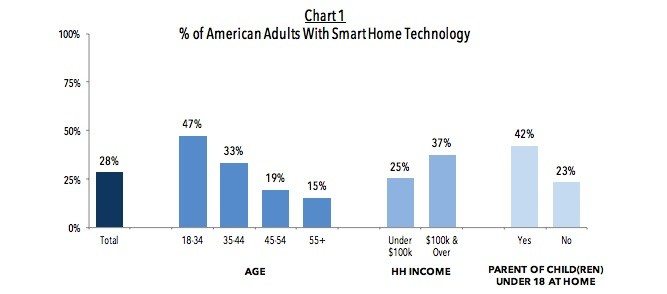 The Mortgage Bankers Association Weekly Applications Survey showed:
Mortgage applications increased only 0.1 percent from last week.
FHA and USDA applications both decreased, but VA applications saw a slight increase.
Mortgage applications for existing homes have been somewhat flat for about two months, according to MBA's weekly surveys.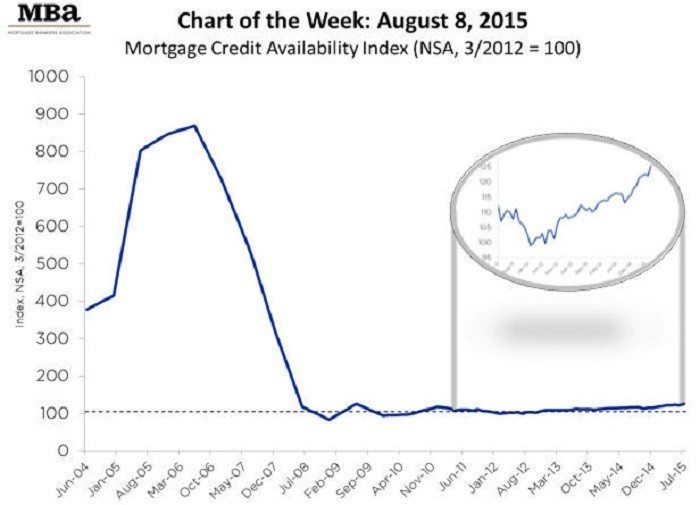 Trulia's listing data study showed:
States that don't have good, consistent school systems have more listings containing the word "school."
Orange County, California, led the way, with 27.6 percent of listings mentioning schools.
Only 1 percent of all U.S. homes for sale on Trulia during the 12-month period analyzed were described as being near a "good" school.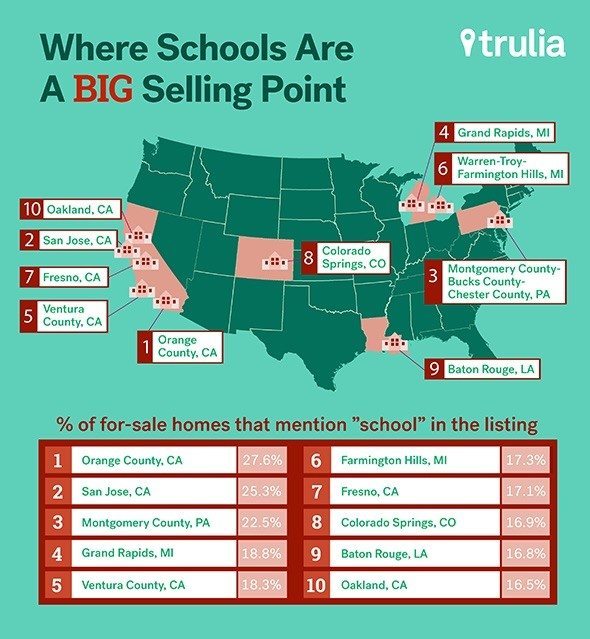 The Institute of Real Estate Management's apartment manager study showed:
Marketing leasable space is considerably more important to apartment managers than overseers of office buildings.
More than 80 percent of apartment managers ranked marketing and leasing functions as an "important" or "very important" aspect of operations.
Hiring, staffing and employee engagement/retention is also more important for apartment managers, as employee turnover tends to be higher in the industry.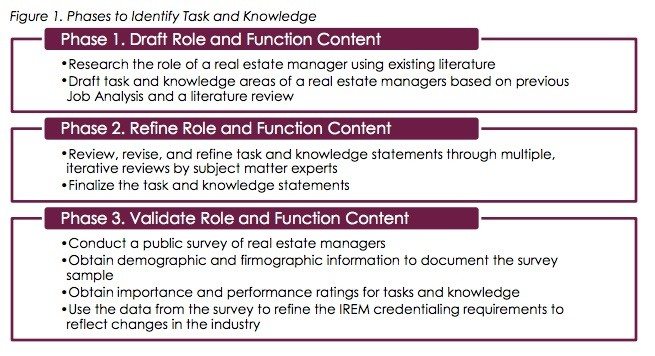 The Mortgage Bankers Association's new-home applications survey showed:
Mortgage applications for newly built homes are decreasing; new-home applications fell by 4 percent month over month.
On an unadjusted basis, MBA estimated there were 44,000 new-home sales in July, a decrease of 2.2 percent from June's 45,000 sales.
New single-family home sales ran at a seasonally adjusted annual rate of 534,000 units last month, an increase of 7.7 percent from June's pace of 496,000 units.
RealtyTrac's loan origination report showed:
Total loan origination volume reached its highest level in two years.
More than 1.95 million loans, worth $540 billion, were created for single-family homes and condos during the second quarter of 2015.
This equates to a 23 percent increase in origination volume when compared to the second quarter of 2014. It also represents a 22 percent rise in loan activity from the first quarter of this year.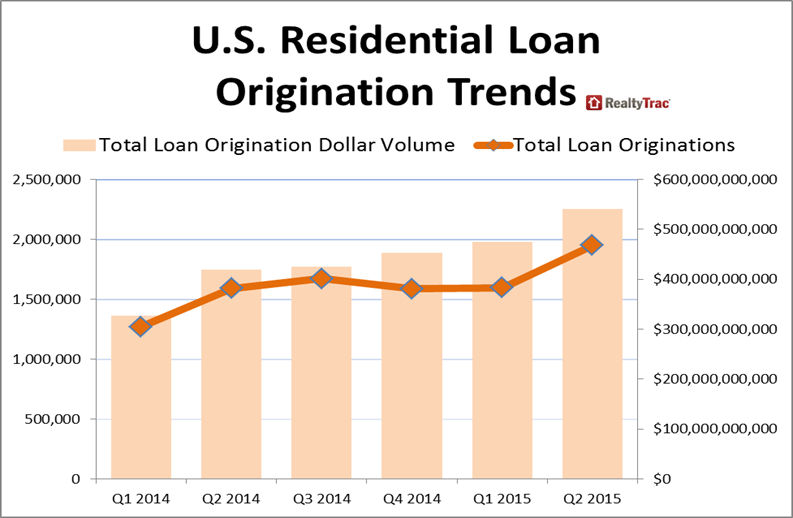 Move's "hottest" ZIP codes index showed:
Most of the "hottest" ZIP codes for housing encompass submarkets or suburbs of larger metros.
02176 in Melrose, Massachusetts — a submarket of Boston — is the hottest ZIP for housing in the nation.
The rankings are determined by the time it takes properties to sell and the frequency in which homes are viewed in each ZIP code.
Zillow's rent vs. own survey showed:
Escalating rent prices are eating up a significant portion of renters' income.
Renters can expect to spend 30 percent of their income on rent — the highest percentage we have seen to date.
Buyers can expect to spend 15 percent of their monthly income on a monthly mortgage payment.
The FNC Residential Price Index showed:
The average U.S. home price increased by 3.5 percent in the second quarter of 2015 when compared to the first quarter.
During the second quarter, 12 metro areas experienced overall price growth of 4 percent or more.
Only one market out of the 30 analyzed by FNC witnessed quarter-over-quarter depreciation: Baltimore.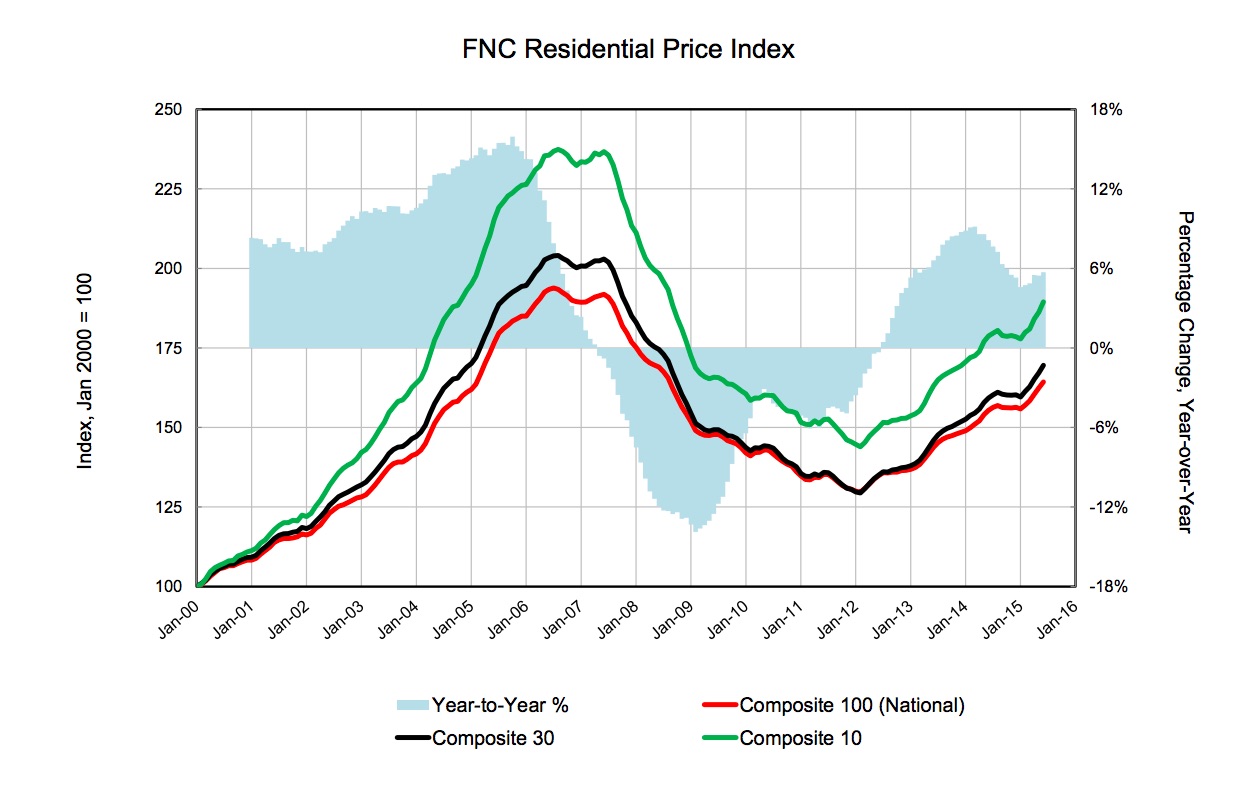 Email market updates to press@inman.com.