We'll add more market news briefs throughout the day. Check back to read the latest.

National Association of Realtors existing-home sales for January 2016:
Existing-home sales were at a seasonally adjusted annual rate (SAAR) of 5.47 million in January 2016.
This is up 11.0 percent year over year.
The median existing-home price for all home types was $213,800.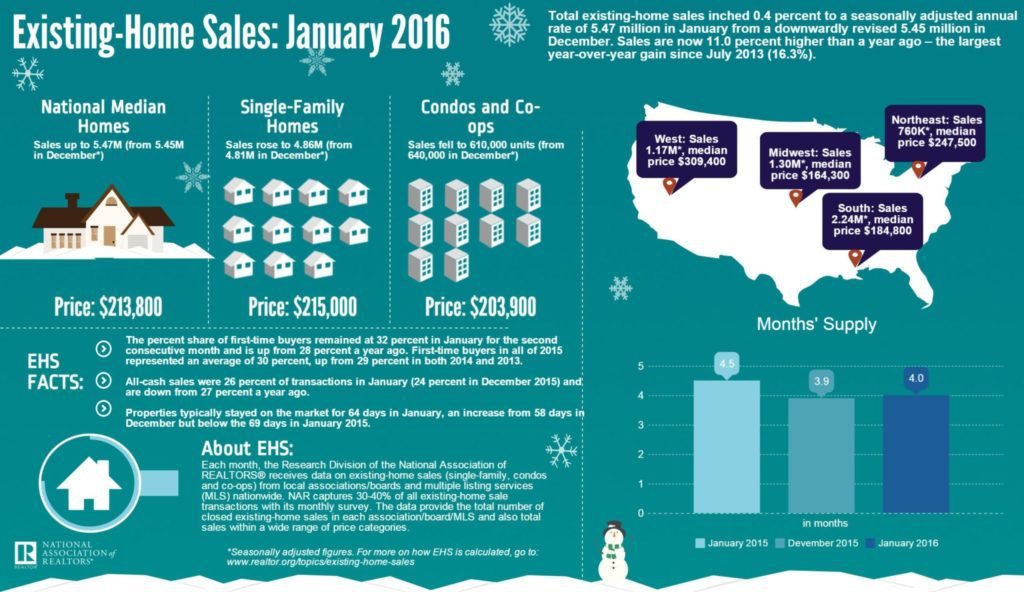 S&P/Case-Shiller Home Price Indices for December 2015:
The index rose 5.4 percent year-over-year in December.
Portland led the way in price increases (11.4 percent), followed by San Francisco (10.3 percent) and Denver (10.2 percent).
The national index rose 0.1 percent month-over-month.
Mortgage rates:
Home equity rates:

The 3 most common questions luxury buyers ask
Respond to high-net-worth buyers with local expertise
READ MORE
Yesterday's most recent market news:
Campbell/Inside Mortgage Finance HousingPulse Tracking Survey:
Between September and January, the total average closing time (including delays) increased for six types of mortgage financing.
The average closing time for purchase mortgages with a down payment of at least 20 percent backed by Fannie Mae or Freddie Mac increased 5 days from September to January.
Most home purchases continue to close on time, but the scheduled closing time has increased.
Black Knight Financial Corp's "first look" at January 2016 mortgage data:
The total U.S. loan delinquency rate (30 or more days past due but not in foreclosure) was 5.09 percent, up 6.62 percent month-over-month but down 7.10 percent year-over-year.
The total U.S. foreclosure pre-sale inventory rate was 1.30 percent, down 4.53 percent month-over-month and 25.69 percent year-over-year.
Total foreclosure starts totaled 71,900, down 7.94 percent month-over-month and 22.94 percent year-over-year.
Email market reports to press@inman.com.