We'll add more market news briefs throughout the day. Check back to read the latest.
First American Real House Price Index (RHPI) for March 2016:
The RHPI was unchanged in March 2016 from February 2016.
The RHPI decreased 2.1 percent year-over-year.
The five states with the highest year-over-year increase in the RHPI are North Dakota (16.0 percent), Wyoming (14.7 percent), Rhode Island (12.2 percent), Delaware (6.0 percent) and Missouri (5.6 percent).
Freddie Mac's Multi-Indicator Market Index (MiMi) for March 2016:
The MiMi is at 83.8, up 1.00 percent month-over-month.
The quarterly MiMi is up 1.56 percent.
Year-over-year, the MiMi is up 7.23 percent.
Mortgage Bankers Association's weekly applications survey:
Mortgage applications increased 2.3 percent from one week earlier (adjusted).
The refinance share of mortgage activity decreased to 53.7 percent of applications from 54.6 percent the previous week.
The average contract interest rate for 30-year fixed-rate mortgages with conforming loan balances ($417,000 or less) increased to 3.85 percent from 3.82 percent.
Federal Housing Finance Agency's Home Price Report for March 2016/Q1 2016:

Sell the lifestyle by being part of your community
Top producer Teddy Errico on how loving where you live can lead to sales
READ MORE
Home prices rose in every state between the first quarter of 2015 and the first quarter of 2016.
The top five states in annual appreciation were Oregon (11.8 percent), Florida (11.2 percent), Washington (10.9 percent), Nevada (9.4 percent) and Colorado (9.0 percent.)
Annual price increases were greatest in the metro area of West Palm Beach-Boca Raton-Delray Beach, Florida, where prices increased by 16.7 percent. Prices were weakest in El Paso, Texas, where they fell 2.8 percent.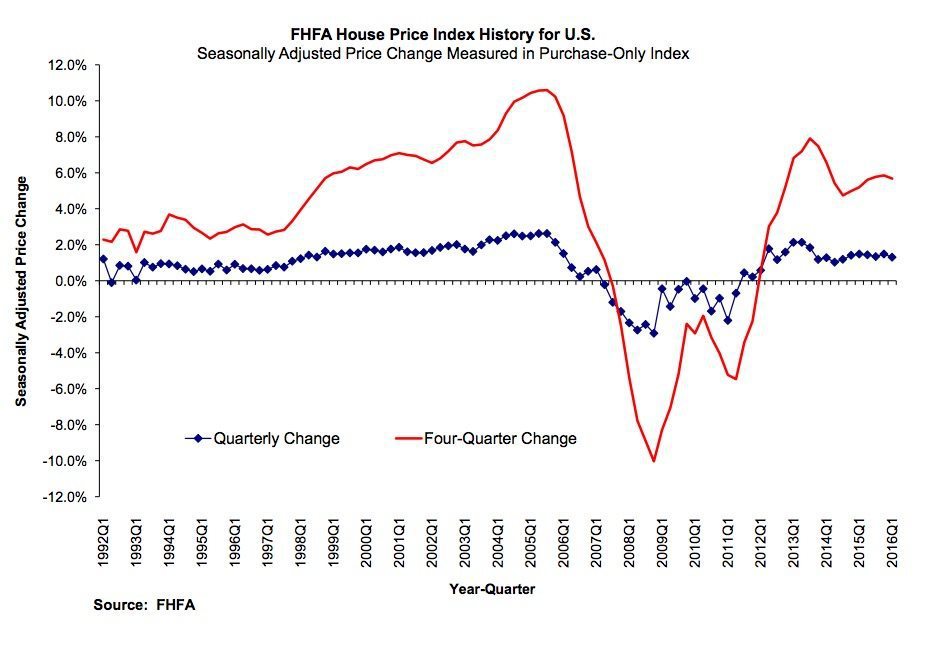 Mortgage rates:
Home equity rates:
Yesterday's most recent market news:
U.S. Census Bureau and Department of Housing and Urban Development's New Residential Sales for April 2016:
Sales of new single-family houses in April 2016 were at a seasonally adjusted annual rate of 619,000.
This is up 16.6 percent month-over-month and up 23.8 percent year-over-year.
The median sales price of new houses sold in April 2016 was $321,100; the average sales price was $379,800.
CoreLogic's MarketPulse Report for May 2016:
In March 2016, the ratio of flipped homes to all home sales was 4.4 percent.
Completed foreclosures were down 14.9 percent year-over-year.
Home prices were up 6.7 percent year-over-year.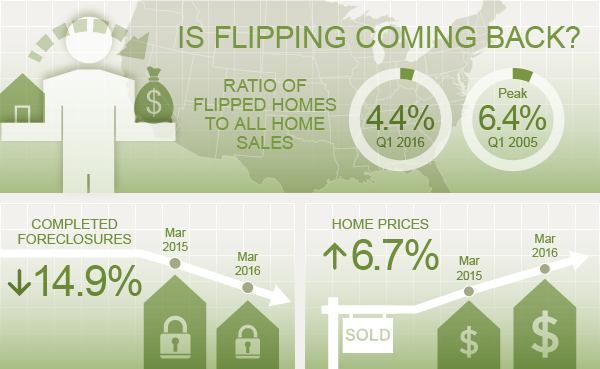 Black Knight Financial Services' "First Look" at April mortgage data:
The total foreclosure pre-sale inventory rate is 1.17 percent, 5.87 percent lower than March 2016 and 27.76 percent lower than April 2015.
The total foreclosure starts in April were 58,700, down 19.37 percent month-over-month and 16.62 percent year-over-year.
The number of properties 30 or more days past due but not in foreclosure totaled 2,146,000, up 84,000 month-over-month but down 179,000 year-over-year.

Email market reports to press@inman.com.