Houston single-family home sales increased 10 percent annually in May, with the greatest concentration happening in the mid-price range between $150,000 and $500,000.
The median sales price in Houston remained unchanged year-over-year in May, and the average sales price dipped slightly by 0.5 percent.
Inventory increased from a three-month supply to a 3.6-month supply, marking a 20.9 percent annual increase.
The oil industry has been the talk of the town in Texas communities, especially Houston — but the dip in prices hasn't put too much pressure on the housing market, according to Realtor data. In May, the steady growth of home supply helped bolster local market health and keep prices fairly moderate.
According to a recent report from the Houston Association of Realtors, single-family home sales increased 10 percent annually in May. The homebuyers most active in this market are in mid-range prices, or between $150,000 and $500,000, which has been a Houston trend for several months now.
The median and average price points for a home in Houston remained fairly unchanged annually in May, the report says. The average single-family home price dipped 0.5 percent to $290,931, and the median price was reported at a steady $225,000.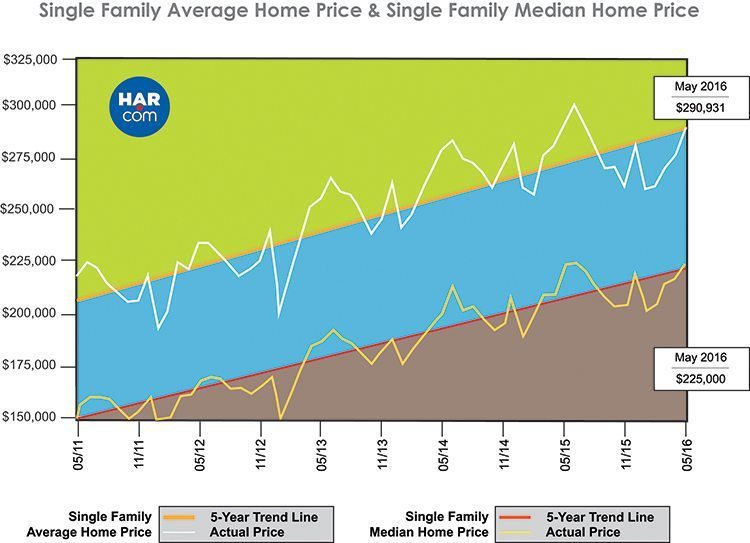 The total dollar volume of home sales in Houston did see a 7.3 percent gain year-over-year in May from $2,229,902,866 to $2,392,124,785.
"We are seeing more normal market conditions for this time of year and that is the direct result of more plentiful housing inventory for buyers," HAR Chairman Mario Arriaga with First Group said in a statement. "A year ago, the supply of homes was historically low, which increased buyer-side demand and pushed up pricing. These are the fundamental forces of supply and demand, and with more available housing and an easing of prices, we look forward to a healthy pace of sales throughout the summer."
Inventory and sales on the rise in Houston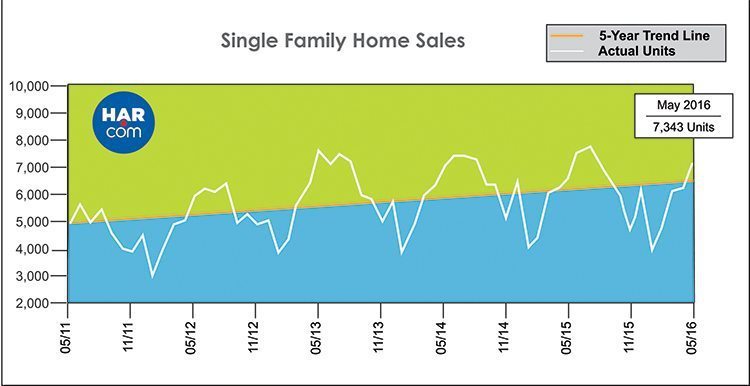 Total property sales in Houston increased 7.1 perent in May 2016, from 8,123 to 8,703, and the total of active listings jumped 17.4 percent. While this could initially cause a bit of concern that the market is full of properties, single-family pending sales upticked 15.6 percent during the same timeframe.
Months supply upitcked in May 2016 on an annual basis from three months to 3.6 months, marking a 20.9 percent increase.
According to Altos Research, which measures with more real-time data, inventory in Houston is on the rise as of July 1. The data company reports 6,776 properties to be available — a slight uptick over the same time last year.
Altos Research uses a unique figure called the Market Action Index, which determines from a neutral value of 30 whether conditions are trending up in favor of home sellers or down in favor of homebuyers. While the figure did post a loss at the start of the month, conditions are still pointing in favor of the home seller at 35.23.