History tells us that the hottest real estate markets rarely last — and when the heat rises for too long, the pressure eventually leads to a disastrous fallout.
According to the Dow Jones S&P/Case-Shiller National Home Price Index released today and an analysis from Trulia's chief economist Ralph McLaughlin, May 2016 marks 49 consecutive months of positive home price gains — and the double-digit appreciation between 2012 and 2014 means homeowners have been recouping equity for quite some time during the recovery.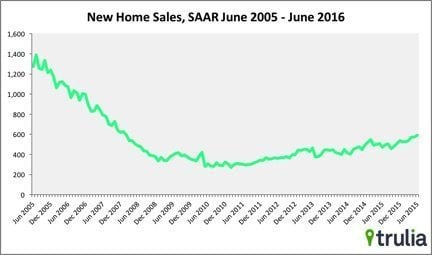 However, over the past four months, year-over-year price gains have remained flat or declined, which could be a sign that the market is cooling, and therefore stabilizing.
In May, the national home price index reported a 5 percent annual gain — growth that's level with the yearly index gain recorded in April.
"Home prices continue to appreciate across the country," says David M. Blitzer, Managing Director and Chairman of the Index Committee at S&P Dow Jones Indices, in a press release. "Overall, housing is doing quite well. In addition to strong prices, sales of existing homes reached the highest monthly level since 2007 as construction of new homes showed continuing gains.

What are you waiting for? Close the female leadership gap today.
How one leader believed in herself to make a massive change, and how you can, too
READ MORE
"The SCE Housing Expectations Survey published by the New York Federal Reserve Bank shows that consumers expect home prices to continue rising, though at a somewhat slower pace."
Portland (12.5 percent) reported the highest year-over-year gains, followed by Seattle (10.7 percent) and Denver (9.5 percent).
San Francisco experienced its slowest annual gains in May at 6.5 percent since August 2012.
The Trulia analysis posited that "the continued slowdown suggests the San Francisco housing market may finally be entering a phase of normalcy after years of sustained price appreciation, although persistent increases have left homebuyers struggling to find affordable homes."
McLaughlin added: "Though Western markets continue to dominate price growth, several markets east of the Mississippi are picking up."
The S&P/Case-Shiller U.S. National Home Price Index is a composite of single-family home price indices that is calculated every month; the indices for the nine U.S. Census divisions are calculated using estimates of the aggregate value of single-family housing stock for the time period in question.
The nine divisions are:
New England
Middle Atlantic
East North Central
West North Central
South Atlantic
East South Central
West South Central
Mountain
Pacific
CoreLogic serves as the calculation agent for the S&P/Case-Shiller U.S. National Home Price Index.
Blitzer shed additional light on how local markets have fluctuated in value since the housing boom and bust.
"Regional patterns seen in home prices are shifting," he said. "Over the last year, the Pacific Northwest has been quite strong while prices in the previously strong spots of San Diego, San Francisco and Los Angeles saw more modest increases.
"The two hottest areas during the housing boom were Florida and the Southwest. Miami and Tampa have recovered in the last few months while Las Vegas and Phoenix remain weak. When home prices began to recover, New York and Washington saw steady price growth; now both are among the weakest areas in the country."