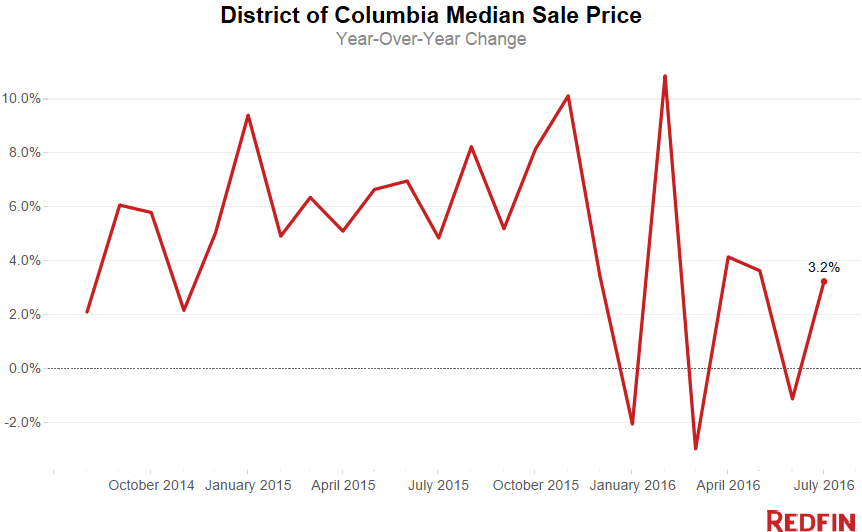 By Alina Ptaszynski; reposted with permission from Redfin
---
Washington D.C. home prices increased 3.2 percent in July from a year earlier to a median sale price of $558,000. After prices declined in June, the peak of the real estate season, homeowners in the District welcomed July's price appreciation.
Sales fell 3.5 percent, but that decline may be deceiving, because homes sales last July were particularly strong. Nearly 1,000 homes sold in the District last month, which is fewer than last July, but relatively strong based on historical sales trends. Overall, the District has had strong sales this year, with year-over-year growth every month except July, despite the fact that the number of homes for sale remains low.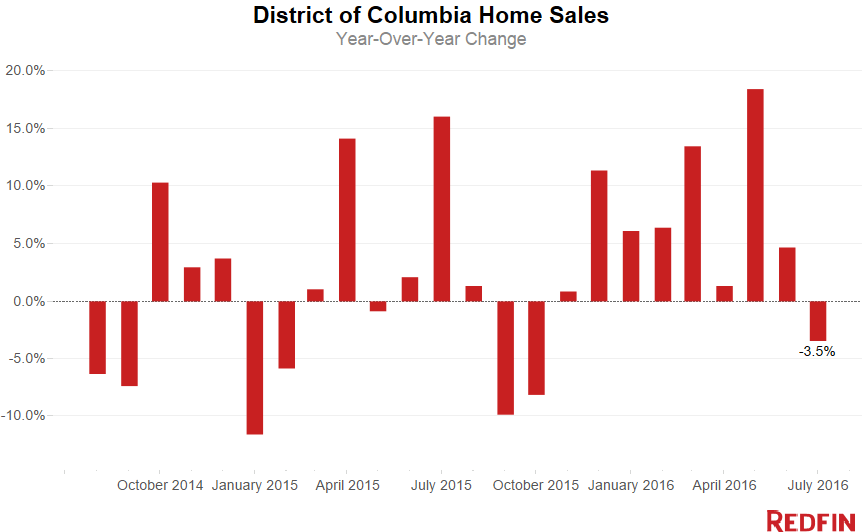 The overall number of properties for sale declined 9.6 percent since last July, resulting in just 1.4 months supply — the lowest level on record since 2009.

The home inspection is not just for homebuyers
Use pre-inspections as a home seller differentiator
READ MORE
Redfin's latest Demand Index indicates that buyer demand for homes in June, measured in terms of the number of people touring homes and writing offers, is on par with where we expect it to be at this time of year.
Solid buyer demand coupled with the shortage of inventory kept conditions competitive. The typical home found a buyer in 15 days, and 37 percent of homes were bid up, selling for more than their initial asking price.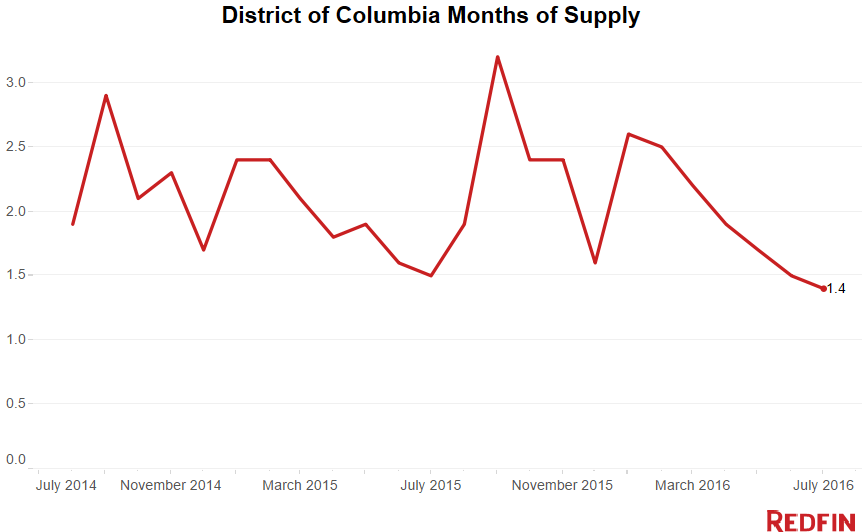 With prices up and buyer demand strong, what's keeping sellers from listing their homes for sale? Redfin agent Steve Centrella says trade-up buyers are in a bind.
"Many residents want to stay in the city and upgrade to a larger or nicer home. They're confident about being able to sell their home for a good price but worry about finding a suitable one to move to given rising prices and competition," he said. "The high demand across pretty much every price point limits flexibility and fluidity in the market, which further exacerbates the low inventory situation. Hopefully, we'll see more homes hit the market after Labor Day, as we've seen in prior years."
What's happening in the metro region?
Across the broader D.C., Maryland and Virginia region, the median sale price fell 3.8 percent in July from last year, to $375,000. July was the sixth month in a row that prices have fallen year-over-year. Home sales declined 6.3 percent compared to last year.
The number of homes listed in July fell 11.7 percent, pushing the total number of properties for sale down by 20.2 percent from last year. The region had a 2.4-month supply of homes for sale. The typical home found a buyer in 24 days.
Neighborhood trends
Buyer interest, prices and sales have been strong in several northeast neighborhoods this year. The median sale price increased nearly 18 percent compared to last year in both Takoma and Woodridge/Fort Lincoln, while sales surged 50 percent and 20 percent, respectively.
At the risk of sounding like a broken record, it's worth noting that Mount Pleasant continued its reign as one of the hottest 'hoods in the District. The typical home in Mount Pleasant sold in just six days – the fastest of all D.C. neighborhoods Redfin tracks – and for nearly 4 percent over asking price.
Named by Redfin as one of the hottest neighborhoods of 2016, Mount Pleasant has been among the neighborhoods with the lowest median days on market and the highest sale-to-list price ratio.
See our city page for the most up-to-date data on Washington-area home prices.