Real estate agents who embrace video and multi-media marketing stand a better chance of winning indecisive buyers and sellers.
Browser-based software VidBrander creates branded videos from supplied content or original material.
Have suggestions for products that you'd like to see reviewed by our real estate technology expert? Email Craig Rowe.
VidBrander is a video marketing service for real estate agents.
Platform(s): Web-based, mobile-responsive
Ideal for: All agents
Top selling points
Ease of use
In-video calls-to-action
Use of consumer-focused video library
Top concerns
Limitation of provided library
What you should know
Real estate agents should no longer fear the complexity of marketing with video.
It doesn't have to be professional grade. You don't need makeup artists on call or to develop an expertise in Adobe After Effects. All you need now is a tool like VidBrander.
VidBrander provides users with a library of short, professionally-produced consumer-focused real estate videos.
During registration, a users add their headshot, name, contact information and links to their social media profiles.
Clicking a button is all it takes to have the supplied video you chose connected to your email address, embedded with your logo and shareable via social media.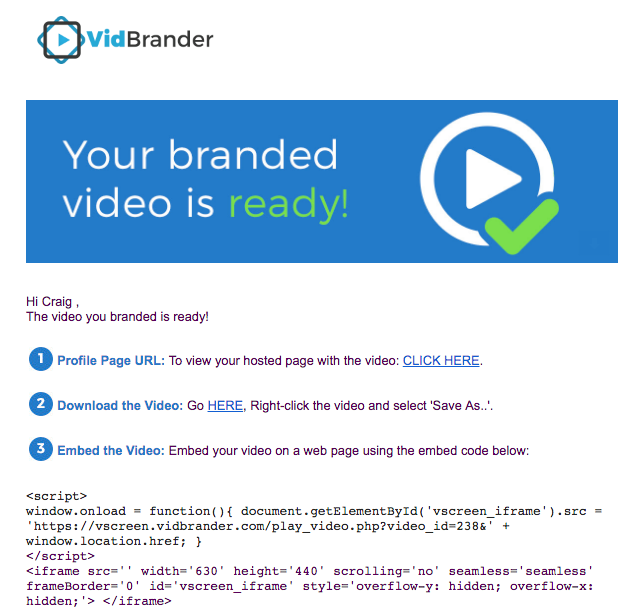 Professional look without the professional time investment
The email also has the embed code and a download link.
Each video is viewed in a separate landing page. (That's not my headshot, FYI. I mean, the hair?)
Yes, VidBrander's demo videos use what I assume are actors.
But the scripts are authentic and offer sound, if not relatively surface-level advice for consumers. However, that's all they need to hear when it comes to general awareness and top-of-mind prospecting.
The end screen of each video again presents your contact information and links to social media profiles.
Ready for more?
VidBrander offers a great deal more value to the agent willing to record themselves offering advice or walking through listings. It's easy as a couple of buttons on your mobile device and uploading to the VidBrander interface.
The videos are branded in about a minute and stored in your library on the site.
Any agent who has outsourced their blog writing or social media to a content supplier should have no problem seeing the value of VidBrander.
Each time I demo a video marketing tool, I notice that the wall between denial and doing something gets smaller.
VidBrander may have knocked it down completely.
Have a technology product you would like to discuss? Email Craig Rowe.