Check Inman every day for the daily version of this market roundup.
Mortgage rates:
Home equity rates:
Day-by-day market activity
Wednesday, November 23:
Federal Housing Finance Agency's U.S. House Price Index for Q3 2016:
U.S. house prices rose 1.5 percent in the third quarter of 2016.
House prices rose 6.1 percent from the third quarter of 2015 to the third quarter of 2016.
FHFA's seasonally adjusted monthly index for September was up 0.6 percent from August.
Mortgage Bankers Association's Weekly Applications Survey:
Mortgage applications increased 5.5 percent from one week earlier for the week ending November 18, 2016.
The refinance share of mortgage activity decreased to 58.2 percent of total applications from 61.9 percent the previous week.
The average contract interest rate for 30-year fixed-rate mortgages with conforming loan balances increased to its highest level since January 2016, 4.16 percent, from 3.95 percent.
Freddie Mac's Primary Mortgage Market Survey:

The Nanny Cam and other privacy issues in real estate
A can't-miss course takes on pressing new legal concerns for every agent
READ MORE
The 30-year fixed-rate mortgage averaged 4.03 percent with an average 0.5 point for the week ending

November 23, 2016.

This is up from last week when it averaged 3.94 percent.
A year ago at this time, the 30-year FRM averaged 3.95 percent.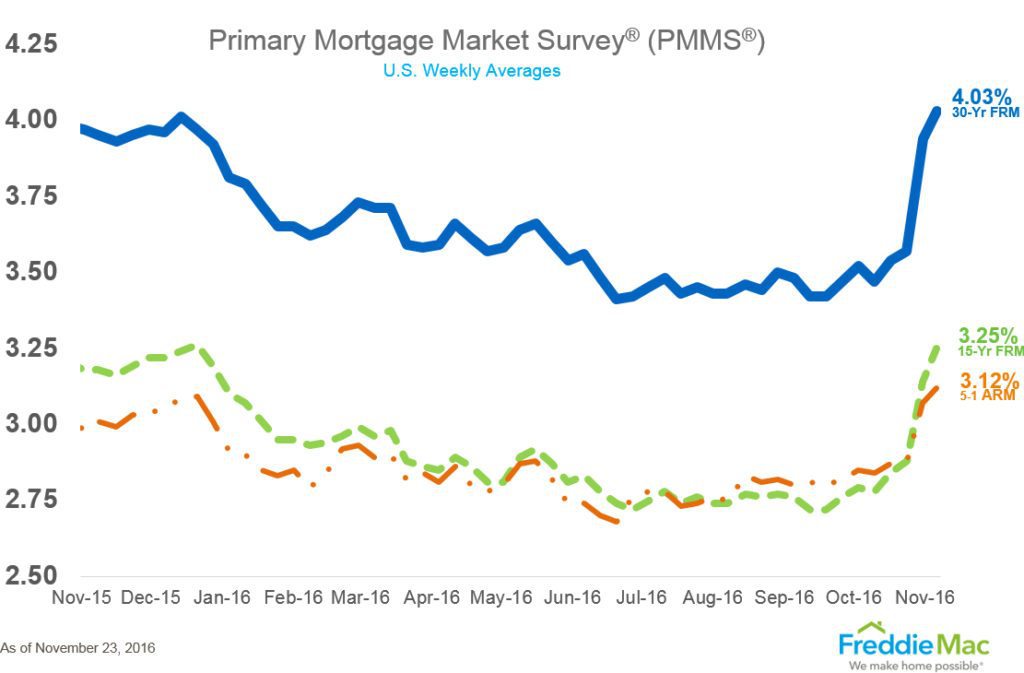 U.S. Census Bureau and U.S. Department of Housing and Urban Development's New Residential Sales in October 2016:
Sales of new single-family houses in October 2016 were at a seasonally adjusted annual rate of 563,000.
This is 1.9 percent (±13.1%)* below the revised September rate of 574,000, but is 17.8 percent (±16.9%) above the October 2015 estimate of 478,000.
The median sales price of new houses sold in October 2016 was $304,500; the average sales price was $354,900.
Tuesday, November 22:
Campbell/Inside Mortgage Finance HousingPulse Tracking Survey for October 2016:
Non-distressed properties sold during October had an average price of $297,300, based on a three-month moving average.
This is an 1.8 percent decline from the previous month and a 4.1 percent decline from the average price of $310,000 in August.
Prices in October were up by 3.4 percent year-over-year.
National Association of Realtors Existing-Home Sales for October 2016:
Total existing-home sales were at a seasonally adjusted annual rate of 5.60 million in October.
This is a 2.0 percent month-over-month increase from the upwardly revised rate of 5.49 million in September.
A year ago in October, the sales pace was 5.29 million.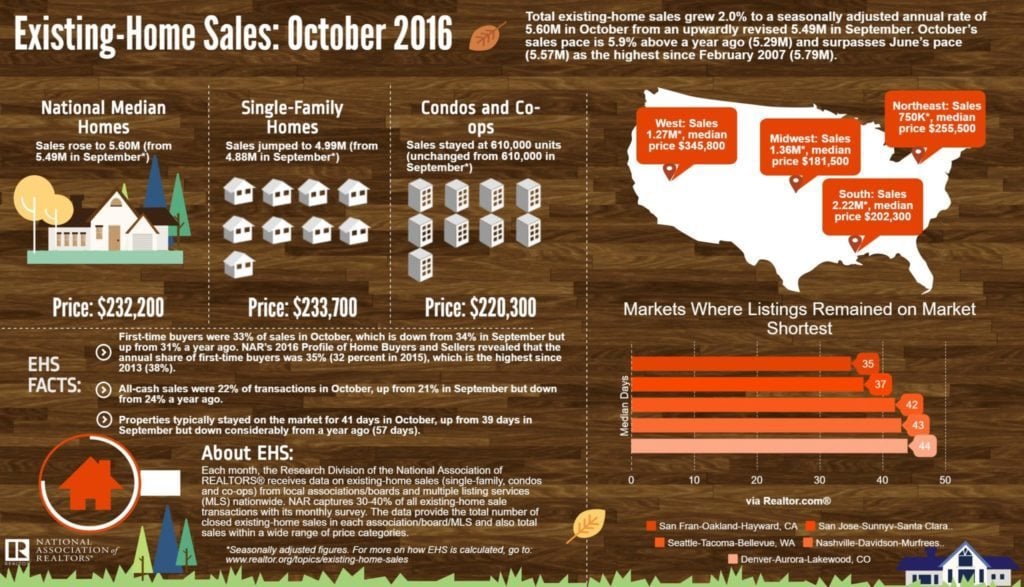 Monday, November 21:
First American October 2016 Potential Home Sales:
Potential existing-home sales increased to a 5.9 million seasonally adjusted, annualized rate (SAAR).
This represents a 97.4 percent increase from the market potential low point reached in December 2008.
In October, the market potential for existing-home sales grew by 6.7 percent compared with a year ago, an increase of 376,000 (SAAR) sales.

Email market news to press@inman.com.