We'll add more market news briefs throughout the day. Check back to read the latest.
Mortgage Bankers Association's Builder Applications Survey:
The Mortgage Bankers Association (MBA) Builder Application Survey (BAS) data for January 2017 shows mortgage applications for new home purchases increased 9.2 percent compared to January 2016.
Compared to December 2016, applications increased by 22 percent relative to the previous month.
By product type, conventional loans composed 67.2 percent of loan applications, FHA loans composed 18.6 percent, RHS/USDA loans composed 1.1 percent and VA loans composed 13 percent.
The average loan size of new homes decreased from $331,354 in December to $329,806 in January.
CoreLogic's National Foreclosure Report for December 2016:
There were 21,000 completed foreclosures in December 2016, down from 36,000 the previous year.
The "seriously delinquent" rate is at 2.6 percent, the lowest level since June 2007.
About 335,000 homes were in some stage of foreclosure in December 2016.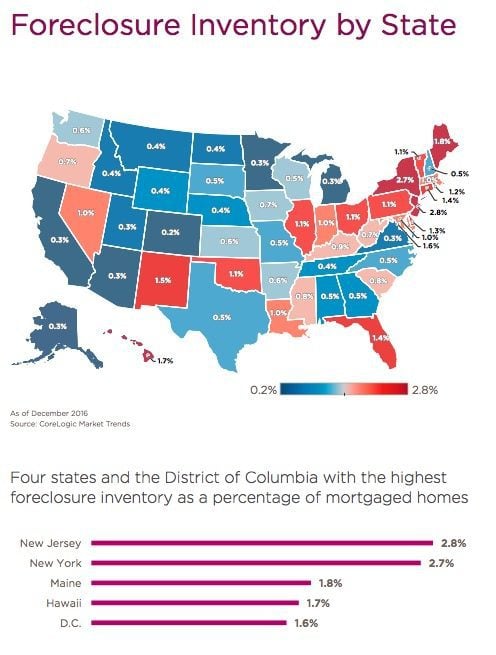 Quicken Loans National Home Price Perception Index (HPPI) for January 2017:
The national HPPI shows appraised values were 1.47 percent lower than homeowners estimated in January.
Home values rise 3.93 percent year-over-year nationally, despite slight drop from previous month, according to the Quicken home value index.
Appraisal values in January fell slightly, 0.34 percent month-over-month.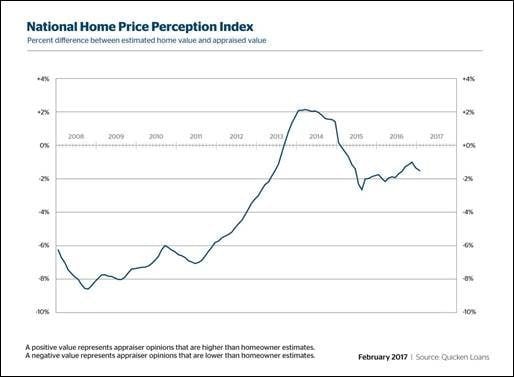 Mortgage rates:
Home equity rates:
Most recent market news:
Freddie Mac's Primary Mortgage Market Survey:

Sell the lifestyle by being part of your community
Top producer Teddy Errico on how loving where you live can lead to sales
READ MORE
30-year fixed-rate mortgage (FRM) averaged 4.17 percent with an average 0.4 point for the week ending

Feb. 9, 2017.

This was down from last week when it averaged 4.19 percent.
A year ago at this time, the 30-year FRM averaged 3.65 percent.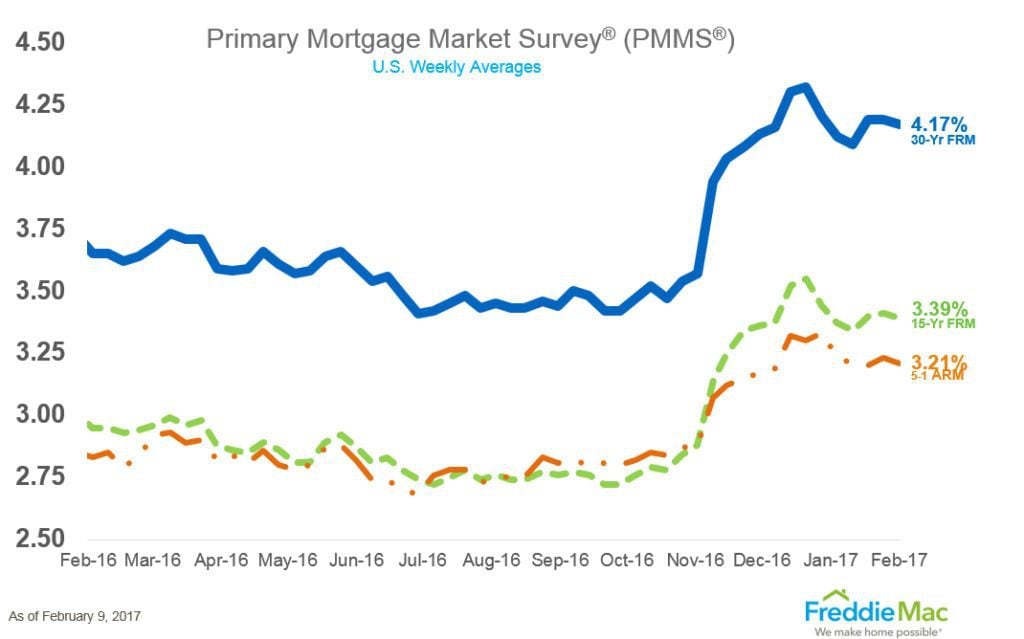 National Association of Realtors' quarterly sales pace report:
The median existing single-family home price increased in 89 percent of measured markets, with 158 out of 178 metropolitan statistical areas (MSAs) showing sales price gains in the fourth quarter of 2016 compared with the fourth quarter of 2015.
Twenty areas (11 percent) recorded lower median prices from a year earlier.
An average of 87 percent of measured markets saw increasing home prices, up from the averages in 2015 (86 percent) and 2014 (75 percent).
Attom Data Solutions Year-End 2016 Home Equity and Underwater Report:
As of the end of 2016, there were 5.4 million (5,408,323) U.S. properties seriously underwater — where the combined loan amount secured by the property was at least 25 percent higher than the property's estimated market value.
This is a decrease of more than 1 million properties (1,028,058) from a year ago.
The 5.4 million seriously underwater properties at the end of 2016 represented 9.6 percent of all U.S. properties with a mortgage, down from 10.8 percent at the end of Q3 2016 and down from 11.5 percent at the end of 2015.
Email market reports to press@inman.com.