Though new home purchases by investors have declined during the housing recovery, most of the nation's 14 million single-family landlords seem to be staying put.
One reason is that new services are making landlording easier for mom-and-pop owners.
During the aftershock of the housing bust eight years ago, flipping or fixing up and renting ex-foreclosures was almost as easy as minting money.
Four to six million foreclosures — about as many homes as are sold nationally every year — became rentals and contributed to today's inventory drought.
Now that defaults have nearly disappeared and acquisition prices are through the roof, home values are soaring, and the three-year drought has turned most of the nation's markets into sellers' paradises.
Some observers (including me) have speculated that this could be the year that many wayward rentals would return to homeownership. Most of them are the smaller, more affordable properties that are appreciating double-digit rates.
There's some early evidence that most of the nation's 14 million or so mom-and-pop investors are staying put; high acquisition prices and tight supplies are taking a toll on new investor purchases.
New purchases by investors have declined
New research by the Center for Real Estate Analytics at the Federal Reserve Bank of Atlanta found that the Southeast remains a healthy market for investors, but the share of investor purchases has fallen to 13.9 percent from a high of 26.12 percent in September 2012.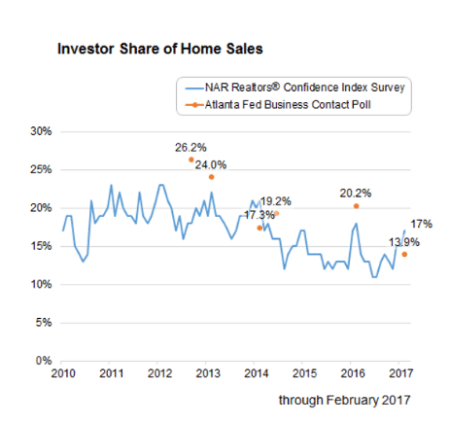 The majority of investors today are small landlords renting single-family homes.
The Atlanta Fed's findings track closely with data from NAR's monthly Realtors' Confidence Index, which found that sales to investors fell to 17 percent of all sales in February from a peak of 25 percent in February 2009.
"Certain areas around the Southeast may have seen an increase, but investment activity does not appear to have increased in a material way across the nation," concluded Jessica Dill, economic policy analyst specialist at the Atlanta Fed.
TransUnion: Landlords are sitting tight
A new survey of mostly small landlords by TransUnion, which provides landlords a new tenant screening service, found that a small majority believe they are more profitable than they were 10 years ago and that they find it less difficult to find qualified tenants.
Six out of 10 landlords reported tenants are staying in their units longer this year than last year.
"One reason is that landlords are selecting better tenants. I also think that because vacancies are low and occupancy is up, renters are looking around and seeing the supply and pricing constraints and deciding not to move," said Michael Doherty, senior vice president of TransUnion's rental screening solutions group.
Flattening rent growth does not seem to motivate landlords to sell, at least not yet. TransUnion found that only 63 percent of single-family rental landlords raised rents over the past 12 months compared to 81 percent the previous year.
Nationwide, annualized multifamily rent growth retreated to 2.1 percent in March 2017, below the long-term average of 2.3 percent and the lowest rate since July 2010, according to Axiometrics' apartment market data.
Seventy percent of the landlords in the TransUnion poll own fewer than 10 properties. The availability of services like property management, financing for investors, and marketing as well as tenant screening is making landlording easier and more profitable for mom-and-pop investors.
"I think that there are more and more services out there that can help these landlords with services like rental listing services, training tools, and background screening when historically it was tough to get that kind of background information," Doherty said.
Steve Cook is editor and co-publisher of Real Estate Economy Watch. Visit him on LinkedIn and Facebook.