First-time homebuyers are spending 22 percent more on renovations than in 2015.
Although baby boomers spend more on renovations, millennials have the largest increase in renovation spending (7 percentage points more) from 2015.
According to Houzz's 2017 House and Home report, millennials and first-time buyers aren't letting low inventory woes keep them down; instead, they're embracing fixer-upper homes and renovating them to meet their needs.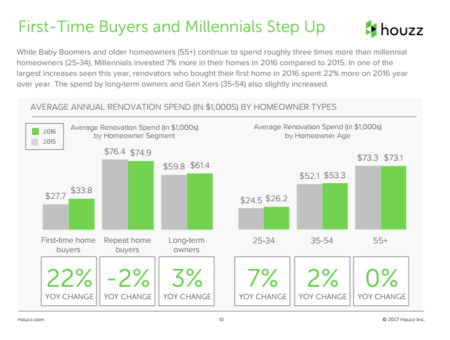 "Recent homebuyers drive a significant share of home renovations today, with repeat buyers investing twice as much in their home as first-time homebuyers," said Nino Sitchinava, Houzz principal economist in a press release.
Buyers who bought their first home in 2016 spent an average of $33,800 on renovations — a 22 percent increase from 2015.
Baby boomers (55-plus) spent three times more on renovations than their younger counterparts, but millennials have increased their spending to an average of $26,200, 7 percentage points higher than last year.
First-time homeowners of all ages are taking on large projects, renovating an average of four rooms at a time — nearly double that of long-time owners.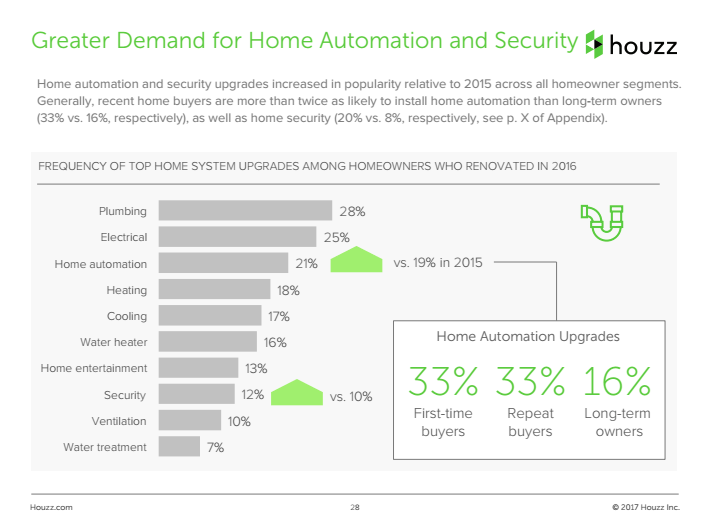 Kitchens and bathrooms are still the most popular renovations, but newbie homeowners are beginning to turn their focus to smart home technology and other additions that make the home "healthy."
Twenty-eight percent of first-time buyers say smart home technology is "very important" to their renovation, a three percentage point increase from 2015.
These buyers are looking for smart home tools that automate various home features such as security and temperature control.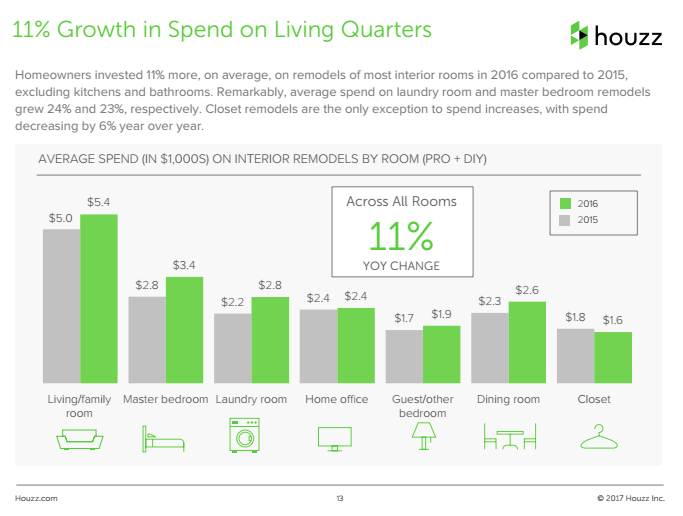 Beyond technology, homeowners are pumping more cash into living spaces including living/family rooms ($5,400), dining rooms ($2,600) and guest bedrooms ($1,900). Laundry rooms are even getting more attention with homeowners spending an impressive 24 percent more ($2,800) than in 2015.
So, why and how exactly are these buyers paying for all these upgrades?
It seems that homeowners began investing in more renovations simply because they finally had the time (37 percent) and money (36 percent). When it comes to the financial aspect of renovations, it seems that buyers finally had the money to renovate because of increased access to credit.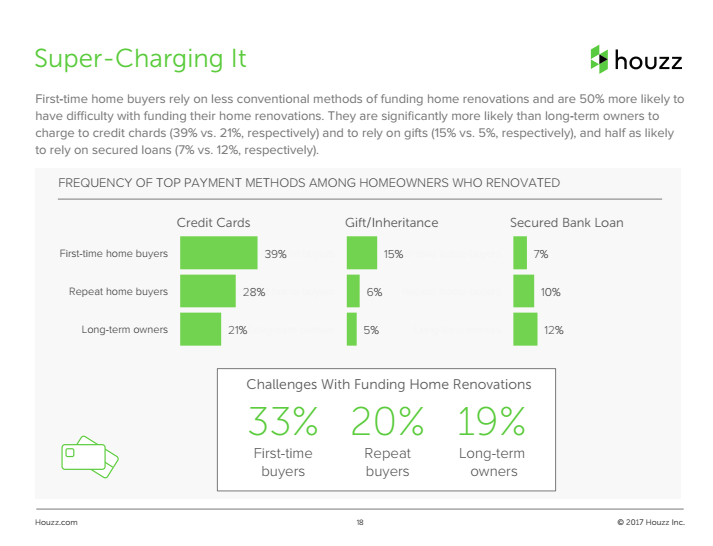 First-time buyers are twice as likely to rely upon credit cards to fund renovations than long-time owners (39 percent versus 21 percent), and three times as likely to rely on gifts (15 percent versus 5 percent) from family and friends. Despite this uptick in using credit cards, 91 percent of homebuyers still count on cash to be the main method of funding projects.
Houzz is expecting the increased interest in fixer-uppers and renovations to continue into 2017, as millennials and first-time buyers are looking for every option to own a home.
"Younger and cash-constrained first-time buyers are responding to the low inventory of affordable homes by purchasing properties that require more than just cosmetic upgrades. Not surprisingly, we are seeing their spend on home renovations increasing significantly in 2016 and expect this trend to continue through 2017," said Sitchinava.
About the Houzz & Home survey
The annual Houzz & Home survey is the largest survey of residential remodeling, building and decorating activity published. The survey covers a wide range of renovation projects in 2016, from interior remodels and additions to home systems, exterior upgrades and outdoor projects. Data gathered includes historical and planned spends, professional involvement, motivations and challenges behind building, renovation and decorating projects, as well as planned activities for 2017. The 2017 study includes more than 100,000 respondents in the U.S. alone, providing insights into the home improvement activity of the more than 40 million monthly unique users of the Houzz site and mobile apps.
The Houzz & Home Survey was sent to registered users of Houzz and fielded in February-April 2017. The Farnsworth Group, an independent market research firm, conducted the survey. The full U.S. report is available at [insert link when available].