The S&P CoreLogic Case-Shiller U.S. National Home Price NSA Index, covering all nine U.S. census divisions, reported a 5.8 percent annual gain in March, up from 5.7 percent last month.
March's S&P/Case-Shiller Home Price Index numbers set a fourth consecutive all-time high – the highest HPI seen in 33 months.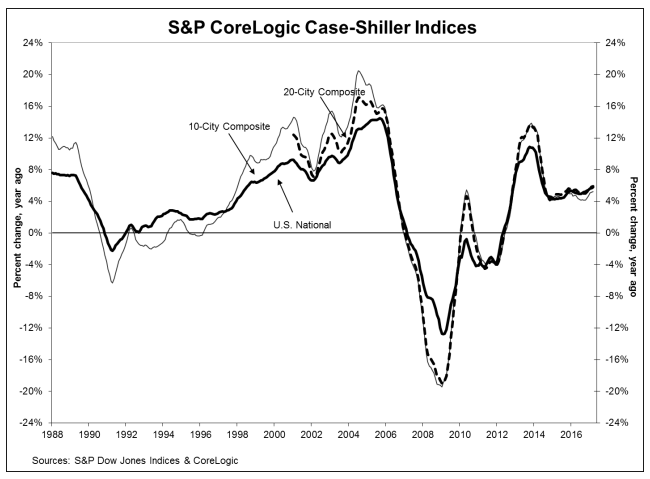 March 2017's national index comes in at 186.95, a 5.8 percent year-over-year increase from March 2016 and a seasonally adjusted 0.1 percent month-over-month increase.
"Home prices continue rising with the S&P Corelogic Case-Shiller National Index up 5.8 percent in the year ended March, the fastest pace in almost three years," said David M. Blitzer, Managing Director and Chairman of the Index Committee at S&P Dow Jones Indices, in a statement.
"While there is some regional variation, prices are rising across the U.S. Half of the 20 cities tracked by the S&P Corelogic Case-Shiller indices rose more than 6 percent from March 2016 to March 2017. The smallest gain of 4.1 percent, in New York, was roughly double the rate of inflation."
10-City and 20-City composite
The 10-City and 20-City composite boasted 5.2 and 5.9 percent year-over-year gains respectively, and the cities of Portland, Oregon; Seattle and Dallas led the way. Seattle reported a 12.3 percent year-over-year price increase, followed by Portland with a 9.2 percent increase.
Dallas shored up the end of the pack with an 8.6 percent increase – essentially unchanged from February.
The 10-City and 20-City composites reported 0.8 and 0.9 percent seasonally adjusted month-over-month increases, and only Tampa, Florida; and Cleveland, Ohio; reported negative monthly price changes.
New inventory is key
Much like last month, Blitzer said real estate agents and professionals must temper any excitement they have about the red hot buying season they're currently experiencing because, as the old adage says, "What goes up, must come down."
"Sales of both new and existing homes, housing starts and the National Association of Home Builders' sentiment index are all trending higher," Blitzer said. "Over the last year, analysts suggested that one factor pushing prices higher was the unusually low inventory of homes for sale.
"People are staying in their homes longer rather than selling and trading up. If mortgage rates, currently near 4 percent, rise further, this could deter more people from selling and keep pressure on inventories and prices," he predicts.
"While prices cannot rise indefinitely, there is no way to tell when rising prices and mortgage rates will force a slowdown in housing."
About S&P/Case-Shiller U.S. National Home Price Index
The S&P/Case-Shiller U.S. National Home Price Index is a composite of single-family home price indices that is calculated every month; the indices for the nine U.S. Census divisions are calculated using estimates of the aggregate value of single-family housing stock for the time period in question.
The nine divisions are:
New England
Middle Atlantic
East North Central
West North Central
South Atlantic
East South Central
West South Central
Mountain
Pacific
CoreLogic serves as the calculation agent for the S&P/Case-Shiller U.S. National Home Price Index.