The fintech startup shut down in June but has been acquired by one of its investors.
Fintech startup Sindeo is back in business, Inman has learned.
"Renren, one of Sindeo's investors, has acquired Sindeo and all of its assets," Nick Stamos, one of Sindeo's co-founders, told Inman in a statement. "We are excited to work closely with the Renren team to execute on our original mission of offering homebuyers a straightforward path to home ownership and refinancing." He did not disclose the terms or the sum of the acquisition.
In June, many in the industry were shocked to hear that San Francisco-based Sindeo, a company that connects homebuyers with loans, was shutting its doors and laying off all its staff. The website went dark, replaced with a "farewell" letter from co-founder and CEO Nick Stamos.
But as of today, sindeo.com is up and running, and the letter is nowhere in sight.
"Startups are hard and simplifying the highly regulated, complex business of mortgages is even harder," wrote Stamos in the letter posted on sindeo.com in June. "I believed we had overcome the biggest hurdles, but unfortunately, we didn't."
Crunchbase lists three investors for Sindeo's seed and Series A funding rounds, any of whom could be the mystery buyer:
Second Century Ventures (which is owned and operated by the National Association of Realtors)
Renren Inc.
Philippe Suchet
Christopher Hussain, an original co-founder of Sindeo, told Inman that Ori Zohar, Sindeo's other co-founder, and Jobe Danganan, the company's legal and compliance expert, are the two members of the leadership team that he knows are staying on board the company. "As far as the rest of the leadership team, that is a question mark," he said. (No longer involved with Sindeo, Hussain is now the CEO and founder of RealKey.)
Stamos said via email that this was "inaccurate" — so it looks like he's also involved.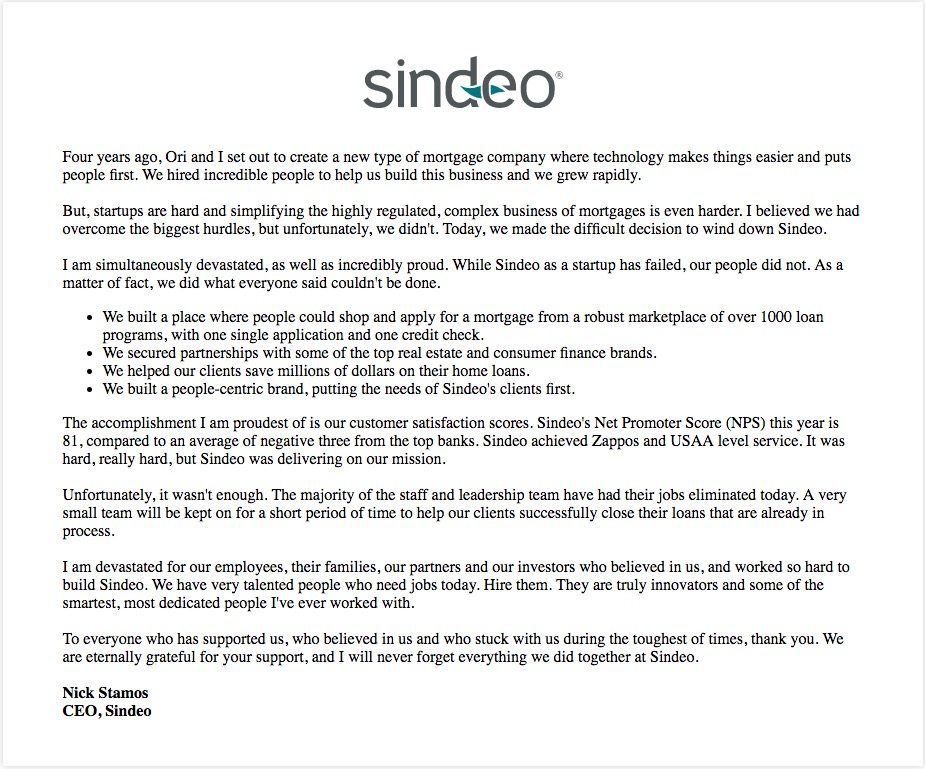 Sindeo formerly described itself as a lender-paid mortgage originator. The company aimed to offer back-end technology to help lenders process loans more efficiently and improve communication between homebuyers and real estate agents.
Another major focus for the company was on providing more transparency for consumers and "demystifying" the mortgage process for those planning to purchase a home or refinance an existing loan.
It looks like the company is going to get another chance — Hussain confirmed that the scope and focus of Sindeo is going to remain the same.
"We built a place where people could shop and apply for a mortgage from a robust marketplace of over 1,000 loan programs, with one single application and one credit check," Stamos wrote in June. "We did what everyone said couldn't be done."
Editor's note: This story has been updated.