June's S&P/Case-Shiller Home Price Index shows that home prices are continuing to ascend — impacting affordability and the overall robustness of the housing market.
June 2017's national index comes in at 192.60, a 5.8 percent year-over-year increase from June 2016 and a seasonally adjusted 0.9 percent month-over-month increase.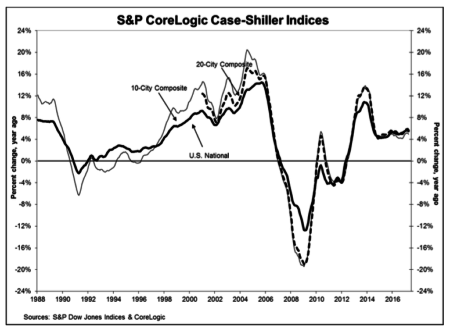 "The trend of increasing home prices is continuing," said S&P Dow Jones Indices managing director and chairman of the index committee David M. Blitzer in a statement. "Price increases are supported by a tight housing market. Both the number of homes for sale and the number of days a house is on the market have declined for four to five years."
"Currently the months-supply of existing homes for sale is low, at 4.2 months," he added. "In addition, housing starts remain below their pre-financial crisis peak as new home sales have not recovered as fast as existing-home sales.
"Rising prices are the principal factor driving affordability down. However, other drivers of affordability are more favorable: the national unemployment rate is down, and the number of jobs created continues to grow at a robust pace, rising to close to 200,000 per month.
"Wages and salaries are increasing, maintaining a growth rate a bit ahead of inflation," Blitzer concluded. "Mortgage rates, up slightly since the end of 2016, are under 4 percent. Given current economic conditions and the tight housing market, an immediate reversal in home price trends appears unlikely."
10-City and 20-City composite
The 10-City and 20-City composite boasted 4.9 percent and 5.7 percent year-over-year gains, respectively, and the cities of Portland, Oregon; Seattle, Washington; and Dallas, Texas; led the way. Seattle reported a 13.4 percent year-over-year price increase, followed by Portland with an 8.2 percent increase.
Dallas shored up the end of the pack with a 7.7 percent increase.
The 10-City and 20-City composites reported 0.9 percent and 0.7 percent seasonally adjusted month-over-month increases, and no city reported a negative monthly price change.
About S&P/Case-Shiller U.S. National Home Price Index
The S&P/Case-Shiller U.S. National Home Price Index is a composite of single-family home price indices that is calculated every month; the indices for the nine U.S. Census divisions are calculated using estimates of the aggregate value of single-family housing stock for the time period in question.
The nine divisions are:
New England
Middle Atlantic
East North Central
West North Central
South Atlantic
East South Central
West South Central
Mountain
Pacific
CoreLogic serves as the calculation agent for the S&P/Case-Shiller U.S. National Home Price Index.