We'll add more market news briefs throughout the day. Check back to read the latest.
Most recent market news
Tuesday, November 28
S&P CoreLogic Case-Shiller Home Price Indices (HPI)
There was a 6.2 percent annual gain in September, up from 5.9 percent in the previous month.
The 10-City Composite annual increase came in at 5.7 percent, up from 5.2 percent the previous month.
The 20-City Composite posted a 6.2 percent year-over-year gain, up from 5.8 percent the previous month.
Seattle, Las Vegas, and San Diego reported the highest year-over-year gains among the 20 cities.
In September, Seattle led the way with a 12.9 percent year-over-year price increase, followed by Las Vegas with a 9.0 percent increase, and San Diego with an 8.2 percent increase. 13 cities reported greater price increases in the year ending September 2017 versus the year ending August 2017.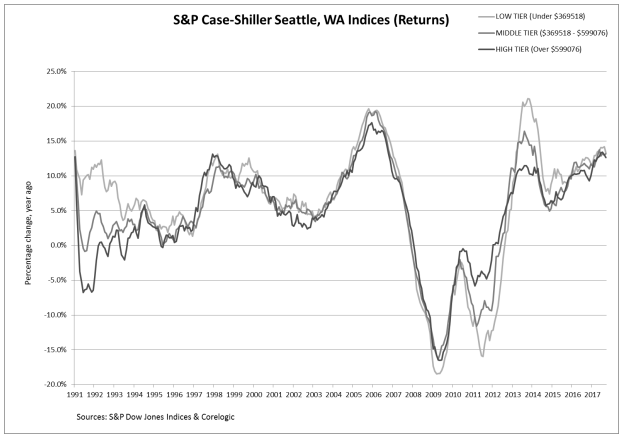 Before seasonal adjustment, the National Index posted a month-over-month gain of 0.4 percent in September.
The 10-City and 20-City Composites reported increases of 0.5 percent and 0.4 percent, respectively. After seasonal adjustment, the National Index recorded a 0.7 percent month-over-month increase in September.
The 10-City and 20-City Composites posted 0.6 percent and 0.5 percent month-over-month increases, respectively. 15 of 20 cities reported increases in September before seasonal adjustment, while all 20 cities reported increases after seasonal adjustment.
"Most economic indicators suggest that home prices can see further gains," said Managing Director and Chairman of the Index Committee at S&P Dow Jones Indices David M. Blitzer.
"Rental rates and home prices are climbing, the rent-to-buy ratio remains stable, the average rate on a 30-year mortgage is still under 4 percent, and at a 3.8-month supply, the inventory of homes for sale is still low.
"The overall economy is growing with the unemployment rate at 4.1 percent, inflation at 2 percent and wages rising at 3 percent or more. One dark cloud for housing is affordability — rising prices mean that some people will be squeezed out of the market," Blitzer added.
Federal Housing Finance Agency (FHFA) House Price Index (HPI) Q3 2017 Report
U.S. house prices rose 1.4 percent in the third quarter of 2017. House prices rose 6.5 percent from the third quarter of 2016 to the third quarter of 2017.
FHFA's seasonally adjusted monthly index for September was up 0.3 percent from August.
Home prices rose in 50 states and the District of Columbia between the third quarter of 2016 and the third quarter of 2017.
The top five areas in annual appreciation were: 1) District of Columbia 11.6 percent; 2) Washington 11.5 percent; 3) Hawaii 10.0 percent; 4) Arizona 10.0 percent; and 5) Nevada 9.6 percent.
Home prices rose in each of the 100 largest metropolitan areas in the U.S. over the last four quarters.
Annual price increases were greatest in the Seattle-Bellevue-Everett, WA (MSAD), where prices increased by 14.6 percent. Prices were weakest in Camden, NJ (MSAD), where they rose 0.5 percent.
Of the nine census divisions, the Pacific division experienced the strongest annual appreciation, posting an 8.9 percent gain since the third quarter of last year and a 1.7 percent increase since the second quarter of 2017.
House price appreciation was weakest in the Middle Atlantic division, where prices rose 4.8 percent annually.
FHFA's video of highlights for Q3 2017
News from earlier this week
Monday, November 27
The U.S. Department of Housing and Urban Development (HUD) and the U.S. Census Bureau: New residential sales statistics for October 2017
Sales of new single-family houses in October 2017 were at a seasonally adjusted annual rate of 685,000. This is 6.2 percent (±19.0 percent) above the revised September rate of 645,000, and is 18.7 percent (±23.5 percent) above the October 2016 estimate of 577,000.
The median sales price of new houses sold in October 2017 was $312,800. The average sales price was $400,200.
The seasonally adjusted estimate of new houses for sale at the end of October was 312,800. This represents a supply of 4.9 months at the current sales rate.
Email market reports to press@inman.com.