Mortgage rates dipped for the fifth time in six weeks according to mortgage giant Freddie Mac's most recent Primary Mortgage Market Survey. The rate for a 30-year fixed mortgage averaged 4.52 percent for the week ending in July 5, down from last week's 4.55 percent average but up significantly from the 3.96 percent average a year ago.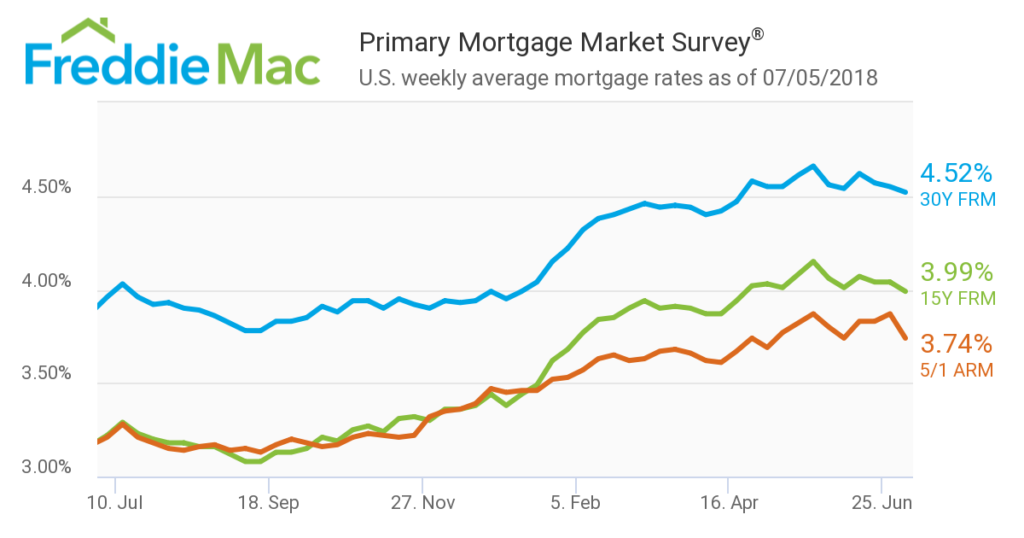 "The run-up in mortgage rates earlier this year represented not just a rise in risk-free borrowing costs, but for investors, the mortgage spread also rose back to more normal levels by about 20 basis points," said Sam Khater, Freddie Mac's chief economist. "What that means for buyers is good news. Mortgage rates may have a little more room to decline over the very short term."
"Although the current economic expansion is in its 10th year, residential single-family real estate was initially slow to recover," Khater added. "Now, backed by the demographic tailwind provided by millennials reaching the peak age to buy their first home, the housing market should have some room to grow going forward."
Rates for a 15-year fixed rate mortgage also declined slightly, averaging 3.99 percent, down 0.4 percent from last week. Last year at this time, a 15-year fixed rate mortgage averaged 3.22 percent.
A five-year Treasury-indexed hybrid adjustable-rate mortgage (ARM) was also down this week, dropping 0.3 percent to 3.74 percent. Last year at this time, the five-year ARM averaged 3.21 percent.
Danielle Hale, chief economist for realtor.com, said that uncertainty surrounding tariffs from the Trump administration has kept mortgage rates steady.
"Uncertainty over tariffs had bond and mortgage rates treading water this week, slipping only 3 basis points this week and landing at 4.52 percent," said Hale in a statement. "This is still 56 basis points higher than one year ago."
"Coupled with price growth, this rate increase means principal and interest payments on the typical listing cost nearly $170 more per month, up 16 percent from last year," she added. "How tariffs will ultimately impact the mortgage market comes down to whether or not they impact economic growth, which has thus far proved resilient."