The nation's active foreclosure inventory has fallen below pre-recession levels, according to the first look at monthly mortgage data from financial analytics company Black Knight Inc.
Active foreclosure inventory dropped below 300,000 for the first time since the third quarter of 2006, according to the data, a year-over-year decrease of 119,000. There were 43,500 total foreclosure starts in the month of June, the lowest level in 17 years, down 3.12 percent month-over-month and 23.01 percent year-over-year.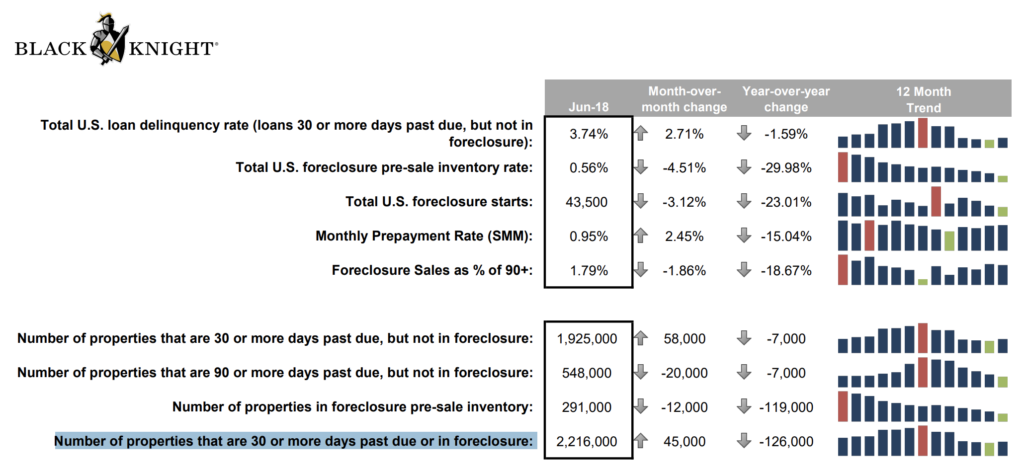 Despite the overall downward trend in foreclosure in delinquency rates since the recession, the number of homes in foreclosure actually ticked up slightly from May to June, climbing by 45,000.
It's still a year-over-year decline of 126,000. The total home loan delinquency rate — mortgages that were more than 30 days late but not yet in foreclosure — also jumped 2.71 percent month-over-month, but was still down 1.59 percent year-over-year.
The rate of home loans that were more than 90 days late hit a new pre-recession low after spiking during the 2017 hurricane season. In June, 548,000 homes were more than 90 days delinquent, down 20,000 month-over-month and 7,000 year-over-year.
Regionally, Mississippi has the highest rate of loans more than 90 days delinquent, followed by Florida, Louisiana, Alabama and Arkansas.
A full look at the numbers and analysis will be available on August 6.