Homeowners can sleep a little better: property crime is down, according to a report released by the Federal Bureau of Investigation on Monday.
Defined by the FBI as "burglary, larceny-theft, motor vehicle theft, and arson," property crime numbers dropped 3 percent between 2016 and 2017. Over the past year, the agency recorded 7,694, instances of property crime, with larceny theft making up almost three quarters (71.8 percent) of that total. At 18 percent, burglary was the second most frequently committed crime followed by motor vehicle theft at 10 percent.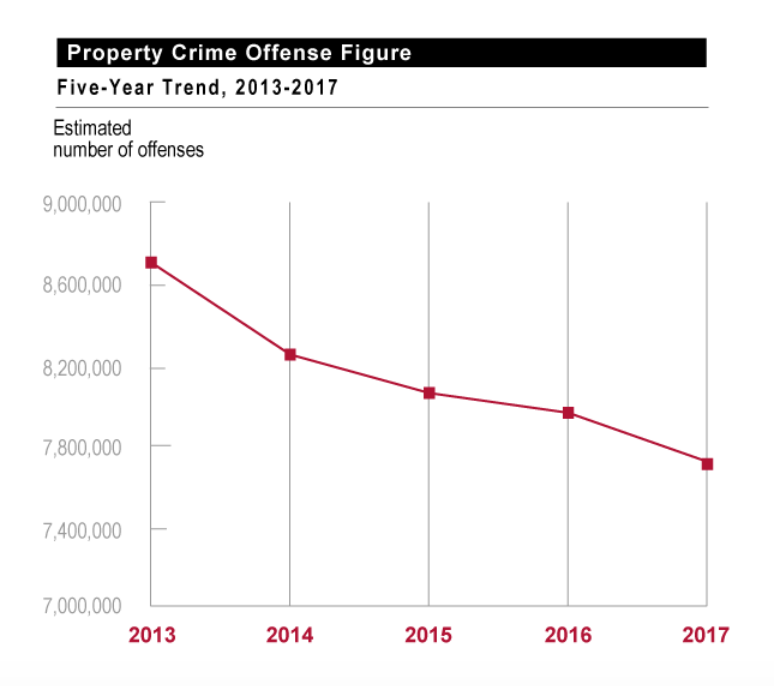 All told, victims of property crime — arson excluded — suffered $15.3 billion in damages in 2017. But while the numbers may sound shocking, burglaries and larceny-thefts dropped by 7.6 percent and 2.2 percent, respectively. Motor vehicle theft rose, but only by 0.8 percent.
In total, property crime has dropped 13.6 percent since 2013 and 26.5 percent since 2008.
The FBI report also looked at violent crime, which dropped by 0.2 percent between 2017 and 2016. Out of the 1.24 million violent crimes committed in 2017, aggravated assault (65 percent) and robbery (25.6 percent) made up the lion's share. Making up only 1.4 percent of all violent crimes, murders have dropped 0.7 percent between 2017 and 2016.
And finally, the report shows homeowners that they are much more likely to fall victim to property crime than to the violent crime many fear most  — while there were 382.9 violent crime offenses per every 100,000 inhabitants, there were 2,362.2 property crime offenses for the same number of people.