As soon as many Americans begin working, they simultaneously begin planning their ideal retirements too.
According to a survey of 2,000 respondents by Provision Living Senior Living Communities, 52 percent of Americans say they think about retirement four or more times per week and the average ideal age for retirement is 60 — although millennials plan to retire earlier (56) than their baby boomer counterparts (64).
More than 78 percent of respondents say they'd like to stay stateside with Miami, San Diego, Denver, New York, and Orlando being the top five locales for retirees. Twenty-one percent said they'd like to live abroad with Italy being the top choice.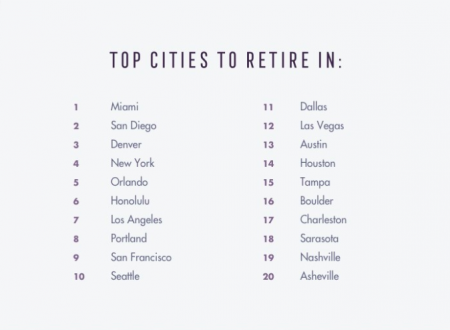 When it comes to their dream home, respondents said they'd like a one-story ranch near a coastal or beach setting. Millennials plan to have a bigger home at 1,890 square feet while baby boomers would like a property no bigger than 1,500 square feet.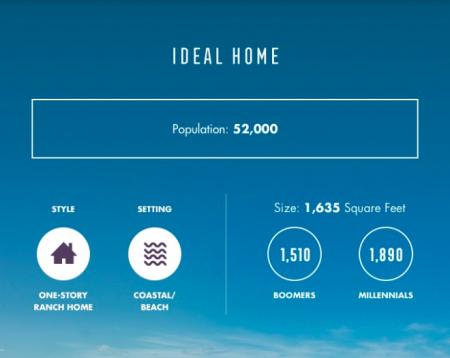 Although these Americans have big plans for retirement, how close are they to actually making it happen? On average, respondents said they'd ideally like to have $610,000 in savings, with millennials saying they need more to retire ($687K) than baby boomers ($574K).
But, when asked how much they'll realistically have in retirement savings, respondents, on average, said they'll only have $276,000. By age group, millennials said they'll have at least $357,000 in savings — $129,000 more than baby boomers.
Recent academic and consumer reports from groups such as the Harvard Joint Center for Housing Studies and companies such as Houzz and Zillow have highlighted baby boomers' needs as they begin planning for retirement, with the greatest concerns being financial stability and accessibility.
The Harvard Joint Center for Housing Studies' Housing America's Older Adults study revealed that baby boomers are delaying retirement — Americans aged 65 to 79 have experienced 10 percent increase in wages over the past five years, signaling the fact that they're staying in the workforce longer.
Despite that uptick in wages, JCHS says 9 million households aged 50 and over are barely raking in $15,000 per year, making the goal of having $574,000 in savings impossible.
Beyond affording retirement, baby boomers are increasingly looking for accessible housing, which includes ramp access, one-story home layouts, and bathrooms with safety bars and lower shower clearances.
Methodology
In October 2018, Provision Living surveyed 2,000 Americans using the Amazon Mechanical Turk platform. Surveyed respondents came from all sections of the country and all ages (Age range: 22 – 74 year olds).
Respondents were asked to envision their ideal retirement. Respondents were then surveyed on everything from ideal retirement age to where they picture themselves living when they're retired. Respondents were given a choice between multiple choice and write in answers.