Have suggestions for products that you'd like to see reviewed by our real estate technology expert? Email Craig Rowe.
Southern California agent Dyson Worth doesn't like the multiple listing service (MLS) model much. He recognizes its purpose and its role in the growth of the industry, but tends to grind his teeth when logging in.
"It's so antiquated," he said.
Worth, a 15-year industry veteran and now head of a three-person independent brokerage, is concerned that portals like Zillow and realtor.com have generated billions opening up their databases (technically, the MLS's properties) to consumers while what agents pay for to trade and regulate business is locked behind professional licensure, unavailable to consumers. He also believes the many technology systems being used in real estate today are creating more separation than unity, especially when it comes to getting deals done.
How did boards across the nation not see this coming?
In response, he created Worthroom, a transparent buying and selling marketplace that allows agents and consumers to search for, buy and sell properties in the same online environment. Unrepresented buyers and investors can bid on homes against buyers and their agents.
A look at Worthroom
His software is still six months or so from launch, but Worth gave Inman a look last week, as well as some opinions on how his colleagues have complicated the business process with redundant technologies, too many offer contingencies and believing for too long that only agents should control real estate data.
"There's a call for transparency today, but agents feared that if we gave consumers information to conduct business, they wouldn't need us anymore," Worth said.
His answer to that is a browser-based solution that allows everyone — agents and consumers — to view active listings, schedule showings, make an offer, bid in auction format or even buy now.
The bid option can be turned off when a sale is finalized for the site.
The "buy now" button opens directly into a completed, contingency-free, full-price State of California offer form. The buyer need only electronically enter their name, initial where required and sign the offer.
Similar efficiency is in place for a standard offer. An agent uses Worthroom's simplified offer interface to enter price, select lending options and enter all of their terms and conditions. Upon submitting, the official completed offer form is presented for signature and sending.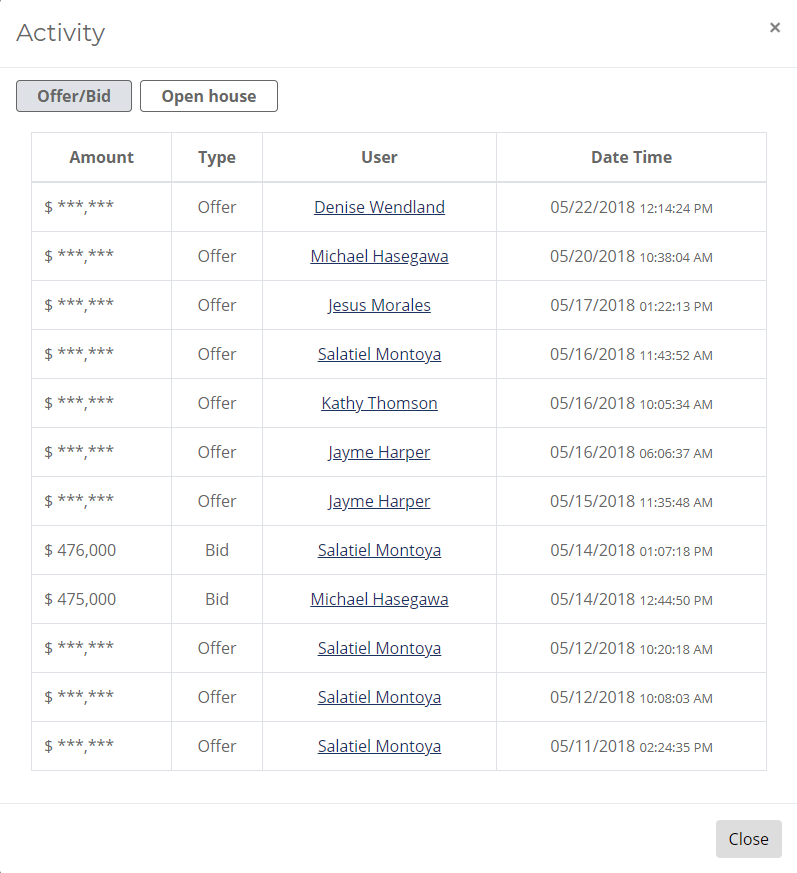 Offer recipients log in to accept, counter or decline an offer.
All disclosure and inspection forms are electronically ready to be attached to the offer as well. Worthroom allows for including proof of funds docs, pre-approval letters and home warranty documents.
There's no emailing attachments or third-party transaction apps to integrate. Worth said the e-forms bridge from his software to the completed California offer forms is his own creation.
But Worthroom is not a closed environment. Clicking on a clock icon on a listing's profile opens a list of all offers or bids on a property with the price, offerer's or bidder's name and time submitted. After all, competition is the key to getting a seller more money for a property.
Clicking on an agent's name in the offer timeline opens up their branded worthwoom profile and a connection to any other listings they have on the market.
Worthroom is designed to put everyone in the real estate market — agents, buyers, sellers and investors — on the same playing surface. It's Worth's contention that by doing so, agents will become better at streamlining their deals, understanding the nuances of the market and serving clients and the industry.
Additionally, he believes a direct marketplace is better for the industry than committing hundreds of millions in advertising and lead generation dollars to the very companies that seem to be marginalizing agents.
The software being six months from launch precludes it from criticism about user experience and lack of frontend sophistication. As of now, it will be free for agents, but private buyers and sellers will pay a fee.
Worthroom, which will start beta testing California, does show a lot of promise as far as doing what its developer is so passionate about: eliminating deal friction caused by multiple layers of technological clutter.
Have a technology product you would like to discuss? Email Craig Rowe.