Have suggestions for products that you'd like to see reviewed by our real estate technology expert? Email Craig Rowe.
Inman first looked at MoveEasy when it was operating with only two brokerages. The service, which allows agents to brand and pass-through a single source for everything having to do with relocation, is now working with 77 brokerages and close to 30,000 agents.
Given its depth of features and smart user experience, the growth is easy to understand.
Company CEO Venkatesh Ganapathy loves technology but also knows it's designed to support business transactions, not replace the people who initiate them.
For example, understanding that the multiparty brokerage model of the car shipment business tends to lean toward "shady," (an experience this author can confirm), Ganapathy decided to not give users a choice, instead partnering with the most reputable, non-brokerage model car shipper, Jack Cooper, which has been in business for 90 years.
MoveEasy has also added Internet and Cable selection features that enable users to select specific account levels from local providers. Users need merely provide an address and service start date and choose if they want only internet, or internet, cable and phone, for example.
MoveEasy's super-clean and insightful user interface helps users make sense of the stressful litany of decisions that accompany moving.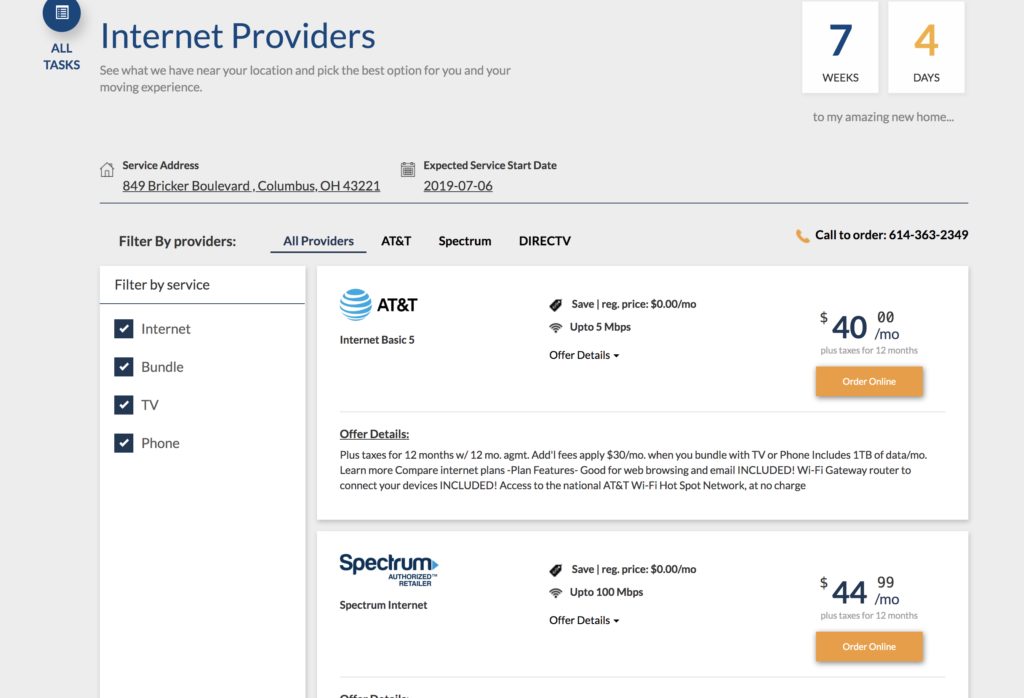 Every email confirmation and reminder sent is branded to their agent, as is the new voice activated internet (VAI) component available on Amazon's Echo.
Setting up the skill is easy, and that process also showcases the agent.
Having seen a number of a VAI real estate services of later, MoveEasy's demonstration showed the most fluid interaction between human and Alexa.
Alexa, find me a cleaner.
"Your agent recommends … "
Email summaries of each conversation are then sent, reminding the buyer again of their agent relationship.
Ganapathy told Inman that his decision for the VAI component stemmed from last year's Black Friday sales of smart speakers.
"I saw the sales and realized that voice search is becoming commonplace, so we have to ensure that our concierge-level service is everywhere our customers are," he said.
Ganapathy cited a talk given by Zillow Group CEO Rich Barton at the recent T3 Summit, at which he said that we should expect voice assistants to be in our wireless headphones.
"How can we get that kind of agent branding into those environments?" Ganapathy said.
Still, the CEO wants his team focused on personal service, and to be an extension of the one-on-one attention agents provide buyers and sellers during the sales process.
"We don't have a vendor list for golf carts," he said. "But we had a couple moving to Florida who wanted one, so our concierges got on the web and found them some options. That wouldn't have happened if we didn't have a phone call."
MoveEasy is a better example of what Angie's List and HomeAdvisor has attempted to do for consumers. It likely won't stop growing any time soon, and that's good news for agents, too.
Have a technology product you would like to discuss? Email Craig Rowe
How do you stay ahead in a changing market? Inman Connect Las Vegas — Featuring 250+ experts from across the industry sharing insight and tactics to navigate threat and seize opportunity in tomorrow's real estate. Join over 4,000 top producers, brokers and industry leaders to network and discover what's next, July 23-26 at the Aria Resort. Hurry! Tickets are going fast, register today!
Thinking of bringing your team? There are special onsite perks and discounts when you buy tickets together. Contact us to find out more.