The mobile app is available for free for Rapattoni subscribers.
The MLS platform provider was previously only accessible via web browsers like Safari, Chrome and Internet Explorer.
Features include parcel mapping, integrated management and billing systems, aerial photography, statistics and trends, language translation and more.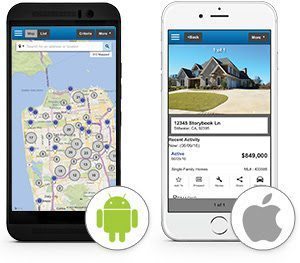 Accessing the MLS on-the-go just got easier for agents whose MLSs are powered by Rapattoni. The real estate tech provider announced today that an MLS mobile app is now available for iOS and Android users.
The MLS platform provider was previously only accessible via web browsers like Safari, Chrome and Internet Explorer, meaning mobile visitors had to visit a website instead of the more user-friendly experience that apps can provide.
About the app
Agents can access the service's features on their phones; those include parcel mapping, an integrated management and billing system, aerial photography, statistics and trends with analysis, and language translation.
The app features a one-touch login, allowing users to enter their IDs and passwords once to bypass subsequent logins.
Users can search for listings on a map, view listing updates and access their contact and prospect data.
Listing agents can revise listings and upload photos from their mobile devices. The app also includes social media tools, tax record integration and more MLS resources.
The app runs on a RETS (Real Estate Transaction Standard) 1.7.2 data exchange system with RESO (Real Estate Standards Organization) Web API support and RESO Data Dictionary 1.4 certification.
The app is free for Rapattoni MLS customers. After the MLS brands the app with its logo and splash screen background image, MLS members can then download the app from their respective app stores.
Extended certification process
Because the app was developed to fit each different MLS site, Rapattoni President Ralph Hoover says the process required a longer certification process than usual.
"We started this project several months ago," he said in a statement.
"Apple's review process is fairly thorough and getting the iOS apps approved can be rather time-consuming, plus we also need to get the Android versions approved by Google. Since the apps are customized for each MLS site, each one needs to make its way through the review process individually. It's a lot of work but well worth it to win a spot in the iTunes App Store and the Google Play Store."
"We're thrilled to offer these native iOS and Android apps to all Rapattoni MLS customers at no additional charge," said Destyn Dagle, director of MLS & IWS software at Rapattoni.
"With live MLS data as well as open houses and other features, our apps are the best source for up-to-date listing information."
Recent integrations and industry reach
Despite being a part of the real estate industry for over 45 years, Rapattoni has been keen on making updates as of late.
In March, the company announced an integration with the National Association of Realtors' upcoming Advanced Multilist Platform (AMP), which will give Rapattoni users access to new front and back ends of the MLS.
According to Rapattoni, its base of association management customers accounts for more than 80 percent of the nation's Realtors. As of August 2016, NAR reported its membership at 1,223,423.
In March, Inman's Andrea V. Brambila reported Rapattoni's MLS customer base at 110,000.