Are you set up for success in 2016? Join 2,500 real estate industry leaders Aug. 4-7, 2015, at Inman Connect in San Francisco. Get Connected with the people and ideas that will inspire you and take your business to new heights. Register today and save $100 with code Readers.
---
U.S. Census and HUD single-family home sales data showed:
There were 215,000 homes for sale entering July, with inventory rising to 5.4 months of supply — the highest level this year.
New single-family home sales in June hit a seasonally adjusted annual rate of 482,000.
This figure represents a 6.8 percent decline compared with May's rate of 517,000.
Black Knight's Home Price Index showed:
While overall U.S. home prices were up 1.1 percent from April to May, eight states in two regions saw month-to-month upticks of 1.5 to 1.8 percent.
Among all U.S. states, New York led the way with an overall gain in home prices of 1.8 percent.
California leads the 20 largest states with a 49.3 percent rate of appreciation from the national market bottom.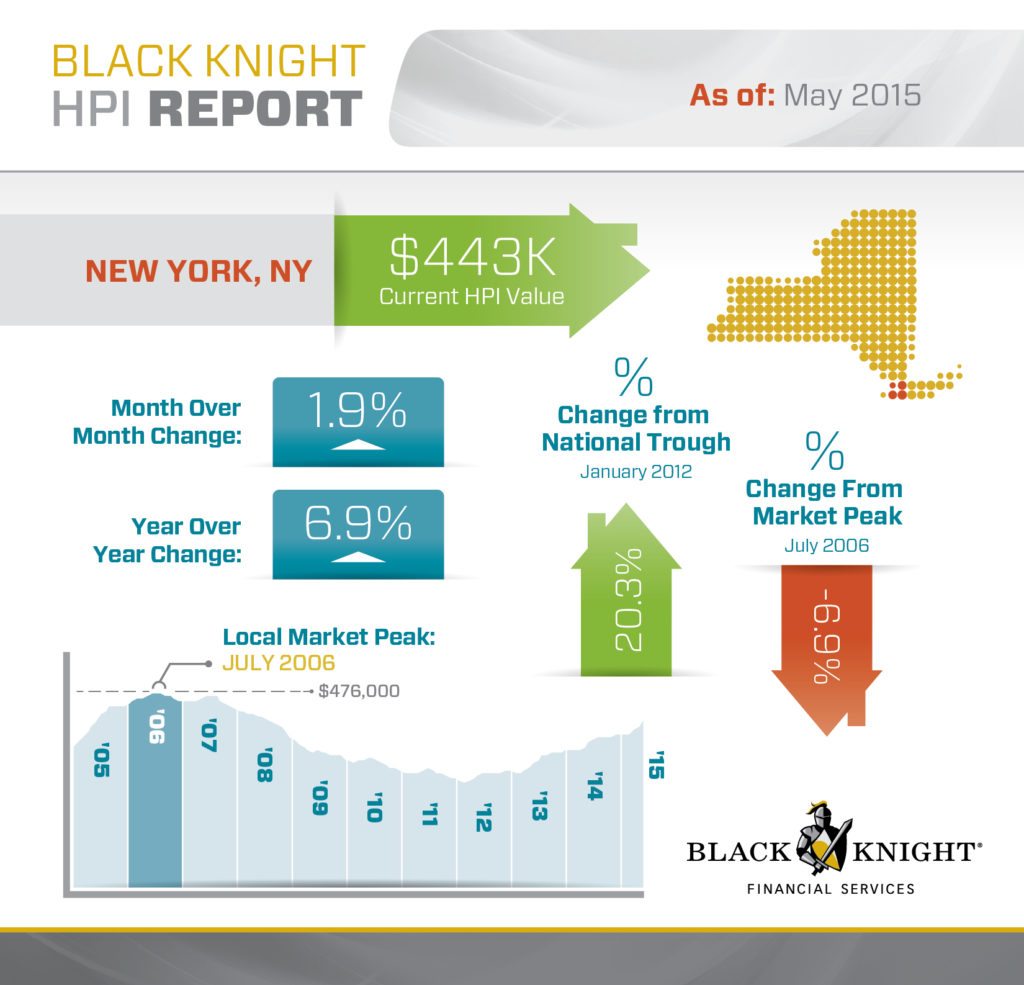 Pro Teck Valuation Services' Home Value Forecast showed:
The average months of remaining housing inventory is 6.1 nationwide, according to a Pro Teck forecast.
In June, the number of hot markets increased by 45 percent, with the number of 10-plus MRI (months of remaining inventory) areas dropping by 36 percent from the same time last year.
East Coast and rural markets have the highest MRI numbers.
The S&P/Experian Consumer Credit Default Indices showed:
The S&P/Experian Consumer Credit Default Indices, a comprehensive measure of changes in consumer credit defaults, showed increases in first-mortgage and second-mortgage default rates in June.
The first-mortgage default rate of 0.8 percent in June was up six basis points from its historical low in May.
The indices noted that three major cities continued their downward trend and reported negative month-over-month default rates in June: Los Angeles, New York and Dallas.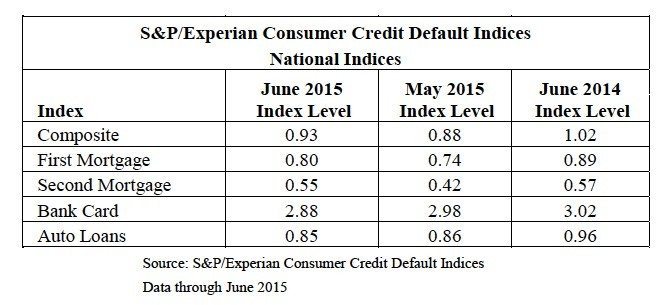 Campbell/Inside Mortgage Finance's HousingPulse Tracking Survey:
In June, the sales-to-list price ratio for nondistressed properties was 98.5 percent.
First-time homebuyers accounted for 38.3 percent of home purchases in June, a share not seen since 2010.
The average time on market for nondistressed properties was 8.5 weeks in June, down from an average of 11.1 weeks as recently as February.
NAR's Pending Home Sales Index showed:
Pending home sales fell 1.8 percent in June 2015 from the previous month.
June 2015 pending home sales are still 8.2 percent above year-ago numbers.
The share of first-time homebuyers is only modestly improving, said NAR Chief Economist Lawrence Yun.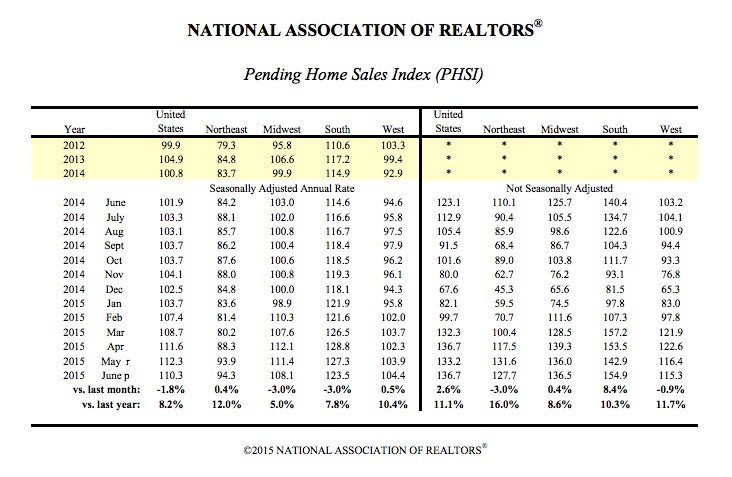 The S&P/Case-Shiller National Home Price Index showed:
Spanning May 2014 to May 2015, U.S. homes rose in value by 4.4 percent overall.
An overall slower pace of growth is good news for potential homebuyers, especially those previously discouraged by rapid price increases and bidding wars.
On the other hand, home price slowdowns may influence some home sellers to avoid listing their homes.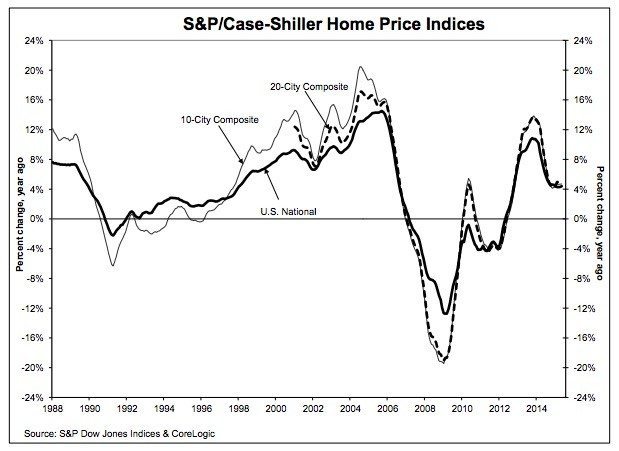 CoreLogic's rental data showed:
Single-family rentals are expected to remain in high demand.
Median rent in San Francisco rose by 20 percent between April 2014 and April 2015.
Rents in some markets were stagnant or declined, as demand could not keep up with new supply.

WalletHub's "healthiest market" report showed:
WalletHub examined 10 metrics in 25 markets to ascertain market health.
Boston was the healthiest housing market; Oklahoma City, San Antonio, northern New Jersey and Hartford, Connecticut, were also healthy.
Las Vegas was the least healthy; other unhealthy markets include Tampa-St. Petersburg, Florida; Orlando; Tucson, Arizona; and Minneapolis-St. Paul.
RealtyTrac's U.S. Home Equity and Underwater Report showed:
The number of "seriously underwater" homes nationwide has hit a plateau, while the volume of "equity-rich" mortgaged properties decreased for the second straight quarter.
At the end of 2Q 2015, 13.3 percent of all properties with a mortgage were seriously underwater, and 19.6 percent of all mortgaged properties had more than 50 percent equity.
Residential properties owned between seven and 11 years accounted for 38 percent of all seriously underwater homes.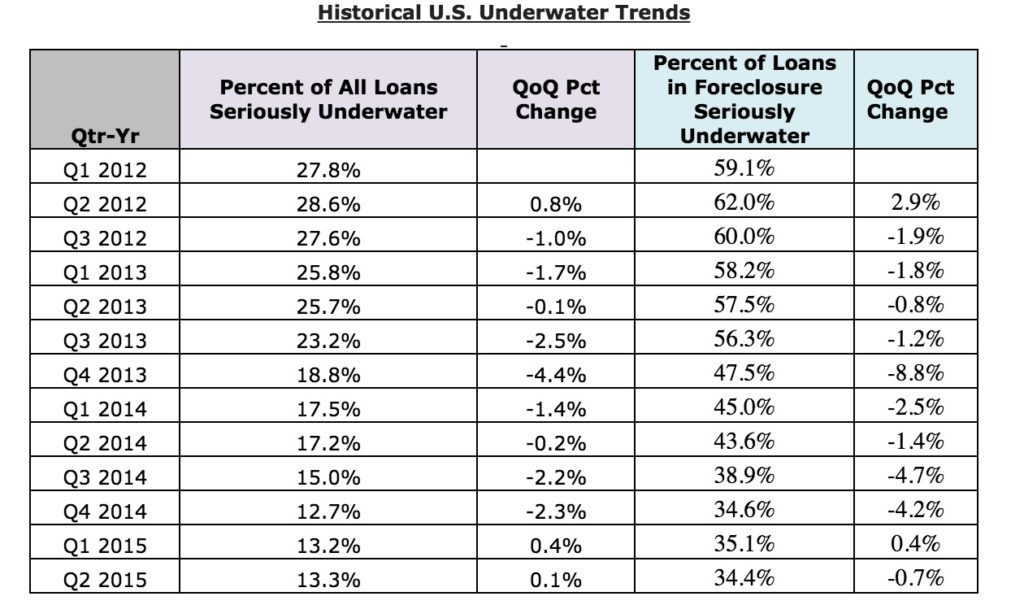 Freddie Mac's Primary Mortgage Market Survey showed:
Mortgage rates are just under 4 percent, lower than the same time last year and down from last week.
The average 30-year fixed mortgage rate is 3.98 percent with an average 0.6 point.
The mortgage rate has bounced between 3.98 and 4.09 percent since the first full week of June, falling a bit when events overseas take a turn for the worse.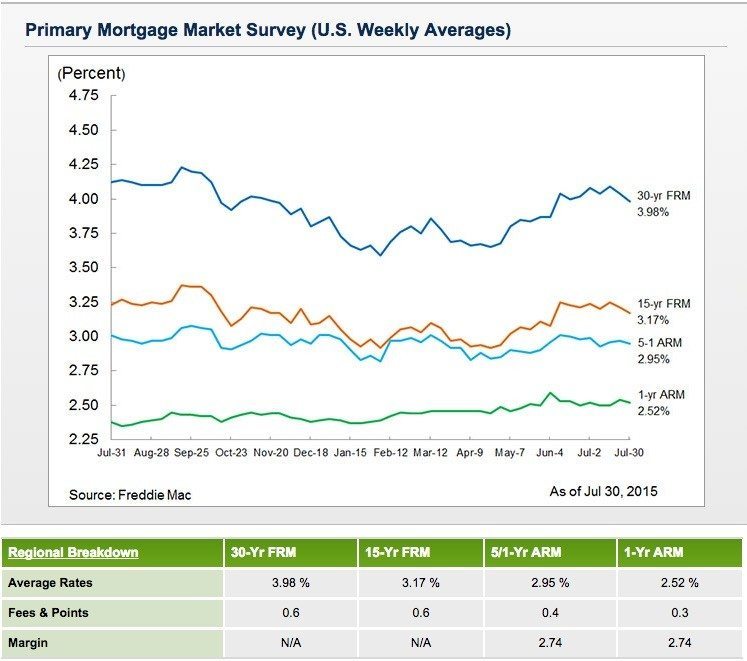 The Real Estate Board of New York's latest Broker Confidence Index showed:
Residential broker confidence is down slightly in New York City.
The low inventory of two-bedroom apartments in New York City, coupled with interest rate uncertainty, has also affected brokers' confidence in the market six months from now.
Despite the reduction in confidence, brokers were positive about robust sales volume, the growing popularity of new neighborhoods and increased demand, especially in Brooklyn and Queens.
Zillow's quarterly inventory report showed:
In the lowest-priced third of homes for sale, the inventory of homes on the market fell in 28 of the nation's largest 35 metro areas since the same period last year, according to Zillow's quarterly inventory report.
Hardest hit were Charlotte, North Carolina; San Antonio, Texas; and San Diego, according to the survey.
Home values also rose 3.3 percent from June 2014.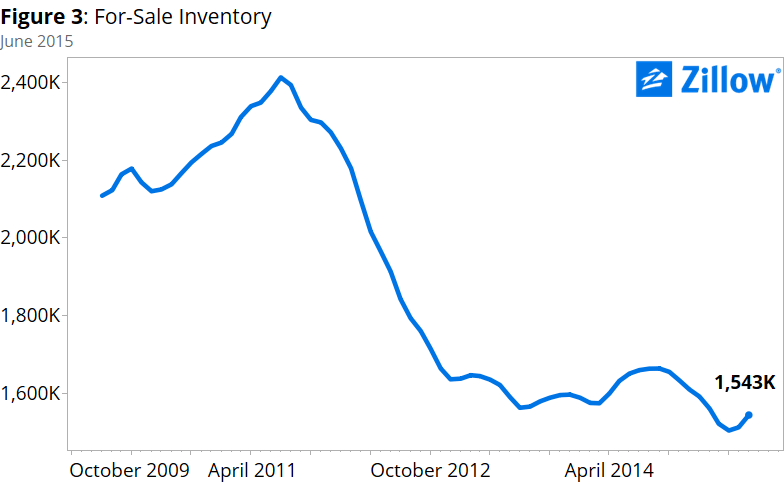 Email market updates to press@inman.com.