55 percent of human communication is body language, 38 percent is tone and 7 percent is words, so if you're communicating with individuals on the phone, you have to rely on tone and body language.
When you're making phone calls, speed, tenacity and time are three key components. Agents and brokers will be more successful if they are quick, make an effort to call multiple times and pick specific timeframes when calls are most likely to be answered.
SAN FRANCISCO — Real estate is tough, but those who are good at sales — which, according to Chris Smith, is the essence of the industry — will be successful. Getting on the phone and learning the intricacies of sales language is what helps to grow businesses, he said.
Three keys are tone, enthusiasm and mind: 55 percent of human communication is body language, 38 percent is tone and 7 percent is words. And if you're in the boiler room, you cut out that 55 percent.
So what do you do? Focus as much as you can on enthusiasm. You have to have a solid mindset, to be sold yourself on whatever you're selling.
In 2011, 2.9 million real estate leads were generated and 4.4 million homes were sold. In 2014, 40 million leads and 5.1 million homes were sold. You have to have the right mindset to get through all the bad leads. Where does that start: communication.
"Have more and better conversations with humans. I don't think the robots are going to win," Smith says. "Quit using technology to hide from people, use it to interact with more."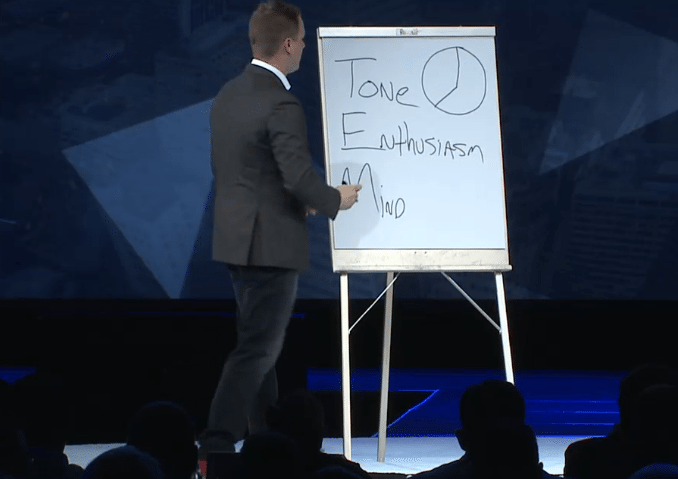 Speed, tenacity and timeblocking are the three most important components to successful phone sales.
Speed kills when it comes to conversion, but tenacity can increase the ability to connect with a lead substantially. And agents can expect a huge jump– 48 percent to more than 90 percent– if you call a lead six times.
Between 8 a.m. and 10 a.m. and between 4 p.m. and 6 p.m. are the best timeblocks to call leads because those are the times that people are going to work or getting back home.
Tenacity means that you can't let missed calls get to your head.
When you call someone in 2016 with a phone number that the recipient doesn't know, they aren't going to answer. But if you call back right away, people are much more inclined to answer.
When you're calling an internet lead, agents need to understand the science of sales. You have a job when you're on the phone or in-person, it's much easier to close a lead. Meaningful conversations with clients last about 20 to 60 minutes because you need to direct the conversation.
Directing the conversation means you need to know how to avoid brick-wall statements like "I'm not interested in buying, I just want to see if the home is still available."
The technique is to first repeat what they said and then respond, and that response should have a pivot to bring the conversation to a point where you can continue down a path toward closing a sale.
Once it gets to the point of a closed sale, you start to give concrete information about what's going to happen and what it would be like to work together.
Sales is about being confident, having a little bit of swagger — and not letting the amount of little failures get in the way of the big victories.