Whether you live in a Paris palace or a coastal tiki hut, an Ohio suburban townhouse or a loft overlooking Madrid's Plaza Mayor — the concept of "home" instilled in the human consciousness is relatively universal. It's constant. Comfortable. Always familiar.
But in the real estate industry, helping consumers find the house that makes home a reality sometimes requires breaking down communication barriers.
The third largest privately held real estate company in the U.S., Howard Hanna, has taken a big step toward more accessible services for its culturally diverse customer base.
The company announced this week that in July, its estimated 10 million web pages became available in 100 different languages on HowardHanna.com.

3 ways to get ahead in 2020 — starting right now
Grow and nurture your sphere now so you can reap the rewards next year
READ MORE
"Howard Hanna has always tried to anticipate the needs of our customers and adapt to the changing role of real estate," said Howard W. "Hoddy" Hanna, III, chairman of Howard Hanna, in a press release. "Updating our website to offer translations in 100 languages is just another way for us to make sure that we continue to lead the charge as visionaries in the world of real estate."
In an effort to simplify the real estate process, Howard Hanna said that the purpose of expanding the language spectrum is twofold: first, it hopes to make its services more usable and approachable for individuals who don't speak English at all or as a first language. The company also strives to "keep pace with the changing digital landscape."
In 2016, Howard Hanna's website has received visitors from more than 200 countries, the company said, and maintains an average of 1.4 million visitors per month. Howard Hanna's multi-cultural services also extend to the offline world.
As explained by the company's Director of Regional Public Relations Elizabeth L. Grepp, "Technology really can't work without people, so in our local offices we have agents who specialize in helping families or individuals who are non-native English speakers.
"You can find them on our website, and we have over 60 of them. We also have a relocation department, Relocation Horizons, that can help assist those who are looking to move from a different location."
Users can select their preferred language by scrolling to the bottom of the HowardHanna.com homepage and choosing from the pop-up menu:
"The language translation tool responds to the requests of many of our corporations and the international and foreign national transferees relocating into Howard Hanna's eight-state market area," said Susan Sadowski, President of Relocation Horizons, Inc., Howard Hanna's relocation management company, in a press release. "We are thrilled that we can reach out to our transferees who either speak English as a second language or don't speak English at all, and that our website can be translated into over 100 languages."
In September 2016, the translation feature was also extended to the company's mobile-friendly site, hanna2go.com: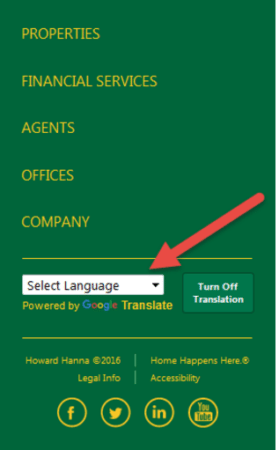 According to the company, Howard Hanna "specializes in residential and commercial brokerage service, mortgages, closing and title insurance, land development, appraisal services, insurance services, corporate relocation and property management."
Editor's note: This story has been updated to reflect the addition of Howard Hanna's mobile site translation feature in September 2016.