The Fannie Mae Home Purchase Sentiment Index for September shows decreasing optimism about the health of the housing market.
The survey shows the net share of Americans are most skittish about mortgage rates.
Mortgage rates have hovered at or below 3.50 percent since July, but in the latest Home Purchase Sentiment Index from Fannie Mae for the month of September, most Americans think that the trend isn't likely to last.
According to Fannie Mae, "The net share of those who say mortgage rates will go down over the next 12 months fell 6 percentage points to negative 44 percent" — which means that 56 percent of respondents think that rates are likely to either go up or stay steady.
With an accompanying 5 percentage point decrease in the share of consumers who think now is a good time to buy a home, it makes sense that the company's senior vice president and chief economist, Doug Duncan, said that "the decline in the HPSI over the past two months from the survey-high in July of 86.5 adds a note of caution to our moderately positive housing outlook," in a statement.
The current HPSI is 82.8, down 1.0 percentage points from September 2015 and down 2.2 percentage points from August 2016.
Not a good time to buy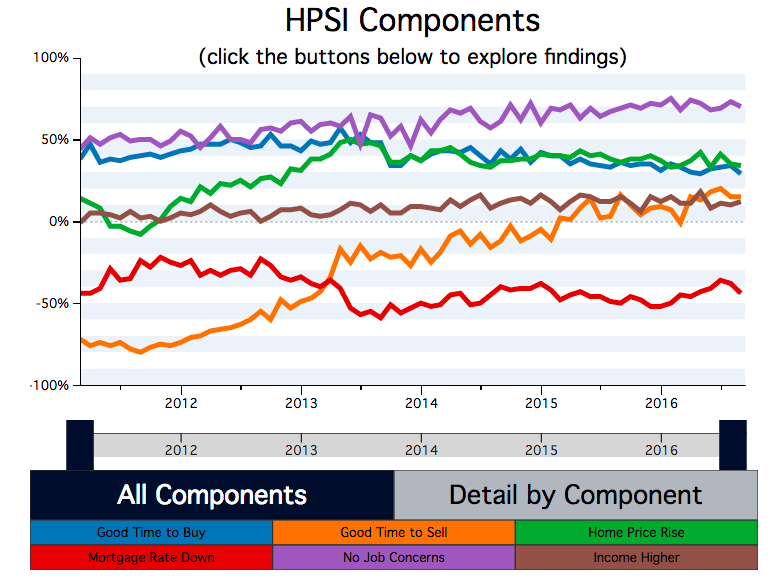 Fannie Mae's September 2016 Home Purchase Sentiment Index (HPSI) decreased 2.2 percentage points in September to 82.8.
Breaking from the increasing trend of the last few months, the net share of Americans who say it is a good time to buy a house fell by 5 percentage points to 29 percent to match a previous all-time survey low reached in May 2016.
The net percentage of those who say it is a good time to sell a house remained at 15 percent, while the net share of respondents who say that home prices will go up fell 1 percentage point from last month to 34 percent.
The net share of Americans who say they are not concerned with losing their job fell 3 percentage points to 70 percent. Meanwhile, the net share of Americans who say their household income is significantly higher than it was 12 months ago rose 2 percentage points to 12 percent.
Fannie Mae's National Housing Survey polls 1,000 Americans via live telephone interview, 60 percent of which are cell phone calls. Respondents are asked about their attitudes toward owning and renting a home, home and rental price changes, homeownership distress, the economy, household finances and overall consumer confidence.
Six attitudinal shifts are used to construct the overall HPSI. This survey was conducted between September 6, 2016, and September 26, 2016; most responses were collected toward the beginning of the survey.