BuyerPrice.com has launched a mobile app that will give buyers a dynamic price estimate of homes for sale.
BuyerPrice is seeking to enroll 3,000 top negotiating buyer agents across the country to work with the leads coming in from the app for a program in the testing phases.
The location-based app will absorb ratings from buyers touring homes to feed the fluid pricing system, similar to demand-driven metrics on Uber and Airbnb.
Ask anyone how much something is worth and they'll tell you "as much as a buyer will pay." Yet much of the real estate market is driven by sellers' price expectations.
The just-launched tech-centric brokerage BuyerPrice approaches the philosophy of a real estate sale differently, promising buyers: "you'll pay less for a home if you buy it through us than with a regular broker."
To do this, the online platform — which is still in testing, with about 450 users participating in the beta test at the moment — dishes its own home value figures using a patent-pending "dynamic pricing model."
And as BuyerPrice co-founder Tim Hammond explains: "If we can't negotiate the BuyerPrice stated or less, then we'll subsidize your purchase by up to 1 percent."
The New York-based tech firm operates as an open platform where approved real estate agents can join and receive buyer leads — and it's seeking experienced buyer's agents with a proven record of negotiating down. It's also releasing apps for iOS and Android.
The company hopes to attract about 3,000 agents nationwide during 2016 and aims to become the "go-to" place for homebuyers for researching buy-side agents before engaging them.
"We are opening the platform to any real estate agent provided they have worked on the buy side and can prove from recent closed sales that they are good negotiators," Hammond said.
"We approach the most successful agents who have recently secured impressive purchase prices as a percentage of the listing price, typically 7 to 8 percent below."
What's in it for agents?
BuyerPrice.com originally planned an official launch for June 20 but held off for scaling purposes. Namely, the company knew it needed a brokerage license to become a nationwide business and spent three months applying for licensing in New York and New Jersey.
As a brokerage, Hammond says, the company can refer across state, give referrals and where there is significant business, BuyerPrice will open its own brokerage.
Currently, the firm is looking for agents operating in the main housing sectors across the U.S. that are already buyer's markets or moving in that direction.
(Therefore, the firm will not be pursuing ultra hot markets such as San Francisco or New York City.)
The deal for agents who are approved is straightforward. Agents can enroll on the platform for free, receive buyer leads and retain 70 percent of the buy-side commission. The BuyerPrice lead fee is 30 percent.
Most of that 30 percent fee is put back into marketing in the areas where BuyerPrice buyer's agents are active, Hammond said.
According to the company, the main appeal for agents is "serious buyer leads," and sometimes seller leads, too, as a consequence.
App news and dynamic pricing model
This move to open up the platform to agents across the country coincides with the launch of BuyerPrice's mobile apps for iOS (compatible with iPhone, iPad, and iPod touch) and Android, which the company hopes will serve to reel in buyers, particularly millennials who look for both convenience and transparency in their decision-making.
On the mobile app, buyers can see what they should pay for a home based on the "BuyerPrice Tag" before they place an offer anywhere in the U.S.
BuyerPrice's "dynamic pricing model" changes daily and takes dozens of metrics into account, including the amount of time a home remains unsold on the market, the balance of local supply and demand, current market sentiment and economic outlook.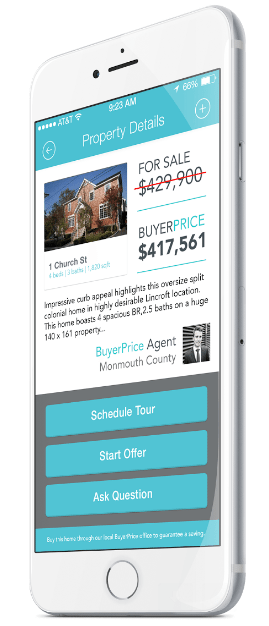 Richard Rawlings, the firm's co-founder and president, said: "We have spent years studying house prices and how they fluctuate according to market conditions and sentiment to build a robust pricing algorithm."
The platform's desktop offerings also got more comprehensive: The Chrome browser plugin that serves up BuyerPrice's home value number now works across all the leading property websites, including Zillow, Redfin and Trulia, in addition to Google Maps, where a value pops up upon typing in the address of a home.
A trend beyond real estate?
Hammond compares his firm's dynamic pricing (aka buyer pricing) offering to what's happening in other industries.
He notes that this type of system has become commonplace in most consumer sectors. Airbnb has "smart pricing," for example, which automatically adapts to demand changes. Uber has surge pricing, and airlines now rely heavily on demand pricing.
"It comes from a recognition that static pricing misses the opportunities presented by an increasingly fluid world," Hammond said.
BuyerPrice users also have the opportunity to contribute to the home value figure with the app's "Rate That Home" tool, providing what the company calls "crowdsourced" homebuyer insight.
Because the app is location-based, buyers can use the tool when touring a home or at an or open house.
Consumers, with a small incentive of 10 "buyer bucks," are invited to rate the home on a scale of 50 on 10 different points — such as the standard of the kitchen.
Moreover, as part of its marketing efforts to drive leads to its selected agents, BuyerPrice will be offering local buyers additional subsidies of $1,000 off the price of the home if they find one of the company's promotional "golden price tags" at open houses while using the app.
BuyerPrice also gives sellers the ability to comment on why they loved living in their home — a feature that has been tried in the U.K., where Hammond and Rawlings come from.
An agent in the pocket
Meanwhile, as they tour a home, buyers can use their app to have an early conversation with a local agent without any strings attached through the app's phone messaging system.
"They can ask, with no obligation, some questions about the market and what sort of offer they might put in," said Hammond.
It isn't until the buyer decides to make a bid that they fully engage buyer's agents — because BuyerPrice wants to leverage their negotiating skills.
"If you are buying your first home, you are going to ask your friend, father or uncle, 'what do you think of this home' before you buy," Hammond said.
"We want people to ask our app."