Get a CRM. Create several segments (also known as groups) in your CRM.
Create more segments and groups in your database by using customer fields. Group people by status, hobbies, interests, demographic information...the more the better.
Invest in marketing automation. Send personalized email in mass. Keep emailing!
Calculate a direct ROI from investing in marketing automation to track your results.
Email marketing is still one of the most credible forms of online marketing to increase brand awareness, generate more leads and acquire new customers.
Now, some real estate agents do email marketing well — however, some of you need help (I know this because I subscribe to about 50 different agents' emails).
Here are four useful tips that will help you improve your email marketing campaigns. After all, success leaves clues!
Segment your list on your CRM
Prerequisite: Have a CRM (customer relationship manager) with contact segmentation abilities.
Our recommendations:
Hubspot CRM (free):  Easy-to-use and free CRM. Also works in sync with Sidekick, Hubspot's email tracking and sales software (note: this is a paid add-on).
BoomTown (paid): A lot of agents are using it because it's customized specifically for the real estate industry.
Ixact Contact (paid): Real estate CRM with built-in email marketing. Really tailored towards segmentation and client engagement.
Steps:
Step 1 – Import your entire database into your CRM
Step 2 – Segment your contacts in several ways using (custom) fields
Examples of some useful segmentations include:
Status, select one: Lead, Client, Past Client.
Interest, select all that apply: Buyer, Seller, Renter, Investor
Marital Status: Single, Dating, Engaged, Married, Divorced, Widowed
Birthday & Anniversaries: Date field inside your CRM
Kids: Y/N
Pets: Y/N
Likes Music: Y/N
Likes Sports: Y/N
The idea is that you want as many attributed qualities as possible about a person in your CRM so that you can group your contacts in several ways to send out personalized emails in mass.
If your CRM does not have these fields already in place, then you will need to create custom fields — a feature most CRMs have; if it doesn't, switch to a new CRM.
Note: The process might be a little different based on the CRM that you are using. You can contact your CRM support team for further assistance.
Email recently sold properties to potential seller leads
As a homeseller, I need to trust someone before I decide that they can get me the best value for my home. An effective way of building trust and relationship with your leads is to show what you are actually doing in your target market.
Create a bi-weekly newsletter featuring all properties that you have sold recently. You can even do monthly.
If you do not have any recent transactions, go ask other agents in the office if you can feature their properties with a link back on their site.
This is where you have to strike a tricky balance. The newsletter should feature you — but you need to make it look lively, even if it involves content from other agents.
Adding recently listed properties in a particular geographic area also works fine.
If you're using Mailchimp or a similar email marketing software, you can save the template and reuse it for future newsletters.
Invest in marketing automation
Marketing automation is one of the most talked-about topics in 2017 as a core part of real estate marketing.
Marketing automation allows you to automate any part of your daily marketing efforts using pre-defined systems.
For example, when you are using MailChimp or IXACT Contact or BoomTown, you can automate email replies to a new lead or a series of welcome emails for a new client.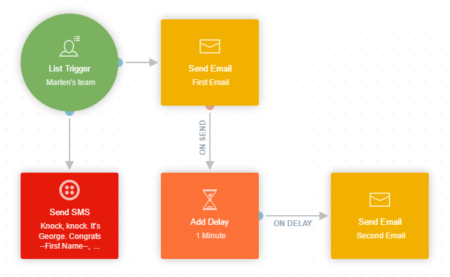 Automation not only saves you time but is also proven to increase the engagement rate with your entire database.
Automation can be simple to begin with — however, if you want to create advanced automation tasks, we recommend software like Autopilot or Infusionsoft.
One common question that many people ask is: What is the direct ROI of marketing automation?
Calculating direct ROI for marketing automation
The answer is kind of tricky.
Automation saves you time. If you divide your total income last year with the total time spent you put in your business, you can figure out your earning per hour or minute.
After you get this number, figure out how much time you would save using an automation system vs. emailing back the same reply manually and creating a drip campaign for each new lead that comes in.
Then, multiply that saved time by your earnings per hour and — if you replace that time with revenue-producing activities — then you can calculate the direct ROI of automation!
However, there is another type of ROI many marketers don't talk about. It's passive ROI.
Real estate is a relationship focussed business, and top Realtors spend years to build their brand in their target area. With automation, you are saving time and refining the user experience from the client's perspective.
The more delighted your clients the better the chances of them referring others and doing business with you.
Remember, in 2017, speed is power!
Integrate email personalization
This is more than just adding a first name field.
Each contact in your database should have a bunch of fields attached to them. Things from what type of cuisine they like to what's their anniversary date.
Why?
Because the more personalized your email, the better the engagement.
This holds true for both leads as well as existing clients.
Most agents are probably using the first name merge tags to replace the mass email with the contact name.
However, with your future email, try to incorporate more merge tags within the actual body of the email so that it looks like you are handcrafting the email for each one of your contacts in the database.
A good practice to integrate personalization is to have a meeting with your client and go over their hobbies, interests, and personal information.
You can also use an online survey; however, this is less personal and you'll get fewer results.
Our recommendation is that you use this fact-finding conversation as a reason to follow up. And don't be afraid to tell them why you're doing it:
"Hey John, I'd like to record some information about you so that when I come across cool products, services, events and news articles that I think you'll enjoy, I can share them with you."
Then, for example, when you see a big story from the major sports team, you can export all the contacts who said they were fans of that sports team, and write an email to them that sounds something like this:
"Hey (First Name),
Did you see the article about (insert summary of article).
I know you like (Sports Team Name), so I thought I'd share it with you.
Here's the link (Hyperlink to article)
Hope you're having a great day,
Your Name
Conclusion
Implement these four email marketing techniques with your existing database, and I promise that you will see more engagement, more repeat business, more leads — and you will feel like you're mastering the follow-up process.
Remember, the fortune is in the follow-up, and email marketing is still one of the most effective forms of communication for follow-up.
Grant Findlay-Shirras is the CEO of Parkbench.com and the Local Leader Real Estate Marketing System. Follow Grant on Instagram and Twitter @GrantFSofficial.