MyScript Nebo is a powerful digital note taking tool for the Apple iPad Pro and multiple Windows tablet devices.
Have suggestions for products that you'd like to see reviewed by our real estate technology expert? Email Craig Rowe.
MyScript Nebo is handwriting recognition and note-taking software for smartphones and tablets.
Platforms: iOS iPad Pro and Windows
Ideal For: Any agent; especially those who work heavily in a mobile environment
Top selling points
Accuracy of recognition
Built-in calculator recognizes handwritten equations
Image import and mark-up
Editing gestures
Top concerns
Requires each platform's requisite "smart pen" and the iPad Pro for optimum performance.
What you should know
I quit looking for a digital note-taking solution years ago. Nothing seemed to get it right for me. Thus, I've let the notebooks pile up.
Looks like calling off my search has paid off.

MyScript Nebo has been in the handwriting recognition software business for more than 20 years, and its calculator app has more than 40 million downloads.
Backed by its proprietary Interactive Ink, MyScript Nebo is as close to authentic paper-and-pen note-taking that I've come across.

Letters appear as you write, and a tap translates them instantly to text. A downward swipe opens a space for editing, and crossing out a word deletes it.
The software can import images to accompany notes; quickly changes sloppy, hand-drawn shapes into clean, editable charts; and allows any document to be shared and exported to HTML, as text, or as MS Word or PDF documents.
The app instantly translates numbers and calculation symbols into math solutions without need to open a separate calculator app — an ideal feature for monthly payment and mortgage qualification estimates.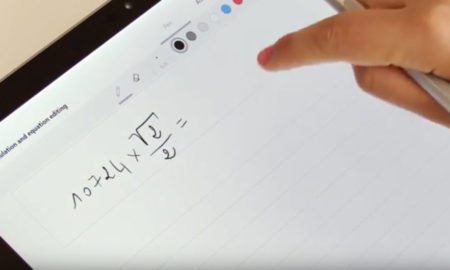 Real estate agents can use Nebo to write short addenda and capture signatures and easily append them to existing documents.
Anything drawn on the page is responsive
Anything drawn on the page is responsive, meaning it can be reshaped and moved. The page also responds to device orientation.
I don't envision MyScript Nebo as an app that will make a person better at sales or help you secure that challenging listing.
Instead, I believe Nebo can be a highly valuable productivity tool for agents in the field and office.
It can eliminate harried sticky notes, random document creation and become a powerful accelerator for any office wanting to alleviate the constraints of paper.
Lastly, it looks darn fun to use.
Nebo will be available for Android this summer.
Have a technology product you would like to discuss? Email Craig Rowe