We'll add more market news briefs throughout the day. Check back to read the latest.
Most recent market news:
Black Knight Home Price Index Report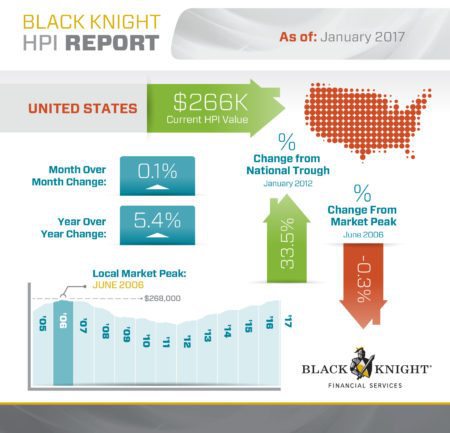 U.S. home prices at the start of 2017 continued the trend of incremental monthly gains, rising 0.1 percent from December
New York continues to lead the states on a monthly basis, with prices rising 1.3 percent there in January, more than double the rate of appreciation of the next best-performing state
The New York City metro area was the month's best-performing metro, with prices rising 1.3 percent, followed by Seattle and San Jose, each up 0.8 percent from December
After home prices fell 3.2 percent last month, Tuscaloosa, Ala., was once again the worst-performing metro area in January; with prices falling another 4 percent in January, Alabama became the worst-performing state for the month
Home prices in three of the nation's 20 largest states and nine of the 40 largest metros hit new peaks
Case-Shiller House Price Indices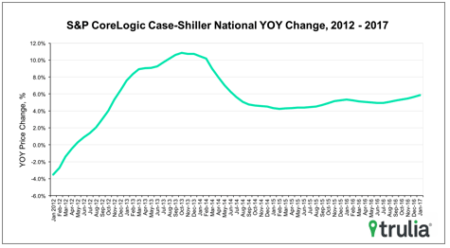 Analysis from Cheryl Young, Trulia's Senior Economist:
There is little sign of relief from high home prices as we enter the spring home buying season. The tough buying market is characterized by competition driven by low inventory and challenges for first-time home buyers as prices outpace income growth.
Hot markets remain hot: Denver, Portland, Ore., and Seattle reached their highest index values ever.
Mortgage rates are lower than expected, so the anticipated cooling of home prices as a result of higher rates is likely delayed. Spring homebuyers will be eager to lock in rates that remain low.
Mortgage rates:
Home equity rates:
News from earlier this week:
AEI/First American National Housing Market Index:

Future-proof your business using lead management strategies
Handle your growing lead database more effectively as homebuyers take more time to shop for real estate during this market shift
READ MORE
The national housing market continued its rally in the fourth quarter of 2016. On an annualized basis, 5,810,000 sales transactions were reported, which is up 350,000 transactions, or 6.4 percent, from 2015.
2015 had already seen demand grow by 340,000 transactions or 7.6 percent from 2014.
 The home purchase market also closed out 2016 with strong growth as transactions increased 9.1 percent in the fourth quarter compared to a year ago.
Cash sales continued to trend down accounting for only 29 percent of all transactions in 2016, down from 30 percent in 2015 and 36 percent in 2013.
 Filling its void was government-backed lending, which accounted for 55 percent of all transactions in 2016, up from 53 percent in 2015 and 50 percent in 2013.
The AEI/First American National Housing Market Index (NHMI) is the first index to report on the entire home purchase market.
Transaction numbers are also available on the state and metro area level for unprecedented geographical detail.
Fannie Mae Mortgage Lender Sentiment Survey highlights:
Purchase mortgage demand
Purchase mortgage demand growth over the prior three months has steadily declined for all loan types, when compared with Q1 2016 and Q1 2015, reaching the lowest reading for any first quarter since Q1 2014.
The near-term outlook showed a similar trend, with the net share expecting increased demand over the next three months declining to the lowest level for any first quarter since the survey's inception in Q1 2014.
Refinance mortgage demand
For refinance mortgages, the net share of lenders reporting rising demand over the prior three months fell to the lowest level since Q1 2014.
On net, lenders reporting demand growth expectations for the next three months rose from survey lows last quarter (Q4 2016).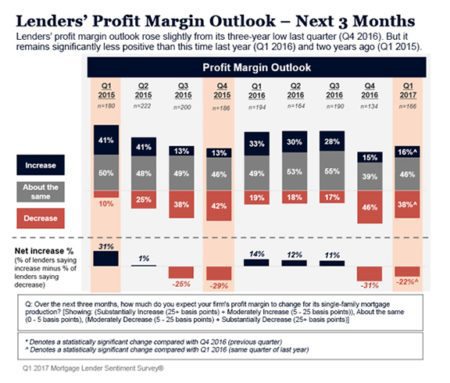 Easing of credit standards
Lenders continued to report modest net easing of credit standards across all loan types for the prior three months and continued to report expectations to modestly ease credit standards over the next three months, with the majority of lenders expecting their credit standards to stay about the same.
Mortgage execution
On net, lenders continued reporting expectations to grow GSE (Fannie Mae and Freddie Mac) and Ginnie Mae shares and reduce portfolio retention and whole loan sales shares, although to a lesser extent.
Mortgage servicing rights execution
This quarter, slightly more lenders reported expectations to increase rather than decrease their share of MSR sold and to decrease rather than increase the share of MSR retained that is serviced by a sub-servicer. The majority of lenders continue reporting expectations to maintain their MSR execution strategy.
Email market reports to press@inman.com.