The inventory drought has become so serious that a leading national valuation firm now predicts that the lack of supply is a broad-based national phenomenon that will measurably reduce home sales this year.
The supply of homes for sale this spring is so depleted that one of the nation's valuation firms predicts that the inventory drought will reduce total home sales this year as shortages drive up prices and buyers fail to find properties they can afford, according to the latest analysis from Pro Teck Valuation's Home Value Forecast.
"The lack of inventory is very real and could have a severe impact on home sales in the months to come," said Tom O'Grady, CEO of Pro Teck.
"Traditionally, a balanced market would have an MRI between six and 10 months. This month, only eight of the metros we track have MRIs over 10, compared to 27 last year and 48 two years ago — illustrating that this lack of inventory is not being driven by traditionally 'hot' markets, but is rather a broad-based, national phenomenon."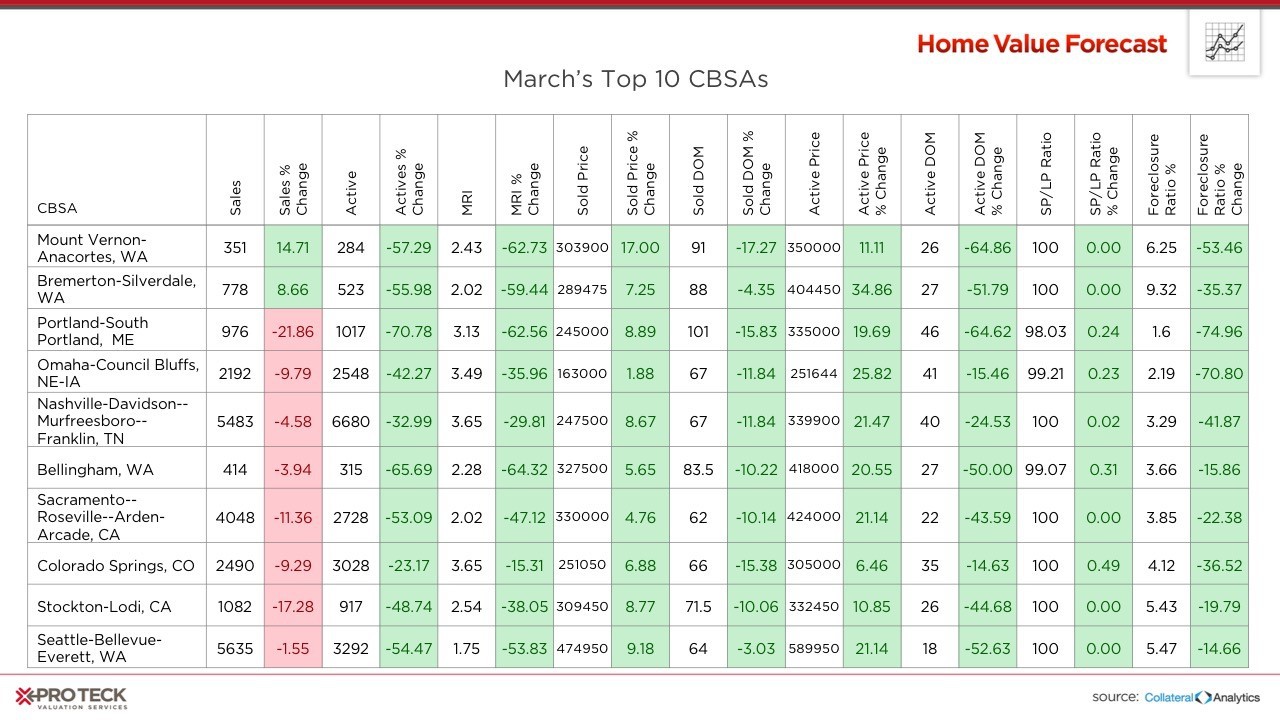 Home Value Forecast looks at inventory through the lens of months remaining inventory (MRI), which is defined as the current number of active listings divided by the monthly sales rate. It combines both supply and demand into one number, giving a more holistic view of the state of the market.
Traditionally, a balanced market would have an MRI between six and 10 months.
According to recent data, two years ago the weighted average for the more than 200 metros tracked by Home Value Forecast was 7.87. A year ago, that number was 6.89. Today it is 5.90 — a 14.4 percent drop in MRI from last year and a full 25 percent drop in the last two years.
In Home Value Forecast's March ranking of markets, all 10 top markets saw a decrease in active homes on the market and a reduction in MRI.
Seattle has a dire need for more single-family homes, as supply has not kept up with demand, leading to limited inventory (1.75 MRI) and increasing prices, according to Pro Teck.
The lack of housing inventory comes as a result of a combination of factors; most notably the reduction of new housing starts post-crisis, investors buying and now renting homes and the lack of equity and rising interest rates keeping people in their homes longer than anticipated.
Pro Teck's Tom Hough added that homeowner tenure is increasing and an additional reason is that many homeowners who have retained equity are opting to stay put and use their new-found equity to improve their homes rather than sell.
The dire forecast from Pro Teck follows a finding last month by Trulia Chief Economist Ralph McLaughlin that the U.S. home inventory tumbled to a new low in the first quarter of 2017, falling for eight consecutive quarters.
Homebuyers have now been stifled by low inventory for the past two years despite prices rising to pre-recession highs in many markets. McLaughlin found that homebuyers in markets with the biggest price gains are facing the tightest supply.
"A strong recovery may be partly to blame for the large drop in inventory some markets have experienced over the past five years. On average, the more valuable a market's housing is compared to pre-recession levels, the larger drop in inventory it is has seen," wrote McLaughlin.
Steve Cook is editor and co-publisher of Real Estate Economy Watch. Visit him on LinkedIn and Facebook.