What goes up must come down, and that's true for The National Association of Realtors Pending Home Sales Index, which took a dip this month after a string of impressive numbers.
March's PHSI, which is based on contract signings, dipped to 111.4, a 0.8 percentage point drop from February's 112.3.
NAR chief economist Lawrence Yun says low inventory levels hindered pending sales, but March's numbers are the third best in the past year.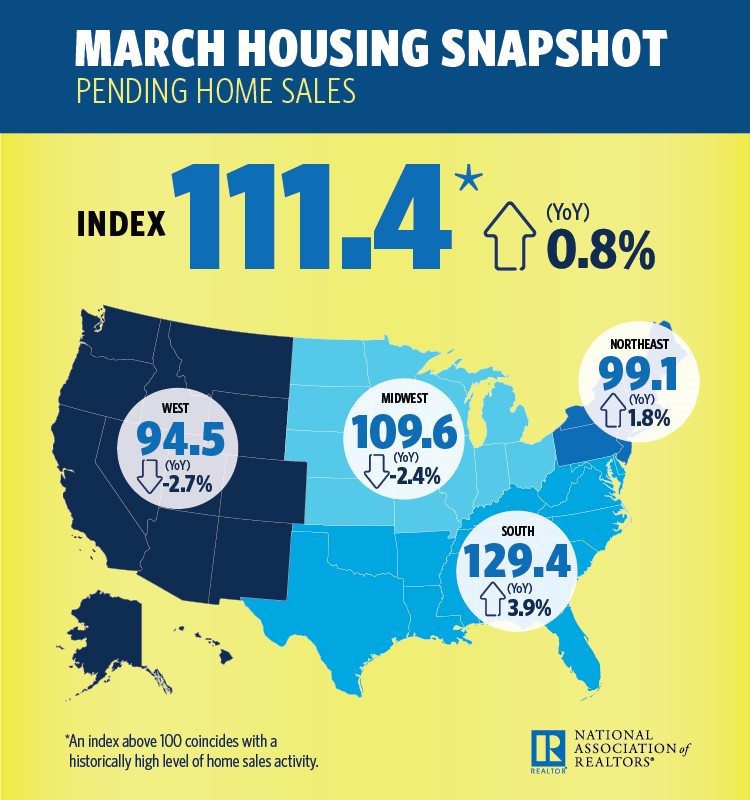 "Home shoppers are coming out in droves this spring and competing with each other for the meager amount of listings in the affordable price range," he said.
"In most areas, the lower the price of a home for sale, the more competition there is for it. That's the reason why first-time buyers have yet to make up a larger share of the market this year, despite there being more sales overall."
Regional breakdown
Northeast: PHSI declined 2.9 percent to 99.1 in March, 1.8 percent above a year ago.
Midwest: PHSI declined 1.2 percent to 109.6 in March, 2.4 percent lower than February 2016.
South: PHSI increased 1.2 percent to 129.4 in March, up 3.9 percent year over year.
West: PHSI declined 2.9 percent in March to 94.5, 2.7 percent lower than the same time last year.
"Sellers are in the driver's seat this spring as the intense competition for the few homes for sale is forcing many buyers to be aggressive in their offers," said Yun.
"Buyers are showing resiliency given the challenging conditions. However, at some point – and the sooner the better – price growth must ease to a healthier rate. Otherwise sales could slow if affordability conditions worsen."
About the PHSI
NAR uses a large national sample of signed residential property sale contracts to build its monthly pending home sales index. The sample size typically represents about 20 percent of transactions for existing-home sales.
The index level was benchmarked to 100 in 2001, which was the first year to be examined. Existing-home sales in 2001 were in the 5 million to 5.5 million range, which is considered normal for the population in the U.S.