Reposted with permission from AIM Group's Classified Intelligence Report.
While real estate agents in New York will tell you that their city is an outlier that shouldn't be seen as a model for real estate classified markets elsewhere, what happens in New York will not necessarily stay in New York. That's especially true when the company initiating the clash receives its marching orders from the leading real estate platform in the United States.
Such is the case with the back-and-forth bickering between Zillow Group's StreetEasy and New York's combative real estate brokerages that went down at the end of this summer.
If Zillow Group comes out on top in this clash with the agents it depends on — and all signs seem to indicate that it will — it signifies that Zillow has true market pricing power in the U.S., and can raise prices and add new revenue features to its platforms as it sees fit.
Real estate brokerages may still try to fight Zillow, but it's kind of like boycotting Google because of rising AdWords costs and using Bing instead. The ramifications for the rest of the real estate classified industry in the United States could be far-reaching.
Let's back up: Zillow buys StreetEasy
StreetEasy launched in New York City in 2006 and quickly became the de facto database for property listings across the city. New York City did not have a unified multiple listing service at the time. (It just launched in August and it's not consumer-facing).
As a result, other than Craigslist and a few brokers' own websites, there was no way in the mid-2000s for property seekers to find "all the listings" in one place.
Two years after StreetEasy's launch, the New York Sun's Candace Taylor described the real estate classified site as "bringing a new level of transparency to the traditionally secretive, clubby world of Manhattan real estate, giving small brokers a leg up against the big firms and arming consumers with never-before-seen information."
But established brokers — never the most comfortable with disruption or change in general — were concerned that StreetEasy could render them redundant.
"Some brokers are afraid of StreetEasy," Realtor Brian Huang explained at the time. "If you're a buyer, you can [now] find listings without having to use a broker [at all]."
Eventually, though, the brokers settled into a comfortable if cautious relationship with StreetEasy, posting their listings and collecting the leads. StreetEasy offered a few simple paid products for brokers — featured listings and display advertising — but for the most part, the site was free, focusing on building its reputation as an indispensable real estate tool.
That caught the attention of Zillow Group, which was already operating Zillow.com (and since 2015 Trulia, as well) in New York City but hadn't gotten customer traction similar to StreetEasy.
Zillow purchased StreetEasy in 2013 for $50 million. While it sat tight for the next four years, earlier in 2017, Zillow finally began making changes at its new division. And the brokers were not happy, to say the least.
The changes at StreetEasy come on both the sales and rentals sides of the business.
Premier Agent rolls out
On the for-sale side, Zillow rolled out its Premier Agent program in February. Premier Agent allows agents to buy up local ZIP codes so that their branding and contact information appear next to a listing, even if they're not the official listing agent.
It's a model that has been wildly successful at Zillow everywhere else — other than at StreetEasy in New York.
Zillow Group CEO Spencer Rascoff said in a February investor conference call that Premier Agent generated more than $600 million in revenue in 2016, and he estimated there would be a 26 percent boost for 2017 to $760 million. (Zillow has set total 2017 revenue expectations at just over $1 billion.)
Deutsche Bank analyst Lloyd Walmsley wrote in August that Premier Agent revenues just from StreetEasy could amount to $86 million in the next two years.
If the Deutsche Bank estimate is accurate and Premier Agent revenue from StreetEasy stays constant, StreetEasy could be contributing nearly 6 percent of Zillow's entire revenue from Premier Agent over the next couple of years, Deutsche Bank continued.
Although it doesn't break out figures for New York, Zillow said in August that Premier Agent revenue in New York doubled between March and June as agents saw "a flood of leads" come their way.
Premier Agent works by adding a tabbed contact box to a property's page, displaying both the listing agent and the agent who paid for that area.
Philip Lang, co-founder of New York City brokerage TripleMint, says that bringing Premier Agent to New York "is what any reasonable person would expect."
The problem, he continues — and the reason agents were so livid when it rolled out — is that the user interface is misleading. The tabbed box presents the (paid) Premier Agent first and only shows the listing agent if you click.
"For the majority of people, it will seem that the Premier Agent is the listing agent," Lang said.
Gabriele Sewtz, a Realtor with the Compass brokerage in New York, adds that this layout can lead to customer confusion.
"It's your listing, but your name and face don't show up," she told the AIM Group. "I got a call the other day from a person screaming, accusing me of not showing up at a particular time to show a property. I said, 'you never spoke to me. I'm the listing agent, but I didn't set the appointment.'"
Sewtz and Lang chose to dip their toes into the Premier Agent waters. Both advertised via the service when Zillow Group offered it at Zillow.com in New York.
"I bought my ZIP code in the first month," Sewtz said. But it didn't pay off. "I didn't generate a single lead. So when StreetEasy implemented the same program, obviously I won't be participating in it."
TripleMint's Lang is, however, paying for Premier Agent at StreetEasy, and says he's "received a lot of leads" from it proportional to what they spend.
It can get expensive. A StreetEasy chart showed lead costs varying wildly based on ZIP codes in Manhattan, from $21 per lead in midtown to $220 in southern Tribeca, although the return on investment can be significant (see below).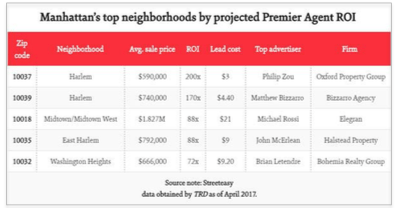 The launch of Premier Agent resulted in a high-profile revolt by a number of brokers in the city. Some even threatened to boycott StreetEasy entirely.
At one point, Corcoran CEO Pam Liebman and Brown Harris Stevens' Hall Willkie called Premier Agent "pay-to-play" and unethical, and said that it rendered a broker's expertise and reputation "meaningless."
"Premier Agent changed something on StreetEasy that has been one way for 10 years. Sometimes the response to change is to instinctively resist it. Others embrace it. We saw both when Premier Agent first rolled out eight years ago on Zillow, and we're seeing the same thing happen with StreetEasy," StreetEasy GM Susan Daimler told the AIM Group.
"There are certainly those [agents] that are frustrated with the changes, which we understand, [but] hundreds of agents have joined the New York City program since Premier Agent's launch on StreetEasy."
Other brokers never left and embraced Premier Agent enthusiastically from the start.
"I'm not going to be the guy who, in 1994, said the internet wasn't going to affect the real estate business," Ryan Sehant from Nest Seekers International said.
"Premier Agent is not the right fit for every agent," Daimler admitted, "but if growing the buy-side of your business is of interest, this is a new way to connect with potential clients with the support of an entire suite of technology and services behind you."
StreetEasy's rental listing fees
Not so with rentals. Here, Zillow is doing something that could be emulated in other markets.
In July, StreetEasy implemented a fee of $3-per-listing-per-day for rentals. (Craigslist already charges $10 per post in New York, although it's not renewed every day.) Daimler compared the New York City rental market to "the wild west."
"Introducing a fee is a way for us to reinvest in StreetEasy while also combating the frequently voiced frustration of stale or bait-and-switch listings renters across New York City."
Nevertheless, on the day of the switch, the number of rental properties on StreetEasy dropped from over 30,000 to under 14,000. It's climbed back — to 18,500 — but that's a lot of stale or duplicate inventory. (Listing inventory also varies from season to season).
"Renters can be even more confident they're looking at legitimate, active inventory on StreetEasy," Daimler told us.
Compass's Sewtz feels that answer is disingenuous. "If they're saying that 50 percent of the listings on StreetEasy were incorrect, then that means they were serving up garbage to the users."
Sewtz isn't against the fee itself. "It's not a question of whether I can pay $3 or not. Any top broker can easily afford it," she told the AIM Group.
What she objected to was that "a single player, StreetEasy, decided to kick 50 percent of its rental inventory to the curb, overnight."
Brokerages have been mixed in their response to the new StreetEasy fee. Some, like Douglas Elliman, one of New York's largest brokerages, are paying the fee for their agents (while grumbling that it could cost them approx. $1.6 million a year); others, are telling their Realtors that it's up to them to decide how to use their ad budgets, but that they won't stand in the Realtors' way.
In August some NYC brokerages, including include Brown Harris Stevens, Town Residential, Compass and Stribling & Associates decided to stop sending their feeds to StreetEasy.
However, in September, real estate giant Realogy extended a listing feed agreement with Zillow Group, tacking on a provision that allowed its New York City brokerages to feed listings directly to StreetEasy.
The deal marked a setback for the boycott by providing a way for The Corcoran Group, Citi Habitats and local Sotheby's International Realty brokerages — all owned by Realogy — to send for-sale listings and rental listings directly to StreetEasy and Zillow Group's network of search sites. As part of the agreement, Realogy covers rental listing fees on behalf of the brokerages.
Town Residential CEO Andrew Heilberger understands Zillow's motivation. "On the one hand, StreetEasy and Zillow deserve to be compensated for aggregating and distributing leads," he said. "On the other hand, this feels more like a tax on rental agents."
But StreetEasy was never really the city's go-to resource, Gary Malin, president of Citi Habitats said. StreetEasy only featured listings that came directly from landlords and brokers offering exclusives.
"That left out about two-thirds of the rental market — the 'open listings' that any broker can show. They was never one single place to look. Renters have always looked at more than one medium to find listings and that's not changing," he told Curbed.
Will Zillow implement a per-listing-per-day fee in New York like it did in other markets? Possibly. The Real Deal estimated that, based on the pre-fee number of listings on the site, StreetEasy could generate nearly $34 million in additional revenue. That will be hard for Zillow to ignore.
A new rival in New York
In August New York's real estate marketplace was hit by a new twist: the launch of the city's first true multiple listings site. The project from the Real Estate Board of New York (REBNY) has been in the works for years, but when StreetEasy began making changes, its timetable appears to have been accelerated. REBNY pumped $1 million into development beginning last November.
The RLS, as it's dubbed, launched just days after StreetEasy's rental fee went into effect.
Jordan Sachs, the co-founder of Bold New York, a rental brokerage agency in the city, pulled no punches: The RLS was an attempt "to make sure StreetEasy is not the only source for sales and records," he told The Real Deal.
The initial aim of the RLS was to feed its listings to StreetEasy and other third-party aggregators. However, StreetEasy cut that avenue off, announcing that it won't accept REBNY's RLS feed at all.
In a statement, StreetEasy's Daimler called the RLS feed "a clear move to restrict our efforts to provide consumers with the most robust real estate marketplace in New York City."
Daimler added that "by inserting themselves as the syndication hub, the RLS is adding another layer in which data can lose quality, integrity and timeliness."
In August, realtor.com announced it will be taking the RLS feed in New York and that it is formulating a marketing plan to get the word out to New York consumers.
Will the outrage against StreetEasy's new fee turn out to be a boon for realtor.com in New York, helping the site steal back some of the market share it's lost over the years to StreetEasy?
Don't eulogize StreetEasy just yet, TripleMint's Lang told the AIM Group. "Realtor.com may get a bit of a boost, but StreetEasy will stay on top."
For those Realtors who have decided not to pay the $3 a day fee, their active listings are marked "no longer on StreetEasy" – even if they're still on the market. But since StreetEasy gave agents at brokerages who cut off their feed the option to manually update their listings, as of Sept 15, 2017, nearly 80 percent of sales listings that originated from stopped feeds have been updated by agents, and 100 percent percent of rental listings have been updated. In addition, almost 1,000 new listings (cumulative sales and rentals) have been created from scratch by agents at these firms.
"The rentals program is exceeding expectations in terms of participation and listing integrity," Daimler said. "We see plenty of room for both direct feeds to StreetEasy and REBNY's RLS offerings to coexist in the marketplace.
"Where REBNY represents the industry, StreetEasy's north star is the consumer and we'll continue to represent their voice, and build experiences tailored for them and the New York real estate market."

Editor's note: An earlier version of this story included outdated information. This story has been updated accordingly.
© 2016 Advanced Interactive Media Group LLC / Classified Intelligence, reprinted with permission
Inman readers: Click here for a $500 discount on AIM Group's CIR Real Estate Advertising Annual (discount code INMAN17) or to download a free preview.