The National Association of Realtors (NAR) Pending Home Sales Index (PHSI), a forward-looking indicator that tracks homes sales in which a contract is signed but the sale has not yet closed, increased 0.2 percent in the month of November to 109.5 from 109.3 in October.
NAR Chief Economist Lawrence Yun credits the small gain in November to a strong jobs market and overall healthy economy. But Yun expects pending home and existing home sales to slow in the coming year, due to continued inventory shortages and concerns about how the tax bill will impact homeowners and buyers in high-priced markets.
"The housing market is closing the year on a stronger note than earlier this summer, backed by solid job creation and an economy that has kicked into a higher gear," said Yun in a statement. "However, new buyers coming into the market are finding out quickly that their options are limited and competition is robust. Realtors say many would-be buyers from earlier this year, stifled by tight supply and higher prices, are still trying to buy a home.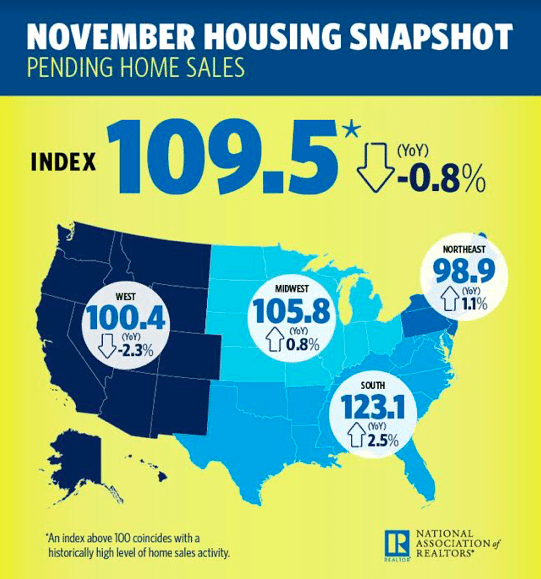 November's PHSI marks the highest recorded since June (110.0), and is 0.8 percent higher than a year ago. Inventory has continued to decline for the 30th consecutive month with levels at a 3.4-month supply. Yun expects existing home sales to finish 2017 at around 5.54 million — a 1.7 percent increase over 2016 (5.45 million).
"Sales do have room for growth in most areas, but nationally, overall activity could be slightly negative," he said. "Markets with high home prices and property taxes will likely feel some impact from the reduced tax benefits of owning a home. The strengthening economy, and expectation that more millennials will want to buy, serve as promising signs for solid homebuying demand next year, while also putting additional pressure on inventory levels and affordability."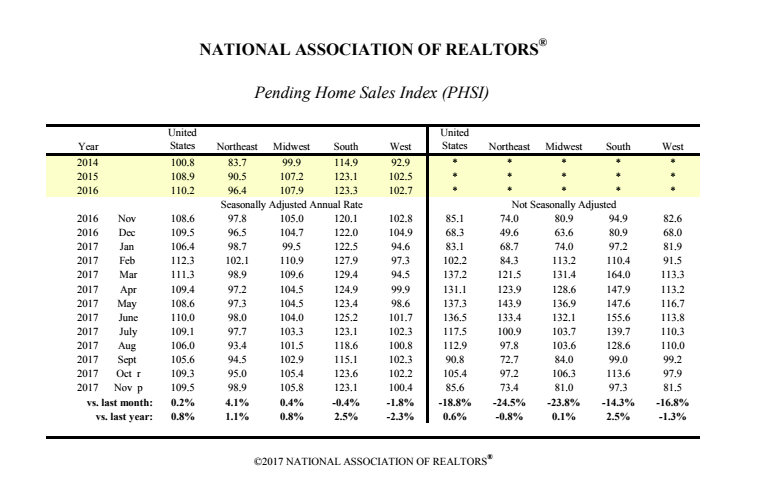 NAR uses a large national sample of signed residential property sale contracts to build its monthly pending home sales index. The sample size typically represents about 20 percent of transactions for existing-home sales.
The index level was benchmarked to 100 in 2001, which was the first year to be examined. Existing-home sales in 2001 were in the 5 million to 5.5 million range, which is considered normal for the population in the U.S.