January's S&P CoreLogic Case-Shiller U.S. National Home Price NSA Index shows that home price growth is unlikely to slow down anytime soon — January 2018's national index comes in at 196.31, a 6.2 percent year-over-year and a seasonally adjusted 0.5 percent month-over-month increase.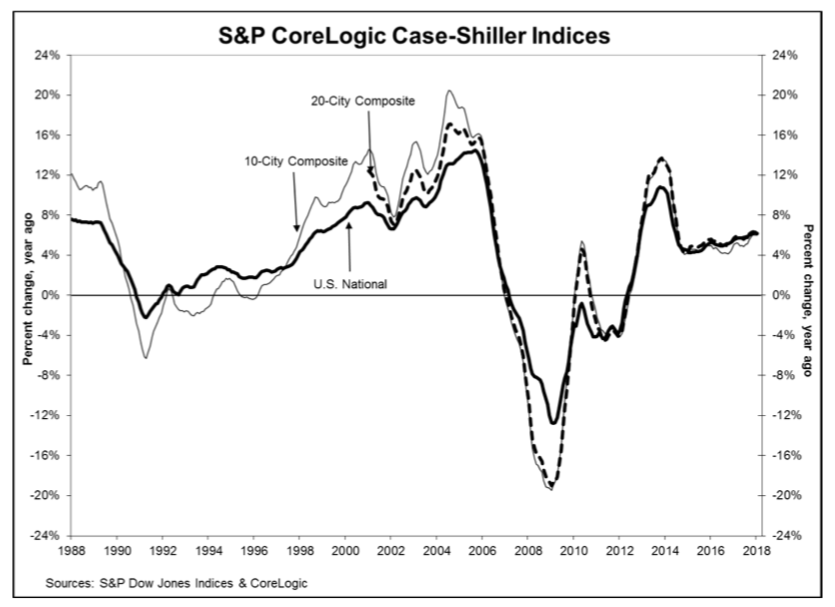 S&P Dow Jones Indices managing director and chairman of the index committee David M. Blitzer says the increase in home prices is due to two factors — low inventory and a low vacancy rate among owner-occupied housing.
"The current months-supply — how many months at the current sales rate would be needed to absorb homes currently for sale — is 3.4; the average since 2000 is 6.0 months, and the high in July 2010 was 11.9," said Blitzer in a statement. "Currently, the homeowner vacancy rate is 1.6 percent compared to an average of 2.1 percent since 2000; it peaked in 2010 at 2.7 percent."
"Despite limited supplies, rising prices, and higher mortgage rates, affordability is not a concern," he added. "Affordability measures published by the National Association of Realtors show that a family with a median income could comfortably afford a mortgage for a median priced home."
He also noted there are no "weak spots" when it comes to individual markets, and the home price index continues to outpace the national GDP.
"Since the market bottom in December 2012, the S&P Corelogic Case-Shiller National Home Price index has climbed at a 4.7 percent real — inflation adjusted — annual rate," Blitzer said. "That is twice the rate of economic growth as measured by the GDP."
"While price gains vary from city to city, there are few, if any, really weak spots. Even Chicago and Washington, the cities with the smallest price gains, saw a 2.4 percent annual increase in home prices."
10-City and 20-City composite
The 10-City and 20-City composite boasted 0.3 percent year-over-year gains, and the cities of Seattle, Washington; Las Vegas, Nevada; and San Francisco, California; led the way. Seattle reported a 12.9 percent year-over-year price increase, followed by Las Vegas with an 11.1 percent increase.
San Francisco shored up the end of the pack with a 10.2 percent increase.
The 10-City and 20-City composites reported 0.7 and 0.8 seasonally adjusted month-over-month increases, respectively, and no city reported a negative monthly price change.
About S&P CoreLogic Case-Shiller U.S. National Home Price Index
The S&P CoreLogic Case-Shiller U.S. National Home Price Index is a composite of single-family home price indices that is calculated every month; the indices for the nine U.S. Census divisions are calculated using estimates of the aggregate value of single-family housing stock for the time period in question.
The nine divisions are:
New England
Middle Atlantic
East North Central
West North Central
South Atlantic
East South Central
West South Central
Mountain
Pacific
CoreLogic serves as the calculation agent for the S&P CoreLogic Case-Shiller U.S. National Home Price Index.