In the face of historically low inventory levels, millennials, more than any other generation, are willing to make major compromises to live in the neighborhood or the home of their dreams.
According to Trulia's latest Consumer Home Buying Survey, 84 percent of millennials are willing to forgo key home features to live in their ideal neighborhood, and 89 percent are willing to deal with less desirable locales to nab the perfect home. Meanwhile, 78 percent of Gen Xers and 65 percent of baby boomers said they'd be willing to do the same.
"For millennials, the dream of homeownership is alive and well, but with prices going up and inventory continuing to shrink, this new generation of buyers are facing more obstacles than any other demographic," said Trulia Senior Economist Cheryl Young in the report.
"With tight budgets and fewer choices on the market, most millennials are forced to make trade-offs and are more willing than other generations to give up home and neighborhood features in order to find their ideal home."
For the 35 percent of millennials who plan to buy a home this year, rising home prices (40 percent) and an inability to save for a down payment (31 percent) are the biggest challenges followed by a poor credit history (26 percent), qualifying for a mortgage (25 percent) and job insecurities (22 percent).
These obstacles are more likely to push millennials (90 percent) and Gen Xers (77 percent) to delay their buying plans compared to baby boomers (61 percent). In addition to home prices, mortgage qualification and down payments, the two youngest generations are also plagued by student loan debt — 15 percent of millennials and 6 percent of Gen Xers say student loans have kept them from following through with homeownership.

Real estate blockchain and cryptocurrency explained
The key concepts and applications you need to know
READ MORE
Those who can surmount these financial challenges quickly run into another set of choices: getting the perfect home or living in the perfect neighborhood — all for the right price, of course.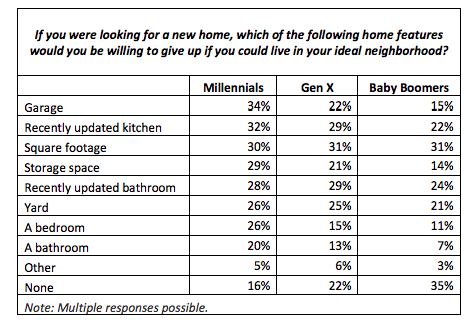 Millennials are the most willing to ditch the garage (34 percent), an updated kitchen (32 percent), square footage (30 percent) and storage space (29 percent) to live in their favorite neighborhood. Gen Xers are forgoing square footage (31 percent), an updated kitchen (29 percent) and an updated bathroom (29 percent).
Baby boomers aren't as willing to compromise, but square footage (31 percent), an updated bathroom (24 percent) and an updated kitchen (22 percent) would be the first features to go.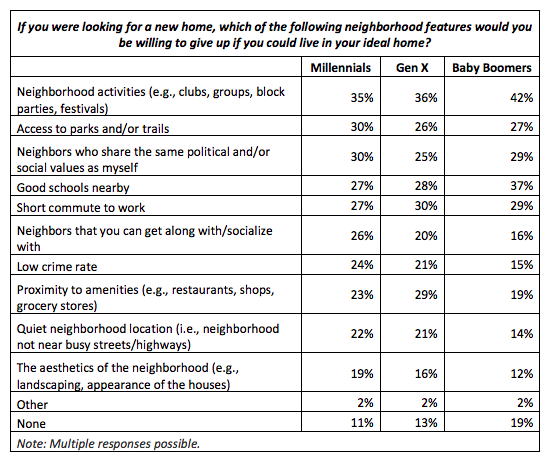 On the other hand, some buyers are more apt to "bend" on location and neighborhood features to have their dream home. Millennials (35 percent), Gen Xers (36 percent) and baby boomers (42 percent) all agreed that access neighborhood activities is the most expendable feature. Thirty percent of millennials would also ditch access to parks and having neighbors with the same political values.
Gen Xers and baby boomers cared less about having good schools nearby (28 percent, 37 percent) and short commutes to work (30 percent, 29 percent).
Young said real estate agents can make the process easier by helping buyers clearly identify what they must have, what they'd like to have and what can be done without. That clarity will help buyers make sure they're making a purchase they're satisfied with.
Lastly, she said millennials, in particular, should be encouraged by projected wage and job growth for their age segment and cooling home prices coming ahead.
"In markets where the economy and job growth are thriving, we may see some of these financial challenges start to dissipate as millennials mature into their careers," she said in a statement. "If anything, millennials can hold out hope that the encouraging housing starts we saw in 2017 can lead to some relief in the starter home segment."
Methodology
This survey was conducted online within the United States by The Harris Poll on behalf of Trulia from April 10-12, 2018, among 2,026 U.S. adults ages 18 and older. This online survey is not based on a probability sample and therefore no estimate of theoretical sampling error can be calculated. For complete survey methodology, including weighting variables and subgroup sample sizes, please contact [email protected]