The number of pending home sales ended its two-month, month-over-month slump and rose 0.9 percent from May to June, according to the latest data from the National Association of Realtors. Overall the Pending Home Sales Index – a forward-looking indicator based on contract signings – was at 106.9, 2.5 percent below last year's level while marking the sixth straight month of year-over-year declines.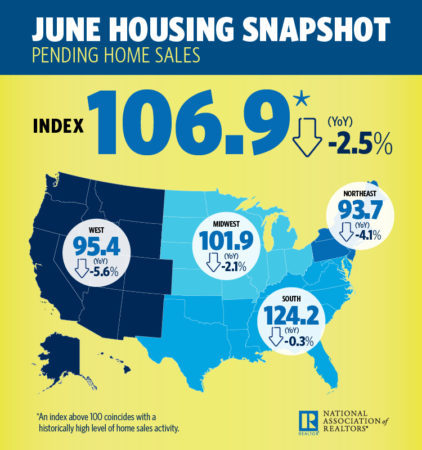 "After two straight months of pending sales declines, home shoppers in a majority of markets had a little more success finding a home to buy last month," said Lawrence Yun, NAR's chief economist in a release. "The positive forces of faster economic growth and steady hiring are being met by the negative forces of higher home prices and mortgage rates."
Existing inventory was up slightly for the first time in three years, Yun said, but despite that, home price growth remains steady.
"Even with slightly more homeowners putting their home on the market, inventory is still subpar and not meeting demand," said Yun. "As a result, affordability constraints are pricing out some would-be buyers and keeping overall sales activity below last year's pace."
Yun forecasts that existing home sales will slump into the second half of the year, dropping 1.0 percent to 5.46 million. The median existing home price is expected to increase around 5 percent, Yun said. In 2017, existing sales increased 1.1 percent and prices rose even more precipitously at 5.7 percent.
Yun forecasts for existing-home sales in 2018 to decrease 1.0 percent to 5.46 million – down from 5.51 million in 2017. The national median existing-home price is expected to increase around 5.0 percent. In 2017, existing sales increased 1.1 percent and prices rose 5.7 percent.
"Home price growth remains swift and listings are still going under contract at a robust pace in most of the country, which indicates that even with rising inventory in many markets, demand still significantly outpaces what's available for sale," said Yun. "However, if this trend of increasing supply continues in the months ahead, prospective buyers will hopefully begin to see more choices and softer price growth."
Ruben Gonzalez, the chief economist at Keller Williams said he's continuing to forecast home sales trending just below last year's levels.
"The year-over-year increase in inventory we saw in June may provide a boost to sales at the end of the summer as the trend holds," said Gonzalez. "At the moment, we don't see it as enough to bring us up above 2017 home sales levels. The economic conditions underpinning demand are holding strong and supply is the primary factor holding back sales right now."
Len Kiefer, Freddie Mac's deputy chief economist, said the increase in contract signings mirrors recent trends when compared to mortgage rate movements.
"Rates moved higher in the first 5 months of 2018, but have stabilized around 4.5 percent since June," said Kiefer. "This stability and a strong economy just might be the ingredients the housing market needs to get back on track."