HomeLight, an agent-matching site that's raised $55 million in total funding, is now powering a tool on U.S. News & World Report's website that helps homebuyers and sellers pair up with what HomeLight's algorithms determine are top-performing agents.
Users can click a "Find Your Top Agent" tab in the publication's real estate section to answer a series of prompts and be matched with a local agent based on "objective agent performance data," "your inputs and individual needs" and "local real estate market conditions."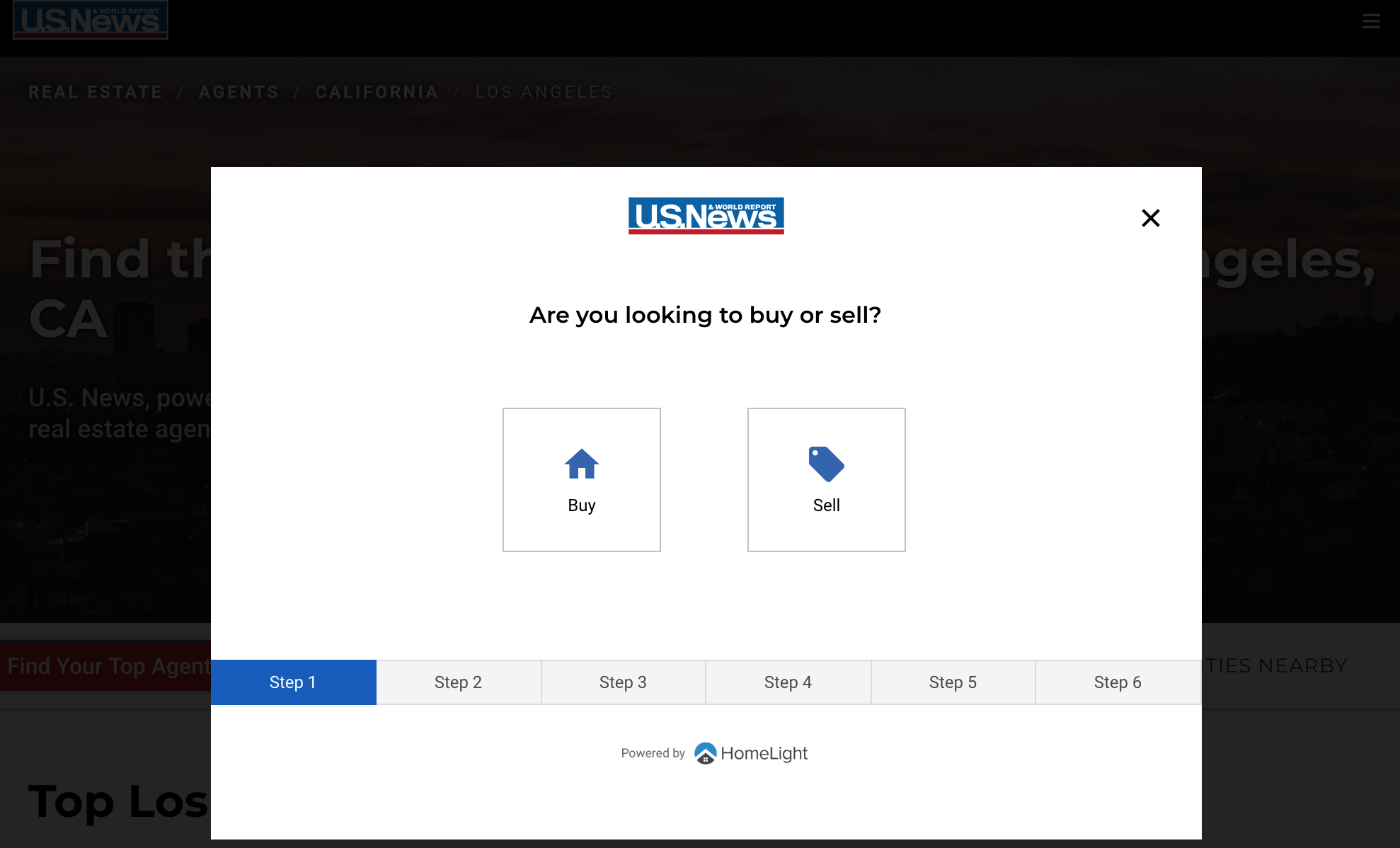 "People come to USNews.com because they're in the process of making an important decision," U.S. News Chief Product Officer Chad Smolinski said in a statement.
Its collaboration with HomeLight will give them "the tools and information they need to better understand real estate trends in their local market and connect directly with agents that can support their goals."
The tool covers more than 7,000 cities and includes local market sections that rank the top 10 agents, while abbreviating their last names. HomeLight will also serve up market data and editorial content in U.S. News' real estate section.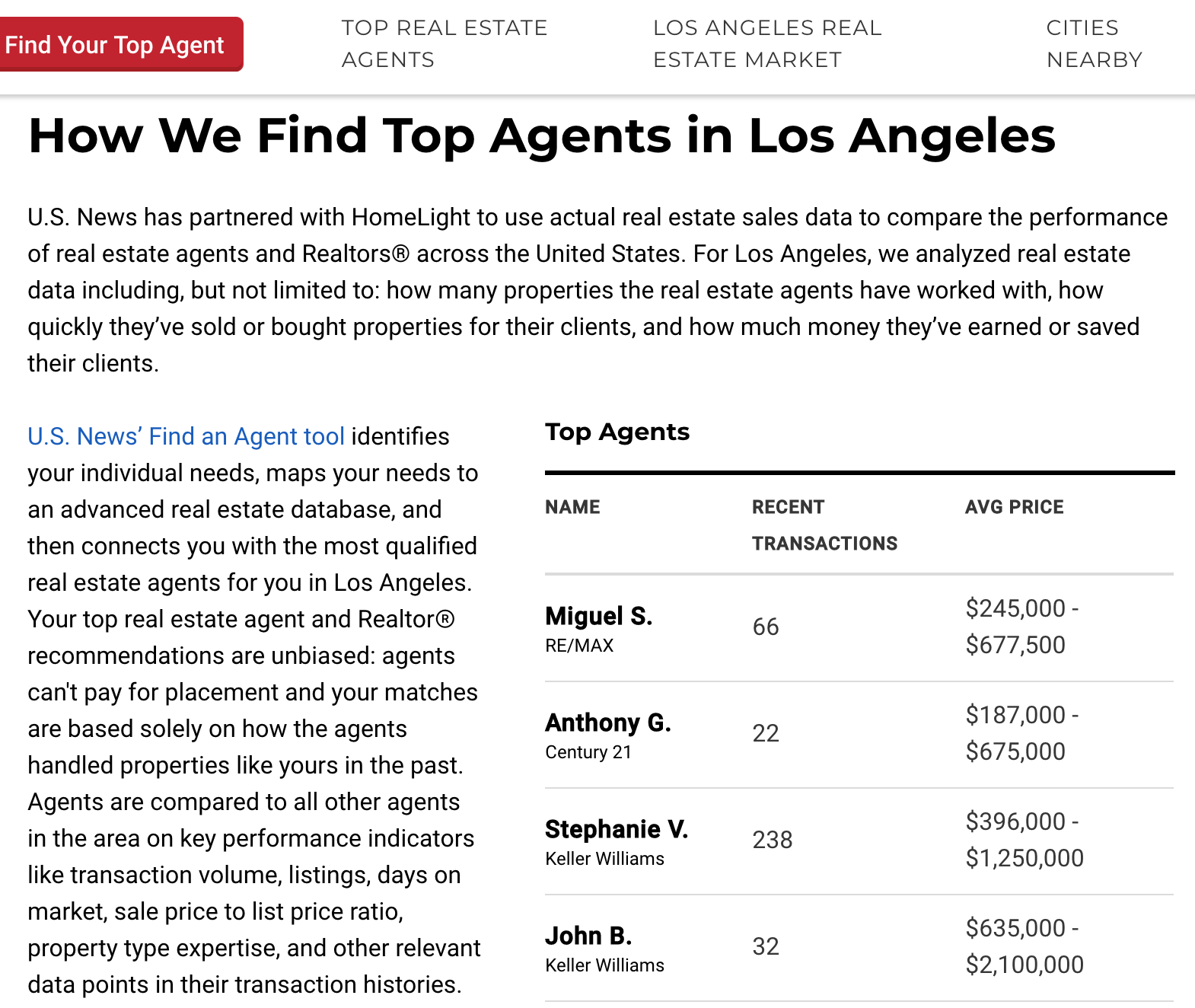 HomeLight has forged similar partnerships with a number of other websites, including Yelp. Its partners can tap HomeLight to implement "unique real estate agent data," "customizable agent performance and market data" and "objective real estate agent recommendations."
Business has been booming for the real estate startup. In only the last year, HomeLight connected homeowners who sold homes collectively worth $5 billion with the agents that assisted in those sales, according to HomeLight Chief Operating Officer Sumant Sridharan.
When evaluating agents, HomeLight looks at their sales success rate, the time they take to sell homes, the average difference between their list and sales prices and how often they reduce list prices, among other data.
If the data exists, HomeLight also factors in agents' past responsiveness to HomeLight leads and the quality of their reviews from previous HomeLight customers.
HomeLight contacts agents flagged by its algorithms to ask if they want to receive a lead in exchange for a referral fee. If the agent agrees, the company either signs a referral agreement with the agent or co-lists or co-represents the client with the agent.
With broker licenses in dozens of states, HomeLight collects a typical referral fee if a lead converts into a deal, HomeLight founder Drew Uher told Inman in 2017.
While HomeLight claims to provide "objective, personalized" agent recommendations based on transaction data, the company has come under fire from some agents for allegedly using or displaying faulty data.
"HomeLight's goal is to be as accurate as possible. There may be exceptions, but generally we believe that our data is the highest quality in the agent matching industry," Sridharan said when asked about this criticism. "We encourage agents who don't believe our data completely encompasses their activity to ensure their data is fully up to date."
U.S. News & World Report used to offer a different agent-matching tool powered by Agent Ace, but Agent Ace was later deactivated after the assets of its parent company, OpenHouse, were acquired by Quicken Loans' agent referral service, In-House Realty.
"When you find Top Real Estate Agents in Los Angeles through U.S. News, we will email you up to three top real estate agents we've identified that meet your criteria, as well as call you to learn more about your real estate needs," reads the Los Angeles market section of the U.S. News' HomeLight-powered tool.
"We will share with you these real estate agents' past transactions, areas of expertise, and reviews from past clients. Then you can ultimately decide which real estate agent best suits your needs."
HomeLight claims to have data on two million real estate agents and more than 35,000 in its network. Agents can claim their profiles to upload additional data and transactions and sign up to join the site's network.