The picture is bleak for Realogy as a perfect storm of competitive pressures bear down on the residential real estate behemoth, according to an investor note issued by JPMorgan.
"The agents are winning. The buyers and sellers of homes are winning. The shareholders in the brands are losing right now," wrote Anthony Paolone, a financial analyst who covers real estate for JPMorgan.
Realogy owns the industry's biggest residential brokerage, NRT, and operates a range of the largest real estate franchisors, including Century 21, Sotheby's International Realty, Coldwell Banker, Better Homes and Gardens Realty and ERA Real Estate.
Its stock price has not fared well over the last few years, falling from around $35 per share in March 2016 to around $12 today. In late February, Realogy reported net income of $137 million for 2018, down from $431 million for 2017.
Palone's pessimism is rooted in what he sees as a convergence of headwinds for Realogy's business model.
With more tech-enabled independence and bargaining power, real estate agents are negotiating better commission splits. Startups such as iBuyers (e.g. Opendoor) are disrupting the status quo. And new brokerages  designed to capitalize on this changing landscape (e.g. Side and Compass) are trying to peel away Realogy franchisees, top agents and teams.
"Agents are demanding ever-higher splits as well as the newest and best tools to help productivity," Palone writes. "At the same time, there is an enormous effort to disrupt the way homes are transacted, generally through technology; this ranges from improving the consumer house-hunting experience on sites like Zillow to simplifying paperwork through electronic document applications to so-called iBuyer platforms that take principal risk to act as intermediaries for a quick home sale."
"These items serve to help consumers either buy or sell homes," Palone adds. "The combination of the aforementioned trends is putting pressure on the profitability of the traditional residential brokerage model."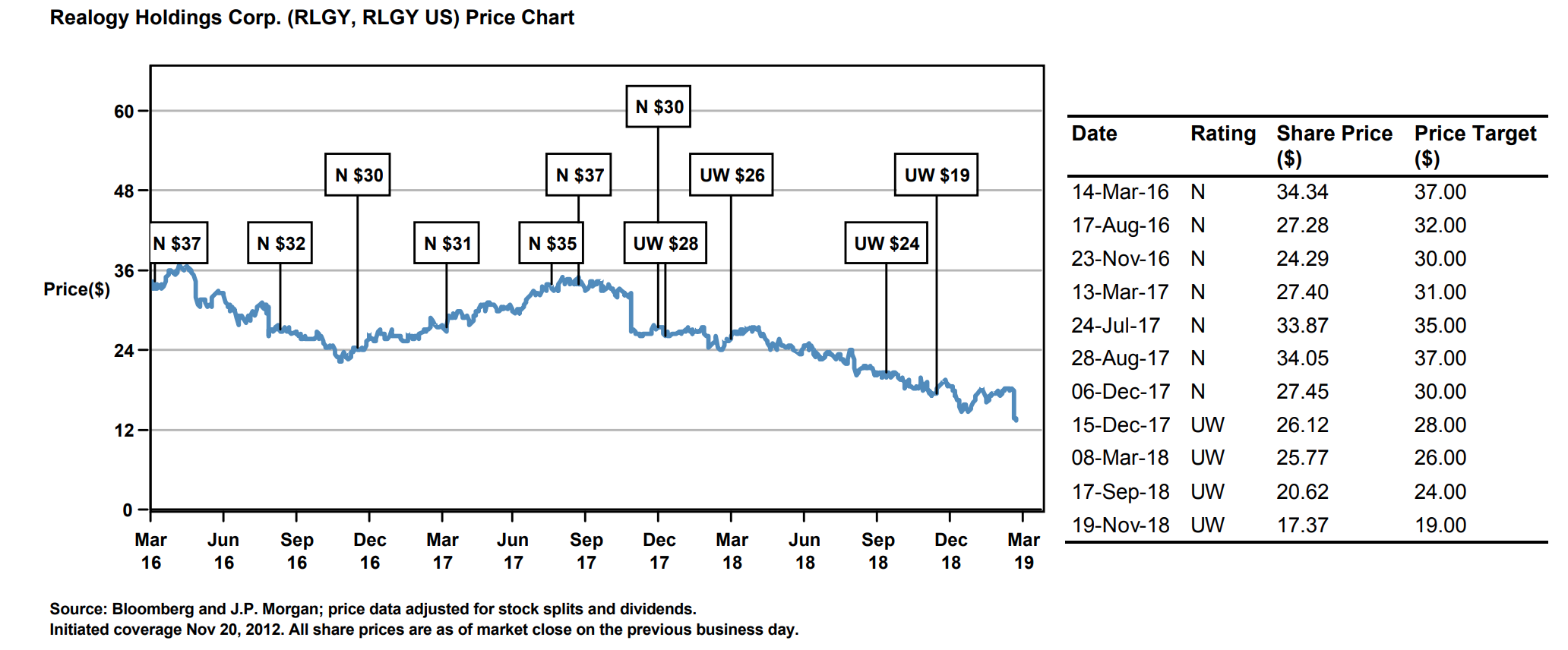 Due to these hazards, plus a softening housing market, "Something has to give," Palone argues.
Bowing to demand for better commission splits has cost Realogy over $250 million alone, while other types of "inflation across the cost structure" has cost another $300 million, according to his analysis.
"We don't know exactly what the fix to all this is, but it does seem like the lack of any real agent switching costs is where a key issue resides," the note reads.
In light of this view, JPMorgan lowered its prediction of Realogy's stock price for December 2019 from $19 per share to $14 per share. It also predicted that the company's EBIDTA [earnings before interest, taxes, depreciation, and amortization] would slide by 0.3 percent to $596 million, rather than rise by 2.7% to $662 million — as JPMorgan had previously forecast.
In a statement, a spokesperson for Realogy suggested the company's longterm outlook is stable.
"While we expect continued upward pressure on agent commission rates in 2019, we do not expect that pressure to look anything like what we saw in the previous two years," according to the statement delivered to Inman on Thursday.
"We remain focused on agent recruitment to drive organic growth. We also continue to use our free cash flow to invest in the business, specifically new technology, new products and new partnerships, that will enhance agent productivity, drive incremental revenue growth, and ultimately, unlock additional value to our shareholders. Since 2016, we have returned nearly $1 billion to our investors through repurchases and dividends."