Reposted with permission from Mike DelPrete.
A big hairy audacious goal (BHAG) is a phrase, coined by author Jim Collins in his book "Built to Last: Successful Habits of Visionary Companies", meant to convey a company's visionary "moonshot" goal, often bordering on the unachievable.
Think of SpaceX's aim to make humanity multiplanetary or Google's goal of organizing the world's information. These are BIG goals and exponential ideas, without a hint of incrementalism. And big ideas have a tendency to attract big investment.
In real estate, optimizing the commission split and generating revenue by selling mortgages are what brokerages have been doing for years.
Going down that path is an old, incremental game plan, which is why it's unlikely to be Compass' destination. Investors didn't pump over $1 billion of venture capital into Compass to build "just another brokerage."
Compass clearly has big ideas and big goals. But what exactly is its big hairy audacious goal?
More than a brokerage
To justify its massive valuation and satisfy its investors, Compass must become more than a brokerage. Having raised over $1.1 billion at a hefty $4.4 billion valuation, Compass is already richly valued as a tech company rather than a traditional real estate brokerage.
When a company raises venture capital, especially at the scale Compass has, investors expect a significant return on their investment. When SoftBank invested in Uber in 2018, it was valued at $48 billion with expectations of a $100 billion IPO (as of June 2019, Uber is worth around $75 billion).
As a late-stage, private company almost certainly heading toward an IPO, investors likely have similar expectations for Compass — call it a $10 billion valuation at IPO.
Compass can't justify this valuation as a traditional real estate brokerage. Incremental improvements are not in the cards; to achieve a meaningful outcome for owners and investors, Compass needs to embrace more radical changes to its business model and real estate in general.
Changing the game
As we've seen in my previous analysis, Compass' economics are similar to a typical brokerage. The primary revenue and expense drivers are the same: revenue is generated as a percentage of the commission from real estate agents, and expenses are driven by employee costs, office space, administration and technology.
To date, the models that have meaningfully shifted core brokerage economics at scale have all featured novel operating models.
Redfin, with full-time, salaried agents, and Purplebricks, with a fixed-fee independent contractor network — both backed by significant lead capture and centralized support organizations — have demonstrated exponential efficiency gains.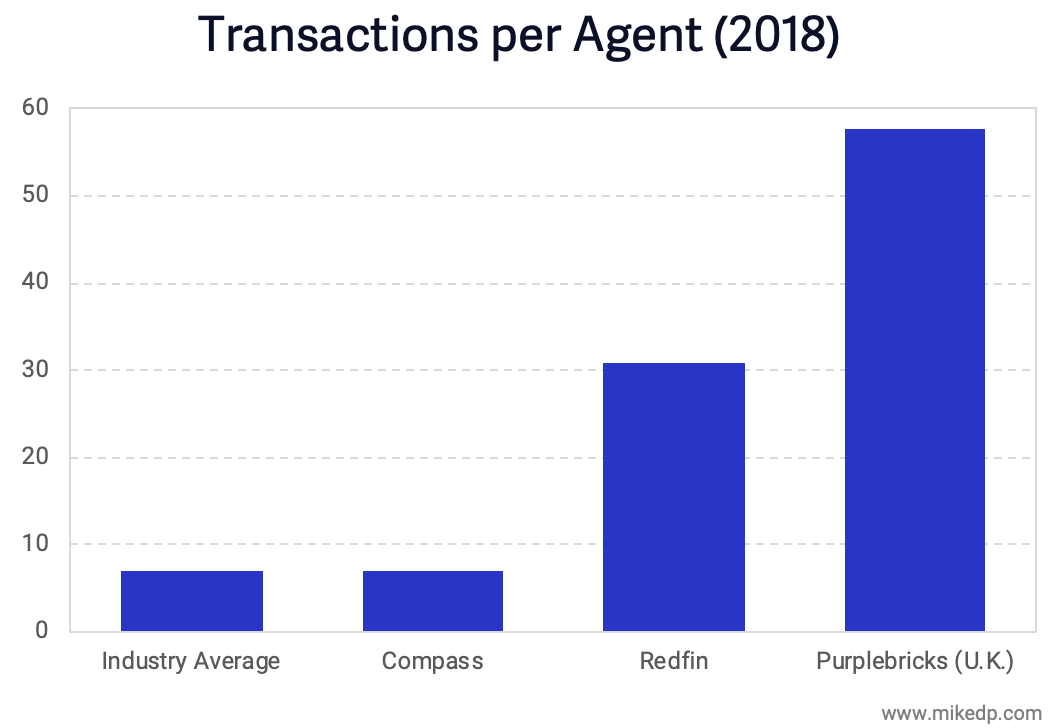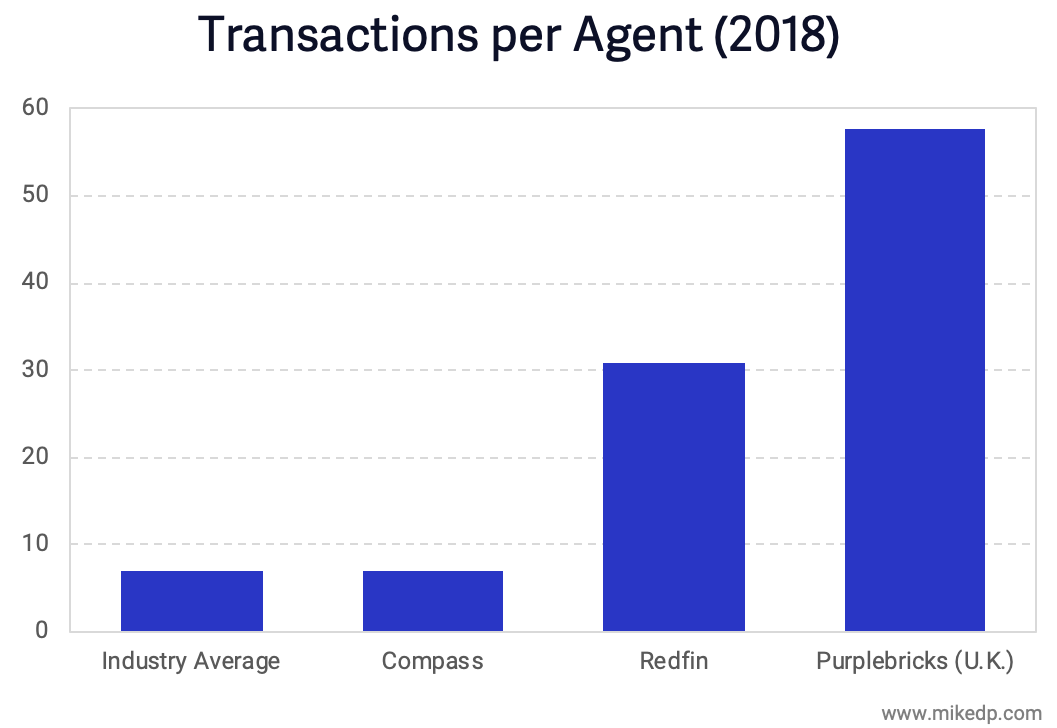 From an economic standpoint, the efficiency gains pay off for the brokerage. Redfin operates at a gross margin of 24 percent (about double Compass) while Purplebricks U.K. enjoys gross margins over 50 percent.
compass: estimate, Industry average: real trends industry benchmark, redfin: fy2018, purplebricks: fy19 (U.k. only)">
Because of their novel operating models, Redfin and Purplebricks have a great deal of direct control over their agents, allowing them to standardize processes to deliver a more uniform and efficient consumer experience.
For Compass to break out of the traditional brokerage mold and fully realize its ambitions, it needs to become more than a brokerage, and more than a technology company.
It needs to become a platform. And in doing so, radically change brokerage economics and, consequentially, the role of agents.
The platform play
To become a true real estate platform, Compass first needs to become a consumer destination.
Redfin has its portal, Uber has its app, and Purplebricks (in the U.K.) has its website. In each case, consumers go directly to the company — not an agent or driver — to start their journey, giving the platform owner unprecedented ecosystem power.
The platform owner controls the lead, distributes it and takes a healthy cut of the revenue. If employees or contractors don't perform to expectations, the company removes them. The platform owner is in complete control.
For Compass to become a consumer destination, it needs eyeballs. The most effective strategy — and likely the only possible strategy given the market dominance of Zillow — is to build consumer traffic with the draw of exclusive listings.
It's a similar strategy to Netflix and Amazon's exclusive video content. If the Compass web portal advertises houses for sale that aren't available anywhere else, it draws consumers to the platform.
Building exclusive content
The secret to building an audience with exclusive content is scale: Compass needs significant market share for this strategy to work.
Pocket listings, which are withheld from the MLS for a period of time, have been around for years, but never employed at this scale. Compass needs to advertise so much exclusive content, including coming soon listings, that consumers can't afford to miss it.
The evidence that Compass is strongly promoting exclusive content is plainly visible on its website. In fact, exclusive content is the primary call to action on Compass' website, starting with top billing on its site navigation.
Scrolling down the page, the first content after the search box is a section highlighting exclusive listings before they hit the market.


A few Google searches for homes for sale in San Francisco yields the following results. Not only is Compass paying top dollar for its position, but notice who it is competing and bidding against.
Compass is expending a considerable amount of resources to attract consumer eyeballs to its website.
In addition to the above, it has search engine optimized pages for exclusive properties in each market. This focus on exclusive listings currently sets Compass apart from Zillow, Redfin, Purplebricks and most other traditional brokerages — no other company gives it this much focus (or any focus at all).
The result is a high proportion of listings that are exclusive to Compass (which includes coming soon). As of June 2019, anywhere from 12 percent to 27 percent of Compass listings in a market are exclusively listed on the Compass website — a significantly high number.
Across six markets, that represents over 1,800 listings, none of which are advertised on the MLS or any other portals, including Zillow.
Compass is encouraging agents and consumers to list properties as "Coming Soon" as an effective pre-sales tool. This agent team page touts specific benefits, such as fewer days on market and more visitors at the first open home, while this agent team highlights the benefits of increased exposure and pre-listing feedback.
Flexing its platform power
Once Compass has consumer eyeballs, what's next? The same thing that Zillow, Redfin and Purplebricks do: generate and control the distribution of leads to agents.
Recently we have seen more power being accrued in real estate platforms that distribute leads. News Corp.'s $210 million acquisition of Opcity and Zillow's new flex pricing product both charge real estate agents around a 30 percent referral fee when a transaction closes. Over time, the amount charged for a lead has consistently gone up.
Redfin and Purplebricks also control the flow of leads. Redfin distributes its leads to salaried agents, while Purplebricks pays its local property experts in the U.K. around 25 percent of a fixed listing fee.
Both companies control the flow and distribution of leads to their agents, which is a necessary ingredient for a platform to fundamentally change the economics of a traditional real estate brokerage.
Endgame
It would be naive to think Compass has raised over $1.1 billion in venture capital to become just another real estate brokerage.
Even adding adjacent services like mortgage doesn't change the core economics of the broker model — bigger changes are required to justify its valuation.
Compass has larger ambitions, and it's likely that its big hairy audacious goal is to become a real estate platform. The evidence suggests the following strategy:
Build market share (listings) through aggressive agent recruitment and acquisition.
Once market share is high enough, encourage sellers to list exclusively on Compass for a period of time.
Leverage exclusive content to drive consumers to the Compass portal.
Launch a Compass platform that generates and distributes leads to agents.
With platform power, transition the role of an agent (Redfin/Purplebricks/Uber), taking a larger cut.
Compass is a real estate disruptor on a scale never before seen in the U.S.
With deep pockets and big ambitions, its impact on the real estate industry is only just being felt. Compass, its investors and a number of well-funded peers are aiming for massive change in an industry that has resisted massive change for years. Whether its strategy succeeds or fails, the die is cast, and the race is on.
Check out:
---
How do you stay ahead in a changing market? Inman Connect Las Vegas — Featuring 250+ experts from across the industry sharing insight and tactics to navigate threat and seize opportunity in tomorrow's real estate. Join over 4,000 top producers, brokers and industry leaders to network and discover what's next, July 23-26 at the Aria Resort. Hurry! Tickets are going fast, register today!
Thinking of bringing your team? There are special onsite perks and discounts when you buy tickets together. Contact us to find out more.
Mike DelPrete is a strategic adviser and global expert in real estate tech. Connect with him on LinkedIn.