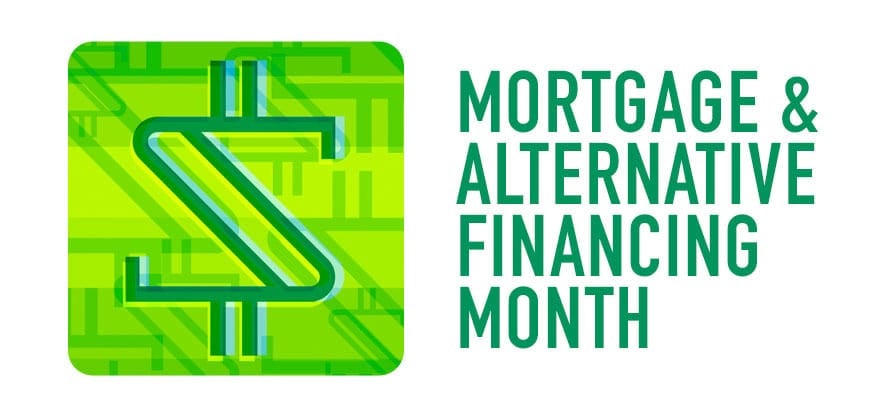 In May, we'll go deep on money and finance for a special theme month, by talking to leaders about where the mortgage market is heading and how technology and business strategies are evolving to suit the needs of buyers now. A prestigious new set of awards, called Best of Finance, debuts this month too, celebrating the leaders in this space. And join Mortgage Brief for weekly updates all year long.
In what would be another step on its quest to build a $1 trillion portfolio, loan servicing giant Mr. Cooper has reached an agreement to acquire what's left of Home Point Capital — the rights to collect payments on $84 billion in mortgage loans — for $324 million in cash.
Assuming antitrust regulators sign off on the deal, Mr. Cooper plans to fund the acquisition in part by assuming $500 million in Home Point senior notes due in February 2026. If all goes as planned and the deal closes sometime during the third quarter, Mr. Cooper will shut down Home Point's remaining operations.
"This acquisition is consistent with our strategy of growing our customer base, deploying our capital with a focus on attractive risk-adjusted returns, and maintaining a very strong balance sheet," Mr. Cooper CEO Jay Bray said in a statement Wednesday.
Mr. Cooper agreed to pay $2.33 a share for Home Point, a 22 percent premium over Wednesday's closing price of $1.91 30 minutes before the deal was announced. While funds that own 92 percent of Home Point's outstanding shares are on board, the deal must also be approved by regulators. If the deal hasn't been consummated by May 2024, Home Point could be required to pay a $9.7 million termination fee.
Home Point Capital, which conducted business as Homepoint, was the nation's third-biggest wholesale mortgage lender. Founded in 2015 and headquartered in Ann Arbor, Michigan, Homepoint originated $158 billion in home loans in 2020 and 2021 as mortgage rates dropped to historic lows, sparking a massive refinancing boom.
Homepoint mortgage originations 2019-2022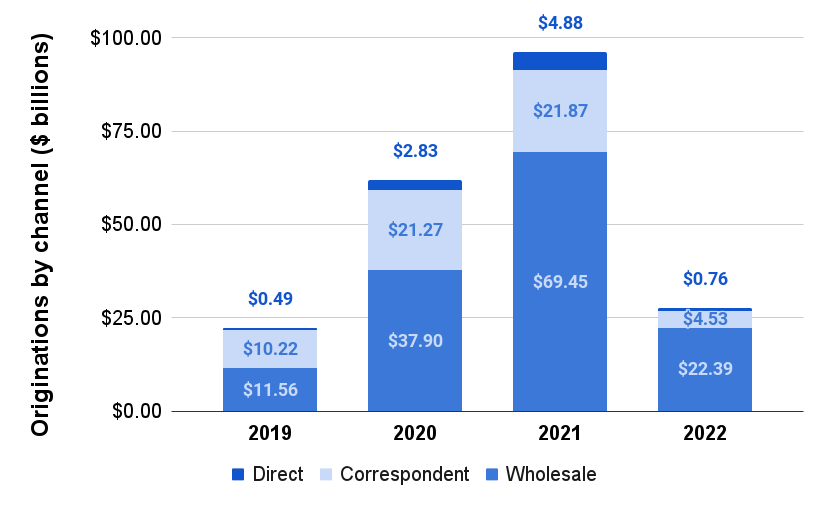 Homepoint mortgage originations by channel (wholesale, correspondent, direct) 2019-2022 |  Source: Home Point Capital annual reports
When mortgage rates soared last year and the refi boom evaporated, Homepoint laid off thousands of workers and sold its correspondent lending subsidiary, Home Point Asset Management LLC, to Planet Home Lending LLC. By the end of the year, Homepoint had cut its workforce to 830 full-time employees, down from 3,200 at the end of 2021.
Last month, Homepoint announced it was getting out of the business of originating mortgages altogether and would sell its wholesale loan business to The Loan Store Inc. At that point, Homepoint still employed more than 500 people, and 300 employees were laid off and 100 were offered positions at The Loan Store, the Detroit News reported.
The Loan Store deal closed on May 1 and was expected to generate $30 million in expenses for Homepoint, including $10 million in employee severance and retention benefits plus $15 million in vendor contract terminations, the company said in a regulatory filing.
In an internal email to employees Wednesday, Homepoint President and CEO Willie Newman said that as a result of the announcement to sell the company to Mr. Cooper, "your end dates previously communicated may change. Your leader will be meeting with you individually in the coming days to provide you with your modified end date and related information."
Newman said Homepoint employees may have opportunities to apply for new roles at Mr. Cooper, "and those details will be made available in the coming days and weeks."
Homepoint's servicing portfolio 2019-2022
Short on cash at the end of the year, Homepoint sold $6 billion of the company's Ginnie Mae servicing rights during the fourth quarter, generating proceeds totaling $87.8 million.
But Homepoint said it would continue to manage mortgage servicing rights on a portfolio of more than 300,000 loans with an unpaid principal balance of $89.28 billion as of Dec. 31.
In reporting a $163.7 million 2022 net loss in March, Homepoint said loan servicing was a net positive, generating $277.5 million in revenue and boosting the company's bottom line by $121.8 million after deducting fixed costs.
Mr. Cooper says it's acquiring $84 billion in mortgage servicing rights, suggesting that Homepoint has sold about $5 billion in MSRs this year. In a recent regulatory filing, for example, Homepoint said it sold $1.5 billion in Ginnie Mae servicing rights on May 2 for $21.3 million.
Loan servicing — collecting mortgage payments from homeowners on behalf of investors that own the loans — can be a profitable business, with servicers not only collecting fees based on the size of the loan but gaining the inside track on opportunities to refinance those loans when interest rates fall.
Dallas, Texas-based Mr. Cooper has been buying mortgage servicing rights (MSRs) from lenders, building an MSR portfolio that now exceeds $900 billion. Executives at the company say that economies of scale provide a competitive advantage over smaller loan servicers and lenders that service their own loans in-house.
Bray said last month that Mr. Cooper is looking to replace many call center workers with AI technology, a project that it expects will save it a least $50 million in expenses, as the company spends "several hundred million dollars a year" on call centers.
"Thanks to our strong operations and technology, we have the capacity to onboard this portfolio, with a focus on ensuring a positive customer experience," Mr. Cooper CFO Kurt Johnson said Wednesday of the deal to acquire Home Point.
Johnson said the 5 percent rate on the senior notes Mr. Cooper is assuming from Home Point "serve as a low-cost source of funding and contribute to an attractive rate of return on this transaction."
Get Inman's Mortgage Brief Newsletter delivered right to your inbox. A weekly roundup of all the biggest news in the world of mortgages and closings delivered every Wednesday. Click here to subscribe.