Prospective buyers who visit select listings on Zillow can now easily access online 3-D models that let them virtually explore properties without ever visiting them in person.
Zillow's hosting of the 3-D models marks a pivotal step for the growth of 3-D technology in real estate.
A small but growing number of real estate agents have been producing immersive 3-D visualizations for listings.
But now that the leading U.S. listing portal can put the representations in front of prospective buyers, adoption of 3-D technology in real estate could accelerate, potentially kickstarting a shift in buyer behavior that some observers say could tweak the value proposition of real estate agents.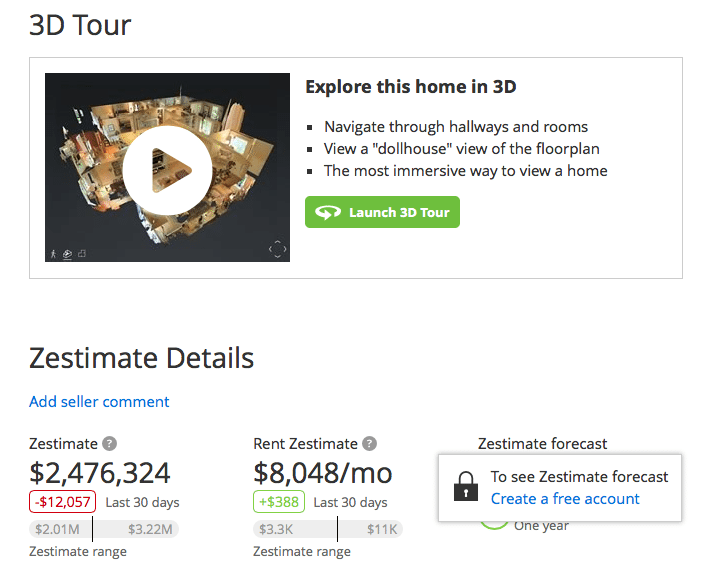 Screen shot showing graphic on Zillow listing page that links to a Matterport 3-D model
The 3-D models available on some listing pages on Zillow are powered by Matterport, which provides the camera and software needed to generate the representations.
"Zillow provides a platform that reaches millions of those users," said Matterport CEO Bill Brown. "It's great to see that agents that want to make this immersive 3-D experience broadly available as part of their marketing plans have that option."
Zillow users who visit listing pages with 3-D models can access the models by clicking a tab that says "Launch 3-D Tour" that sits just beneath listing photos, or by clicking an image showing an image of a 3-D model that appears under a listing's property details.
The models are available on Zillow property detail pages for listings in markets across the country. The listing portal sent to Inman 3-D model-equipped property detail pages for listings in Chicago, New Canaan, Connecticut, and Old Tappan, New Jersey.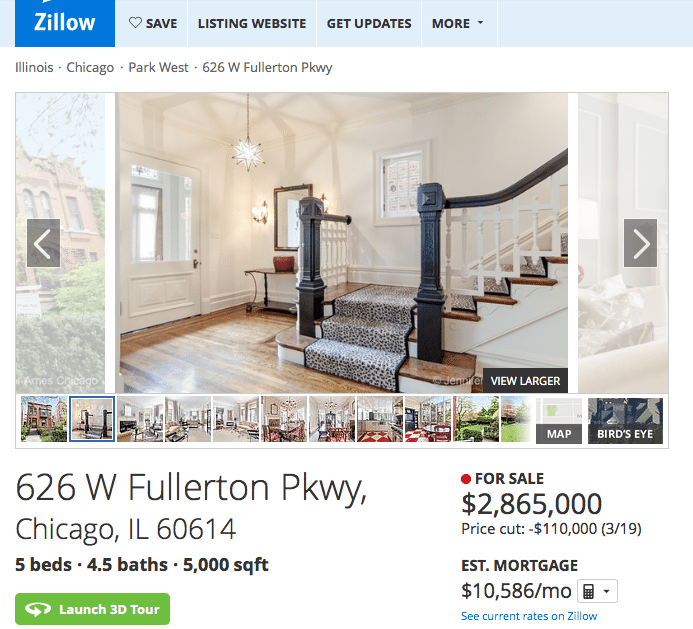 Screen shot showing tab (lower left-hand corner) that appears on a Zillow listing page and links to a Matterport 3-D model. 
Brown said that, in many cases, real estate agents can get Matterport models to appear on Zillow by adding a link to a model into the virtual tour field of their MLS.
Matterport announced in late April that it had partnered with the San Francisco Association of Realtors (SFAR) to add a special field to the association's MLS system that lets members add Matterport models to their listings.
The field enables listing portals like Zillow and Homes.com "to identify and properly display" Matterport's models, opening the door for buyers to access Matterport's interactive visualizations through the most popular real estate search sites, Matterport said.
Matterport didn't immediately explain what advantage SFAR's MLS field for Matterport models offers to real estate agents over the traditional virtual tour field available in many other MLS systems that often also will surface links to Matterport models on Zillow listing pages.
Zillow's integration of Matterport models builds on momentum that 3-D technology has gained over the last few months.
A growing number of listing portals around the world have begun rolling out 3-D representations. But those representations have been based on floor plans, limiting how realistic they appear to viewers.
Matterport's 3-D models, which are based on photographs and readings from infrared sensors, seem to be the first photorealistic 3-D representations to appear on a listing portal.
3-D representations currently provide a way for agents and brokers to differentiate themselves.
But some tech observers say they could become par for the course in the years ahead, as their cost plummets and user experience improves. By showing 3-D models on listing pages, Zillow's has pushed the industry closer to that future.
Some real estate observers say interactive 3-D visualizations can weed out "lookie loos" who aren't serious buyers, freeing up agents to spend more time as negotiators and navigators.
But they also conjecture that 3-D models could make agents less important as tour guides and salespeople, both elements of their traditional value proposition to clients.