On Thursday, First American Financial Corporation released its March 2016 Potential Home Sales model. According to First American's press release, the model provides a gauge on whether existing-home sales are under or over their long-run potential level based on current market fundamentals.
For March, existing-home sales are underperforming by 11.5 percent, which translates into approximately 664,000 seasonally adjusted, annualized rate (SAAR) sales.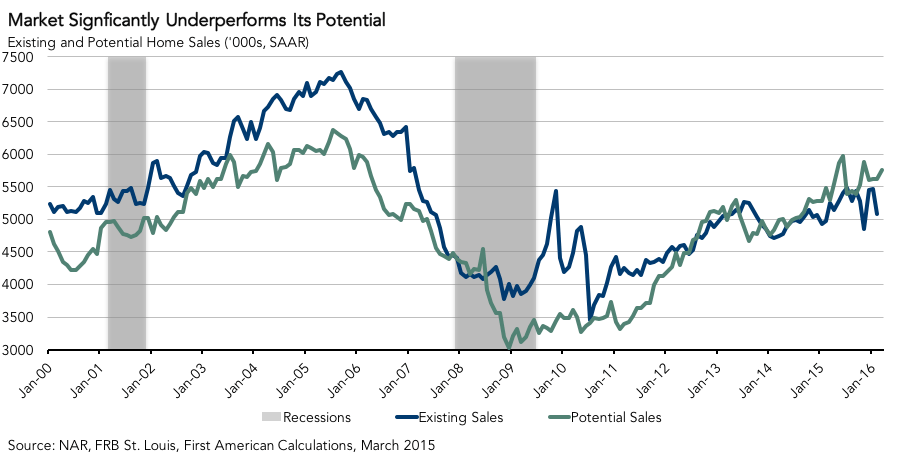 First American's Chief Economist, Mark Fleming, says existing-home sales underperformance is due to homesellers worries about buying homes.
"One reason for the widening underperformance gap relative to market potential is the duality of the supply and demand decisions in the housing market. Excluding first-time homebuyers, which are a relatively small share of the overall market, most homebuyers are also homesellers," said Fleming, in a press release.

The home inspection is not just for homebuyers
Use pre-inspections as a home seller differentiator
READ MORE
"So, for most homebuyers, the decision to sell is dual to the decision to buy. Listing your home is most often dependent on whether you believe it's a good time to buy. In the current market, sellers are worried about buying. Therefore, they likely won't be selling either."
Weather deterring buyers from venturing outside
Despite the underperformance in March, the market potential for existing-home sales is up 2.4 percent from February and 8.8 percent from March 2015.
Furthermore, numbers are up 90.9 percent from December 2008, the market potential's lowest point, and down 9.7 percent from the pre-recession peak of market potential in July 2005.
Fleming says the sharp decline began in February, when existing-homes sales stood at 5.8 million SAAR — 5.47 million sales down from January. These numbers are part of an unexpected 7.5 percent month-over-month decline, the largest month-over-month decline since 1991.
"The decline can largely be attributed to blizzards along the East Coast keeping potential buyers indoors," he says.
Fleming says actual existing-home sales, as seen in the National Association of Realtor's latest Pending Home Sales Index, are predicted to rebound in March and April. Moreover, Fleming says lowering mortgage rates should make sellers feel at ease.
"Luckily, mortgage rates are trending even lower as investor demand for the 10-year Treasury bill due to continued global economic and geopolitical uncertainty has driven the yield further down. The persistent low-rate environment is a blessing in disguise for homebuyers as they are able to further leverage their income into continued strong and even increasing homebuying power," said Fleming.
"In a market with falling confidence, low inventory and rising prices, the positive impact of low mortgage rates on consumer buying power is a silver lining for existing homeowners and first-time homebuyers alike."