BuzzBuzzHome currently operates as a digital database of new construction housing in Canada and most major U.S. Cities.
The company is rolling out several new updates that broaden its reach as an online marketplace where home purchasers can instigate the sales process.
With the addition of Daypack, a cloud-based inventory management system for builders, and consumer-facing BuyNow module, BuzzBuzzHome aims to facilitate transactions between builders and buyers.
BuzzBuzzHome, the website best known for its consumer-facing database of all things new housing, is adding on with some innovative construction of its own.
Launched in 2009, the company claimed a space in residential real estate after rapidly rising to the top as Canada's most-visited resource for new home listings.
It opened an office in New York City three years later and has been gaining relevance throughout the U.S. ever since. Users will find a comprehensive directory of new construction for most major U.S. cities, including San Francisco; Washington, D.C.; Miami; Seattle; Houston and Los Angeles.
National giants Toll Brothers, DR Horton and Lennar directly feed BuzzBuzzHome with builder data to ensure the site's listings are 100-percent accurate. The new build database also serves smaller niche companies such as low-rise California builder City Ventures and Manhattan luxury developers like Macklowe Properties.
As BuzzBuzzHome continues to target urban centers with a high concentration of new housing construction, the company is also rolling out several new updates that broaden its reach from digital database to online marketplace.
Inventory management system for builders
Excel spreadsheets had their heyday, but now it's 2016. It's time for builders to ditch the antiquated technologies of yesteryear and join the rest of the modern world in document sharing and automation.
That was the sentiment driving the development of Daypack, BuzzBuzzHome's cloud-based inventory management and point-of-sale system for new condo builders.
The platform is currently in beta testing with some of the company's select partners, and it handles all components of the sales process from start to finish. Builders will be able to digitally manage their sales matrix, worksheets, deposits and closing costs online while they're updated in real-time from any computer or iPad.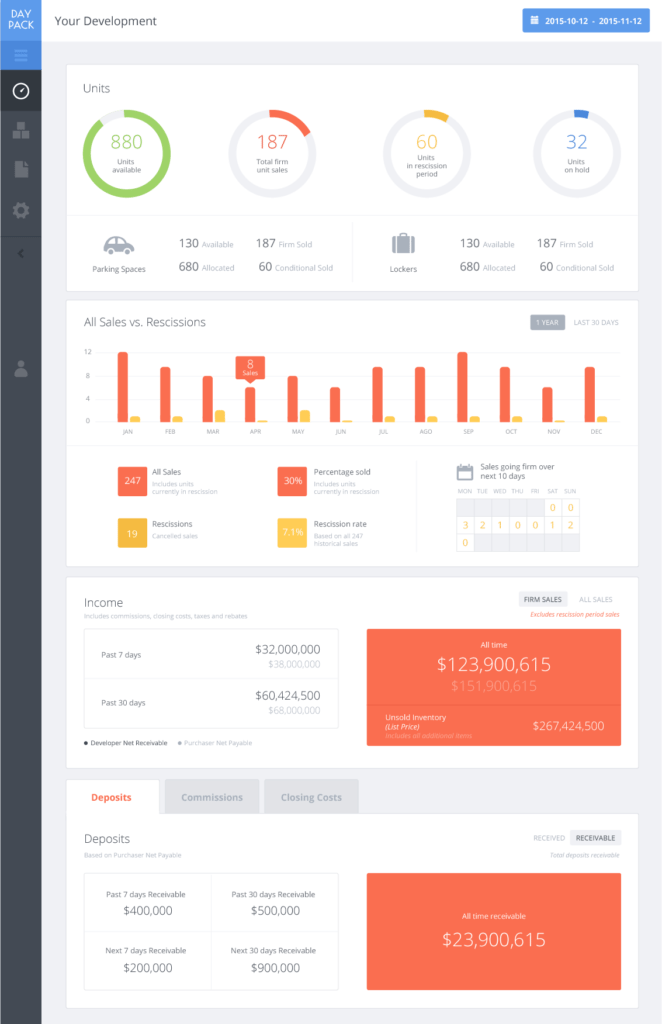 "We've been very encouraged by the positive feedback we've been getting, and are working on expanding the program as quickly as we can," BuzzBuzzHome President Matthew Slutsky said. "This is important as Daypack is committed to having a very user-centric design focus."
After the sales cycle for a new development is finished, Daypack documents all the sales activity for record-keeping and analysis. As far as costs go, "there will be a relatively low charge to use Daypack, but at this time we're still experimenting with what it will be exactly," Slutsky added.
While Daypack is primarily builder-facing, it also contains a consumer interface so that sales agents may share unit information with potential buyers. These units may then be purchased by the consumer from any location, which brings us to BuzzBuzzHome's second big announcement — the online transaction module BuyNow.
Claim a home with just a credit card
The company is taking us one step closer to the Amazon.com for new homes: With just a credit card, a trademarked "BuyNow" application and an internet connection, buyers will instantly be able put down an initial $5,000 deposit on a house, which allows them to sign and execute the Agreement of Purchase and Sale (APS).
Then, users will have the ability to review all the purchase documents and select additional features like a parking spot and a storage locker.
"After the initial deposit, the purchaser will have to deliver certified cheques on the dates provided in the APS," Slutsky explained.
The availability of this feature will be limited to participating builders, whom the company is not yet disclosing. Slutsky did say that numerous builders have expressed interest, and the feature will be launched this year.
Home life in 3-D: digital dollhouses
Finally, BuzzBuzzHome is also becoming the first search portal in North America to display standardized 3-D floor plans for new residential construction, with the goal of helping purchasers visualize suite layouts and make informed housing decisions.
With builder floor plans "still stuck in the last century," the company rolled out the first collection of new 3-D renderings this year and will be refining the process to automatically transform hundreds of thousands of floor plans on the site to be viewed as digital dollhouses.
What agents should know
Agents will still be able to earn a commission when their clients purchase through the BuyNow online transaction application.
By advertising on BuzzBuzzHome, agents can claim neighborhoods and generate qualified leads for their territories. Each lead, along with important information about the buyer such as the preferred number of bedrooms and square footage, is sent through and paid for with a flat fee.
The site also features user-friendly tools so purchasers can share listings and developments with their real estate agent.
"As the company evolves, it's transforming from a 'discovery site' to an 'online marketplace," Slutsky said. "That said, BuzzBuzzHome does not operate as a brokerage. Our site facilitates the transaction between the builder and the buyer."