The majority of American homeowners want a house designed for casual living with plenty of room to breathe, a new survey by the American Institute of Architects shows.
A panel of more than 500 architecture firms that help shape "how homes function, look, and integrate into communities" weighed in on the current state of home design for the first quarter of 2016 based on what projects they're seeing clients consistently request.
The Home Design Trends Survey specifically focuses on the use of interior and exterior space, general home layout and housing market business conditions.
The results revealed the following five trends molding the size and shape of today's homes.
1. Expanding home sizes
Homes keep getting bigger by all standards — square footage, volume and lot size. The percentage of firms reporting increasing demand for lot size grew from 2 percent in 2015 to 6 percent this year, while volume and square footage have ticked upward since 2011.
An analysis by LawnStarter this month revealed that the number of new single-family homes sold with four-plus bedrooms (53 percent) and three or more bathrooms (41 percent) reached an over-30-year high in 2015. The report suggested that this trend is being fueled by the rise in multigenerational housing — families who want to live together under one (peaceful) roof.

Download the single page business plan for success in 2020
Sometimes growth is as easy as 1-3-5. Here's how it works.
READ MORE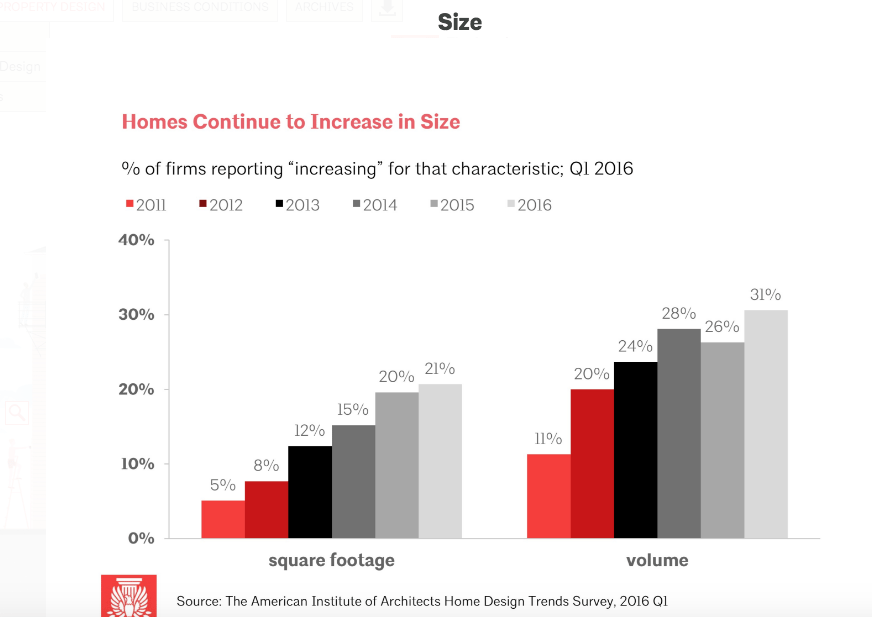 2. Decreased (but still high) demand for in-home accessibility and open space layout
In-home accessibility, which includes accommodations such as widened doorways and lowered countertops, remained at the top of homeowner's layout wish list, followed by informal space and open space. However, all three of these residential elements experienced slight declines from last year, as shown in the chart below.
It's possible that the number of open floor plans and accessible homes has reached a certain threshold, and homeowners who want these features already have them.
"Minor lags in demand for accessibility features within the home are a signal universal design concepts have become a more common feature in the existing housing stock," said AIA Chief Economist Kermit Baker, PhD, Hon. AIA, in the survey findings.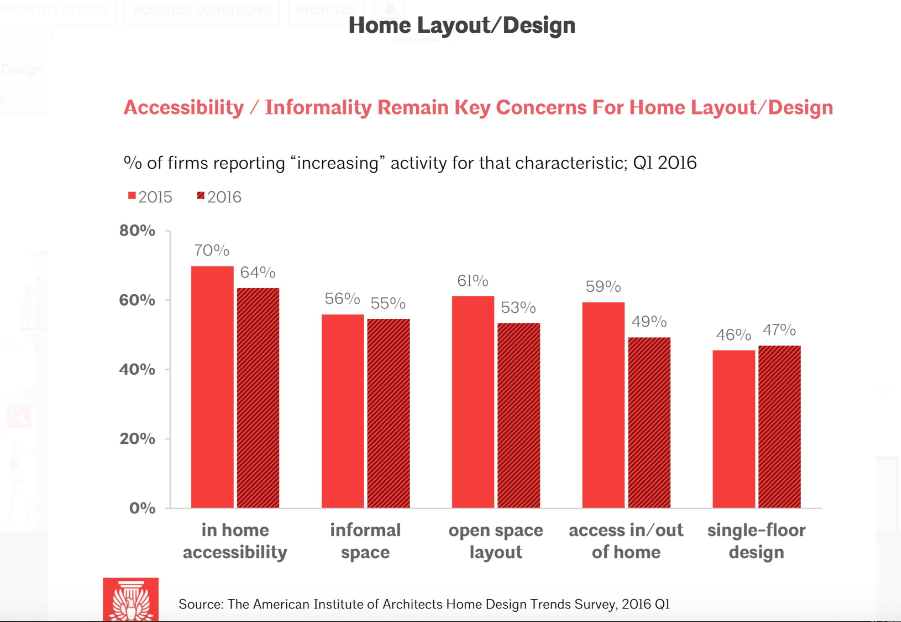 3. Desire for outdoor living space
Today's homeowners appear to be less concerned with high maintenance landscaping and instead want outdoor space they can actually use.
"Not surprisingly, homeowners' interest in utilizing more of their property as a livable space while giving them a sense of connection to the outdoors remains very popular," Baker added.
With 69 percent of architects reporting increased outdoor living space activity and blended indoor/outdoor living closely behind at 61 percent, these elements continue to be in highest demand.
A recent Inman article corroborated this finding: "No matter the climate, homebuilders are seeing value in creating highly functional outdoor areas that can make a home more appealing to potential buyers," wrote Thom Cunningham, the vice president of Crescent Communities.
Developers are finding the most sought-after outdoor living features include kitchens and dining areas, porch space and outdoor gathering areas.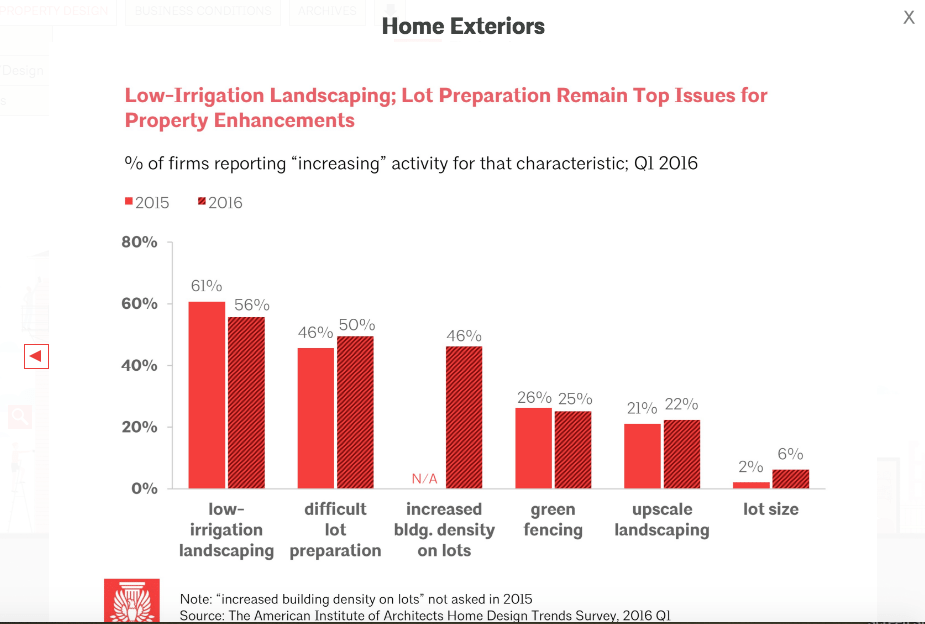 4. Slight stagnation in firm billings 
The AIA also reports a housing market business conditions index every quarter based on two factors: billings and project inquiries for remodeling projects.
Any score above 50 is considered positive. For Q1 2016, billings had an index of 61, down from 66 a year ago, while project inquiries stood at 67.
"Though billings at residential firms saw somewhat slower growth than in the first quarter of 2015, they remain solid and stable," said Baker.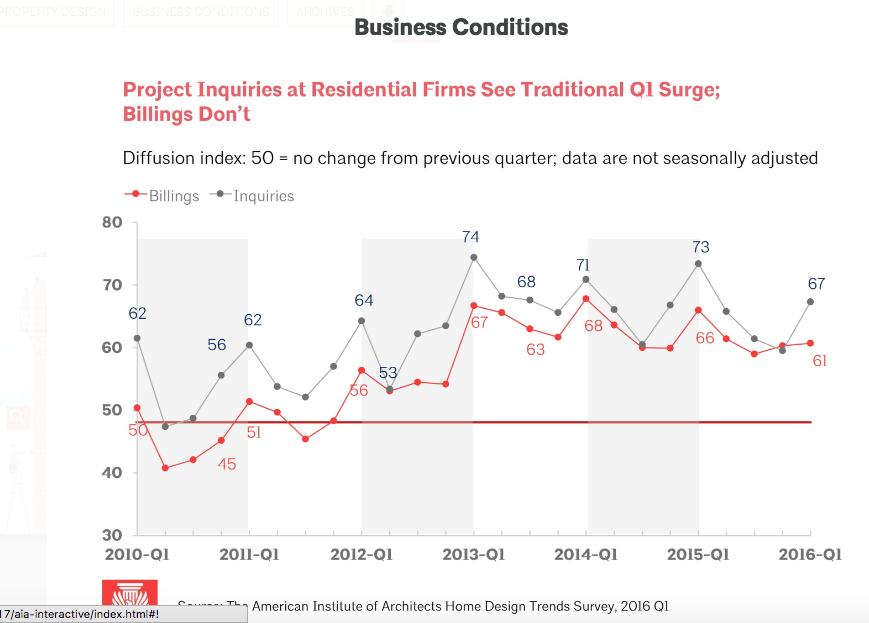 5. Spike in vacation home interest
Finally, interest in the vacation home remodeling sector jumped from a score of 1 in 2015 to 8 in 2016, numbers that reflect the percent of respondents reporting an "improving" market sector minus those who reported the same sector as "weakening."
"Remodeling additions continue to top the list of specific residential segments architecture firms are providing clients, but a notable jump in interest in second/vacation homes is an additional signal of a strengthening housing market," Baker said.
However, according to the National Association of Realtors' 2016 Investment and Vacation Home Buyers, total vacation home sales declined to 920,000 in 2015, down 18.5 percent from 2014's peak of 1.13 million. Furthermore, vacation home sales accounted for 16 percent of 2015's transactions, 5 percent less than the previous year.
Not surprisingly, first-time buyer/affordable homes were reported as the weakest sector in 2016.