Zillow reports that median home value in the U.S. rose to $187,300 in July 2016.
Portland saw the highest year-over-year increase in median home value, at 14.7 percent.
San Jose has the highest median home value in the country, at $948,600. Indianapolis was the only metro area that showed decline year-over-year, at 3.5 percent.
Zillow's recent Home Value Index (ZHVI) revealed home values increased 5.1 percent over the past year. The current median home value in the United States is $187,300 as of July. The increase in home values has been steady since August 2012, Zillow reports.
Affordability continues to be a struggle in some states, though. California, for example, has a median home value right around $516,000. At this level, the California Association of Realtors determined residents need to make over $100,000 per year to afford homes.
The peak in national median home value was seen in April 2007, Zillow says, when it was $196,600.
Big gains in Midwest and Pacific Northwest
Four metro areas experienced double-digit median home value gains in July, according to Zillow. The highest increase was seen in Portland, where median home value increased 14.7 percent year-over-year to $334,900. Denver, Dallas and Seattle all experienced just over 11 percent value increases.
"The consistent rise in home values that we've been seeing for the past four years masks a number of region-specific trends that have taken place over the past few months," Zillow Chief Economist Dr. Svenja Gudell said in a release. "In most areas, the market is being driven mainly by a strong labor market and tight supply, especially among entry level homes that first-time buyers are after. But some markets – especially the red-hot Pacific Northwest – are adding more jobs and attracting more residents, putting the pressure on home values and rents."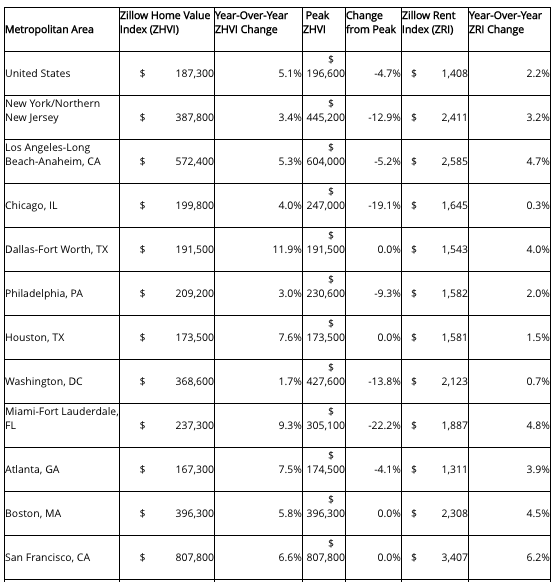 Home values in San Francisco are currently at the highest peak of $807,800. This is a 6 percent increase from the year prior, Zillow says. Los Angeles' median home value increased 5.3 percent annually to $572,400. According ZHVI, L.A. median home value peaked at $604,000.
Home values in Chicago are still well below its $247,000 peak, but its median home value increased 4 percent year-over-year to $199,800. Indianapolis was the only metro area with a decline in median home value, with a 3.5 percent drop year-over-year, to $130,800.
Median home value in Miami increased 9.3 percent since last year. This increase puts the median home value at $237,300.
Out of the 35 metro areas in the data pool, Washington D.C. had the smallest annual growth, at 1.7 percent. Median home values in D.C. rose to $368,600. Baltimore's homes enjoyed value increases, even if only slight. Values increased 2.8 percent over the year to $253,000; the peak median home value in Baltimore was $289,100.
Despite the constant news of Houston's struggling economy, Zillow reports median home value rose 7.3 percent annually to a record high $173,500. San Antonio home values increased 6.6 percent year-over-year, to $152,900 — the highest median home value in the metro area on record.