When you leverage the right technology, you will change your results.
You need to know what you want and then measure your output.
You want to identify your unproductive habits and create productive ones.
Last fall I started attacking my productivity.
I knew that I was wasting my most productive time and my best energy on unimportant tasks, but I wasn't exactly sure what or where. It was time to focus on it, measure it and take control of it.
So, I was on a mission. A mission to increase my productivity. Not to work more hours, not to exhaust myself, but to get more done in the hours I was working.
I didn't just want to "hack" it, I wanted to figure out what I was doing, what I could change, and what I needed to do to sustain and even grow my productivity.
There are actually three things that helped me increase my productivity by over 400 percent.
How did I figure out I increased my productivity by 400 percent? By analyzing the quantity of my hours vs. the quality of the output. In other words: How much was I getting done in the same time period and what were the results from what I was spending my time doing?
So what were the three things? They are a book, a plug-in and an app.
I know, it sounds like a joke, but let me explain.
First, the book
It all started when I read and implemented The One Thing by Gary Keller into my business and my life back in 2014.
This book changed me. It changed my dreams. It changed my goals. It changed my entire focus — and through implementing it, and rereading and reevaluating every six months, my business and my life have changed completely.
When you know what your focus is and you know what your one thing is every single day, every single moment, it changes everything.
Now I am constantly analyzing, in the background of my brain, what I'm doing.
Is what I'm doing the best thing for that moment? Is it my lead domino? Will my actions create a domino effect that will positively affect everything else and move me in the direction I want to go?
Am I being purposeful? Am I creating my life or is my life just happening around me?
When I became "one" with my one thing, I suddenly became acutely aware of distractors. I was working on making my lead generation time so intensely focused that I was becoming very aware of distractions. Even though I was time blocking and being true to my time blocking, something just wasn't right.
Second, the plug-in
One thing I noticed was that even though I turn off all notifications on emails, social media and so on, I was still getting sucked into the Facebook vortex.
As someone who works in and on Facebook for my business, it isn't an option to just turn Facebook off. I needed to be in the groups answering questions during my scheduled Q&A times. I needed to be in ads manager working on ads. I needed to be checking analytics and results.
But it was also a problem.
I was still getting sucked into the news feed as I "passed by" it on my way to the next part of Facebook. Even when I had the windows pre-opened, I was still allowing myself to go there.
That's when I found the Google Chrome plug-in NewsFeedEradicator.
Oh my goodness. This plug-in has been a massive eye-opener and an amazing life-changer.
It's a plugin that you run in your Chrome browser that basically eliminates your Facebook news feed and instead feeds you a single inspirational quote. Here's an example of what my Facebook news feed looks like today on my computer: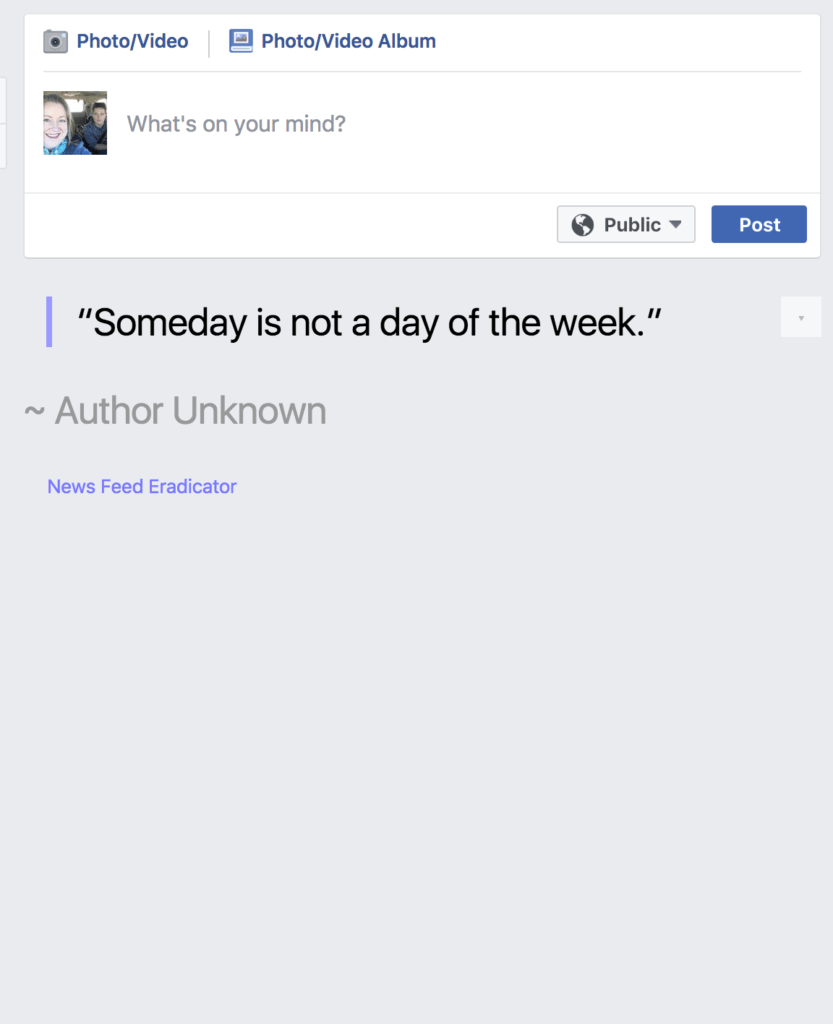 When I first started using the plug-in, I was amazed at how many times I would "pass by" my news feed on my way to my next task.
Meaning: I would willingly take a "brain break" and get sucked in. When I installed the plug-in, the first several days I was shocked at how often I was allowing myself to get distracted.
Now, months later, I'm not even tempted to go to the news feed, even on my phone. I just don't go there and get caught up in the scroll. Talk about freeing.
I feel totally free from the addiction of wanting to know what's going on with everyone and everything. (And let me tell you, not being involved in all of the political hoopla has been absolutely incredible!!!)
Third, the app
The third thing that I implemented that created massive change was an app called brain.fm.
Now you can access some elements of brain.fm from your browser, but the two pieces that I use consistently are the "meditate" and the "focus" — and "meditate" is not available on the computer portion. It's only available via the phone app.
What is it? It's based on the science of audio brainwave training. It's incredible.
It's an artificial intelligence engine that composes music around the audio sounds for the specific function you want. (For me, that's meditation and focus.) I've also used the nap and sleep ones with amazing results as well.
The goal of the founders of brain.fm is to cure ADD, anxiety and insomnia through this app that emits audio brainwave training. The sessions are analyzed and EEG tested, with most of the testing coming from Northwestern University. Here's more information.
Every morning, as soon as I wake up, I meditate using the "meditate" function of this app for 30 minutes (unguided). During my three hours of "power" I use the "focus" function of the app. I just put my earbuds in and hit play.
Talk about incredible.
So now, determining my productivity in the moment has become kind of a game. How much can I increase my productivity without increasing my hours or my stress?
For the most part, I focus solely on my three hours of lead generation time each day.
What I have found is that when I have a powerful and focused three hours, the rest of my day is amazing. Both business and personal.
It's my one thing: to make sure my three hours is protected and as highly productive as it can possibly be.
Being productive isn't a matter of speeding up, increasing hours or doing more tasks. It's a matter of setting the right mindset and creating the right conditions that give my body and my mind the ability to perform at their very best.
Something that Gary Keller said in The One Thing really stuck with me: "None of us knows our limits…no one knows their ultimate ceiling for achievement… everyone has the same amount of time, and hard work is simply hard work. As a result, what you do in the time you work determines what you achieve."
My priority is time. Time with my husband, kids, parents, siblings.
I am not willing to take that time away from them in order to build a bigger business.
And yet, inside of me is this insane desire and drive to build a bigger business. So, without compromising relationships and health, my focus is improving my productivity.
And let me tell you, it's working. Beautifully.
Oh — and yes, writing of this article happened under the influence of brain.fm's "focus" music.
How about you? Have you found solutions to eliminate distractions and increase your productivity? Have you tried any of these things I've talked about in this article? What were your results?
Christina Ethridge is the founder of Leads and Leverage, helping real estate agents capture, convert and close Facebook leads.